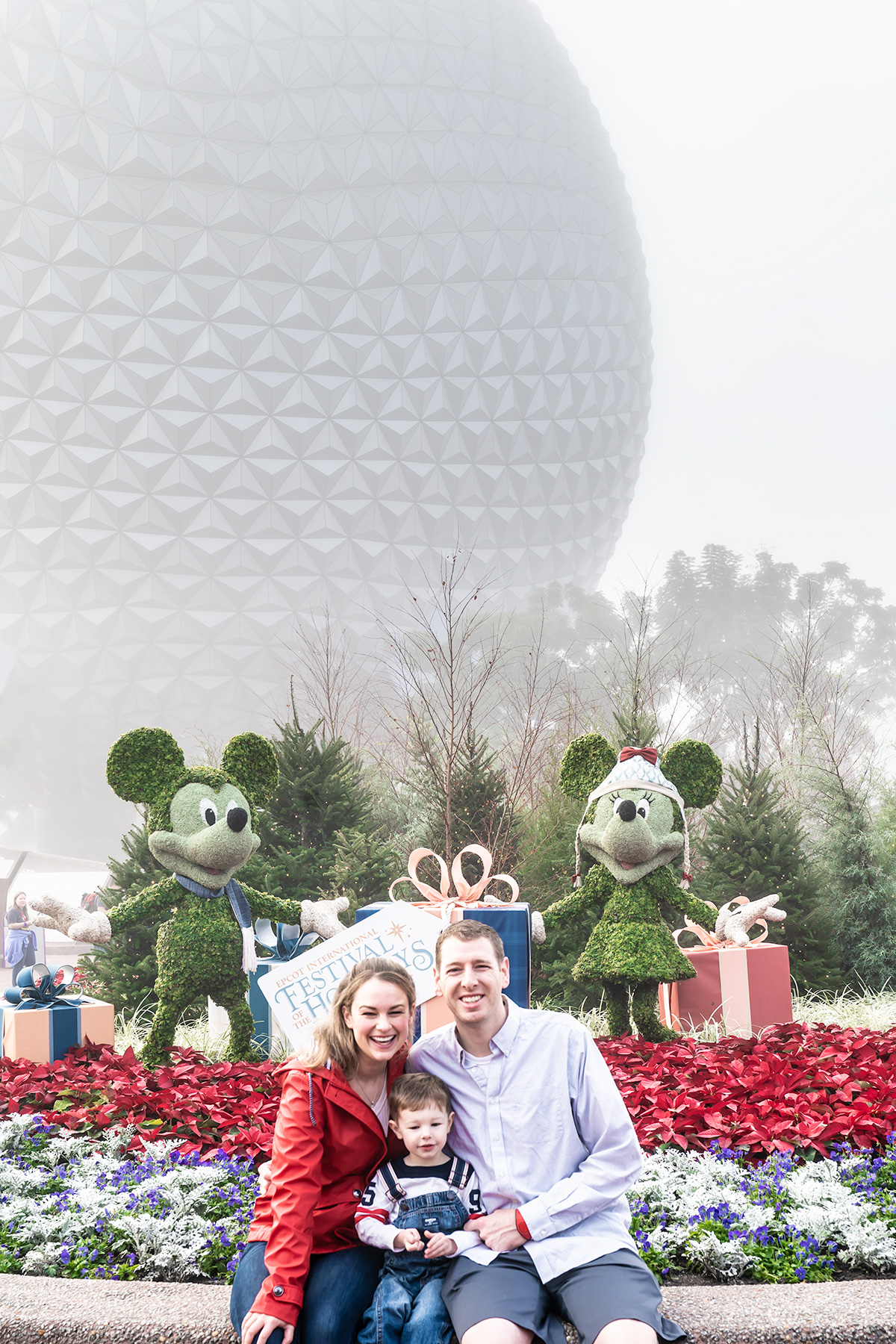 "I'm sorry. You're not quite there," the park attendant told Trevor, shaking her head "no" and shrugging.
Trevor's head was just a fraction from touching the 38-inch wooden post that marked the required height to ride Seven Dwarfs Mine Train at the Magic Kingdom.
I flinched as a braced for the category-level-five meltdown that I was sure was coming our way.
We'd already had park attendants measure Tru for this ride on our last visit to the park, and he'd been declared "tall enough."
And I'd therefore already promised him up and down that he was going to be able to ride his beloved roller coaster tonight.
Then Chris looked down and noticed Tru's knees.
They were bent.
In trying so hard to "stand up tall," Tru was actually doing the opposite and bending his little knees.
We tried measuring him one last time, this time with a new park attendant.
Tru got a "yup, you're fine" this time around.
Tru was going to be able to enjoy his dream roller coaster ride after all.
He laughed and grinned and loved every second of it too!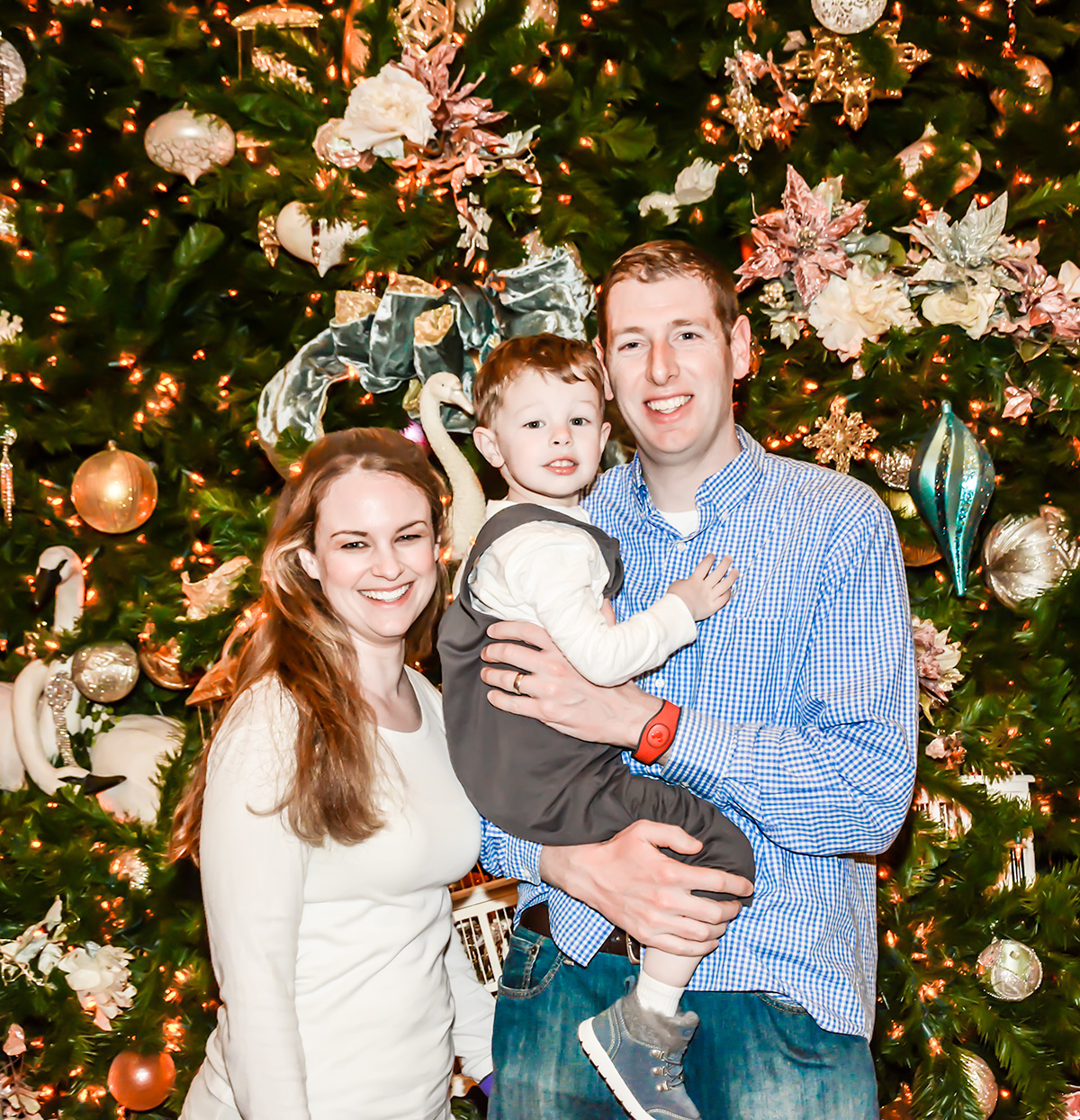 Chris and I both called our Christmastime trip to Walt Disney World one of our best-ever trips to Disney.
It's just a really special place to be during the holidays.
Here are all of our favorite memories from the trip:
A major but totally unsurprising discovery from our trip: Trevor is a little daredevil!
Chris and I had this figured out by our very first evening at the Magic Kingdom.
Tru was tall enough this year to do his first-ever Disney World roller coaster, a kiddie coaster in Fantasyland called The Barnstormer.
As we stood in line, I wondered if the hills and loops might be a little rough for Tru or make him feel overwhelmed.
But I never needed to worry.
Each seat on the coaster had room for two seats, so Chris and Tru sat behind me.
I turned around to capture a video on my iPhone during the ride, and Trevor had the world's biggest grin plastered on his face for the entire ride.
He loved every second.
As soon as we stepped off the coaster, he started begging, "ride again! ride again!"
Lucky for us, the crowds were thin that night and we didn't have to stand long in line.
So Trevor rode The Barnstormer again. And again. And again.
The daredevil in Tru didn't stop with the roller coasters either!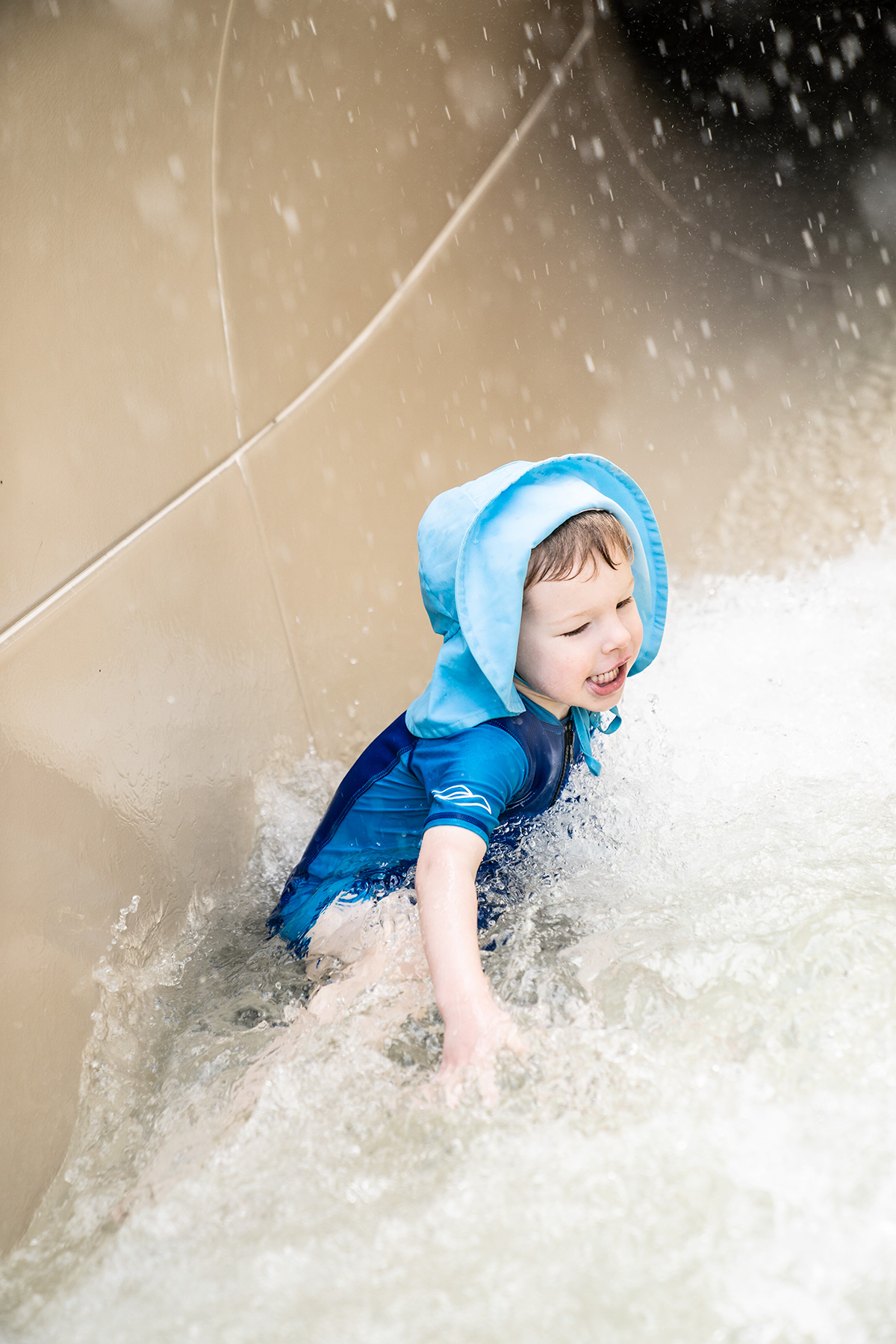 Trevor was equally in love with the water slides at the two hotels we stayed at.
Tru started out with the tame water slide that was a part of the kiddie water playground at Disney's Wilderness Lodge.
The temperatures never went above 70 degrees during our time at Disney World and, since it was on the chilly side, Tru was always the only kid at the water playground.
But he wanted to go back each afternoon before his nap and whoosh down the water slides, again and again.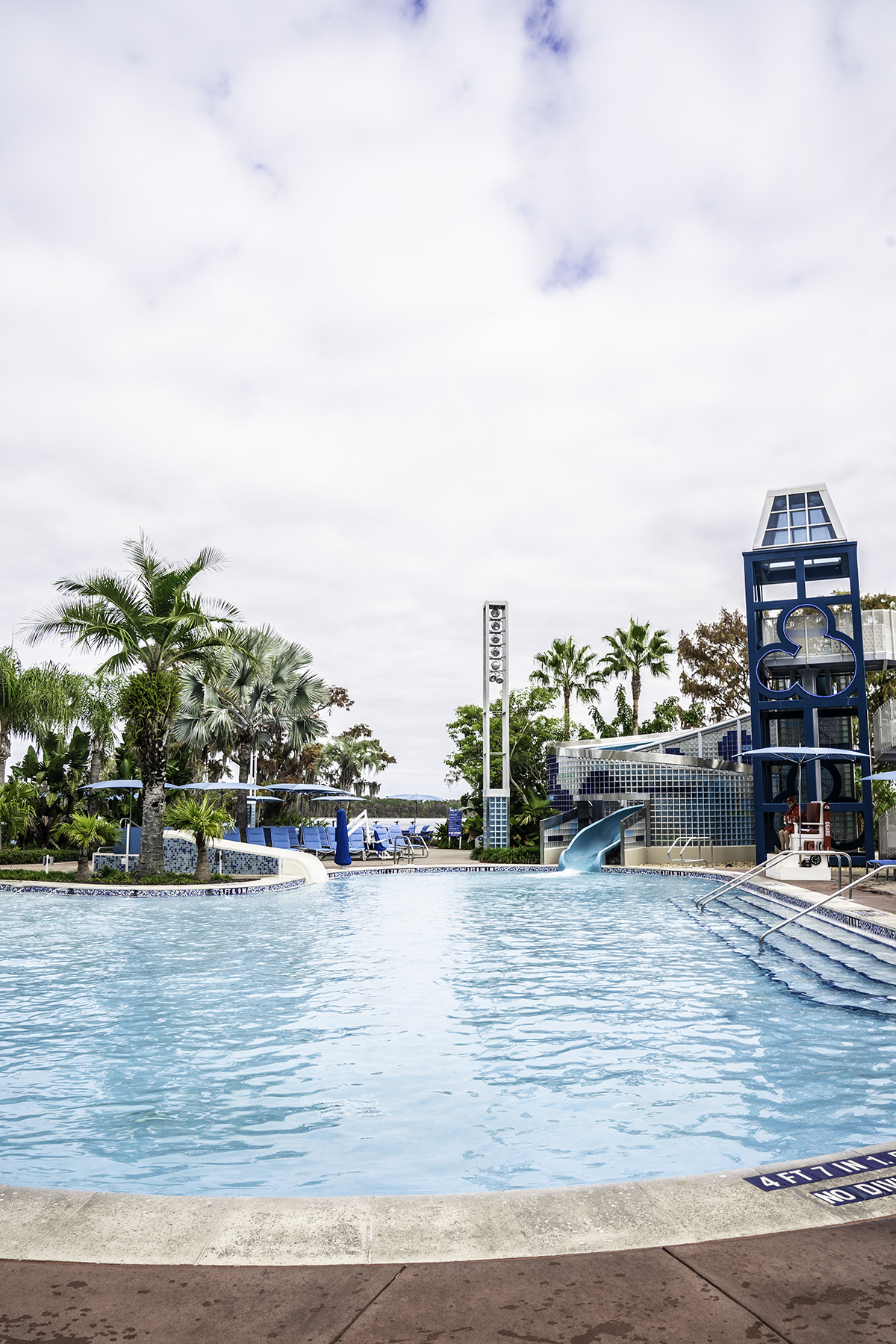 For the last few days of our trip, we stayed at the Bay Lake Tower at Disney's Contemporary Resort.
The water slide here was a major step up from the kiddie water playground!
It was a spiral water slide that was two stories high. Tru had to wear a life jacket to ride.
Chris would go down first and then Trevor would follow, landing in Chris's arms at the end of the ride.
Trevor loved it.
He looked so tiny on that giant slide!
He loved it so much, he rode it at least thirty times (no exaggeration!) each day that we were at the Contemporary.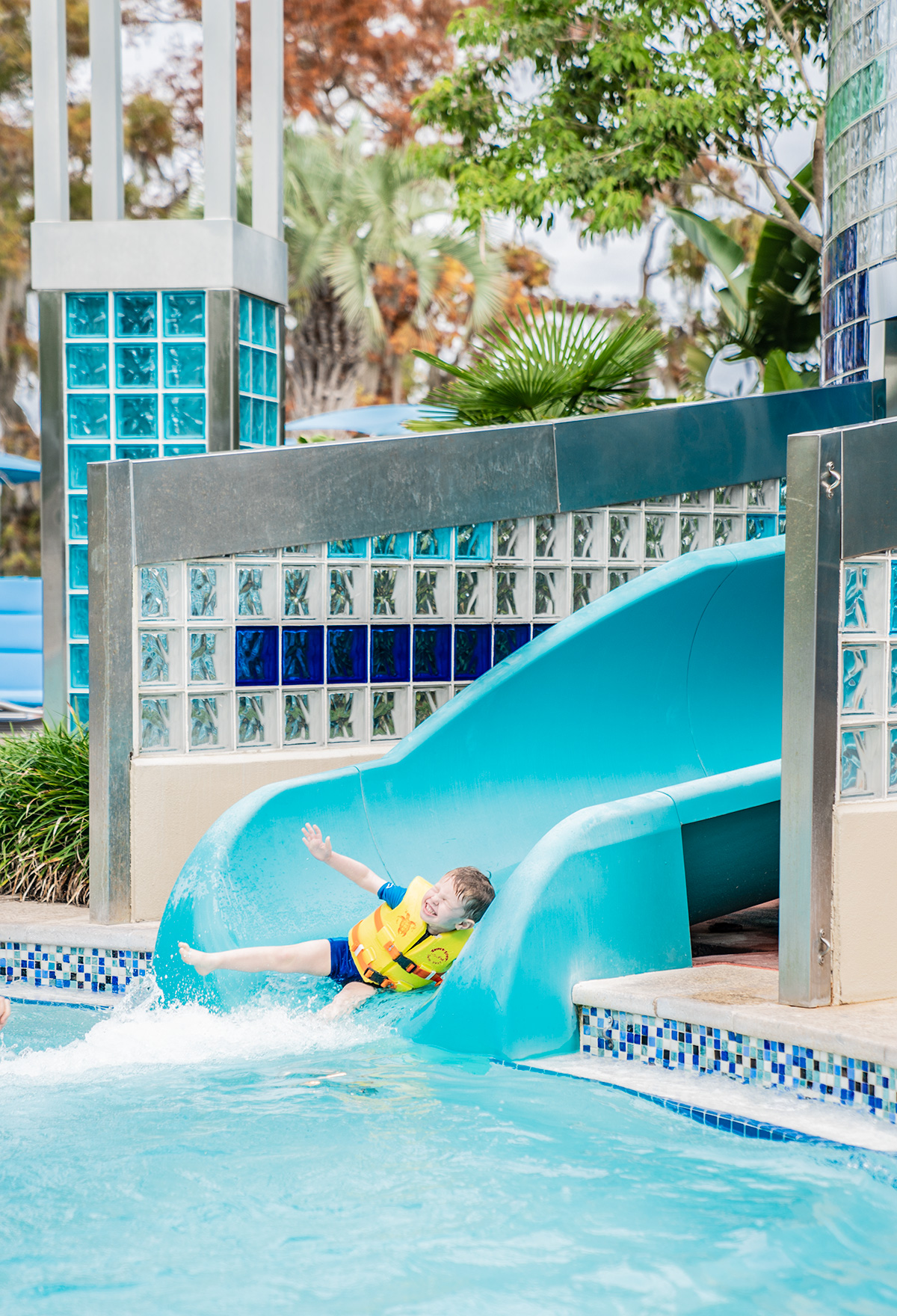 One thing that made Chris and I laugh: he would squeeze his eyes closed (shut tight!) each time he went down the slide.
So he never actually took in the view during his ride!
My major concern is: if Chris and I are already struggling to keep up with Trevor at age 2 1/2, what are we going to do when he's 10?
Or 16?
Yikes!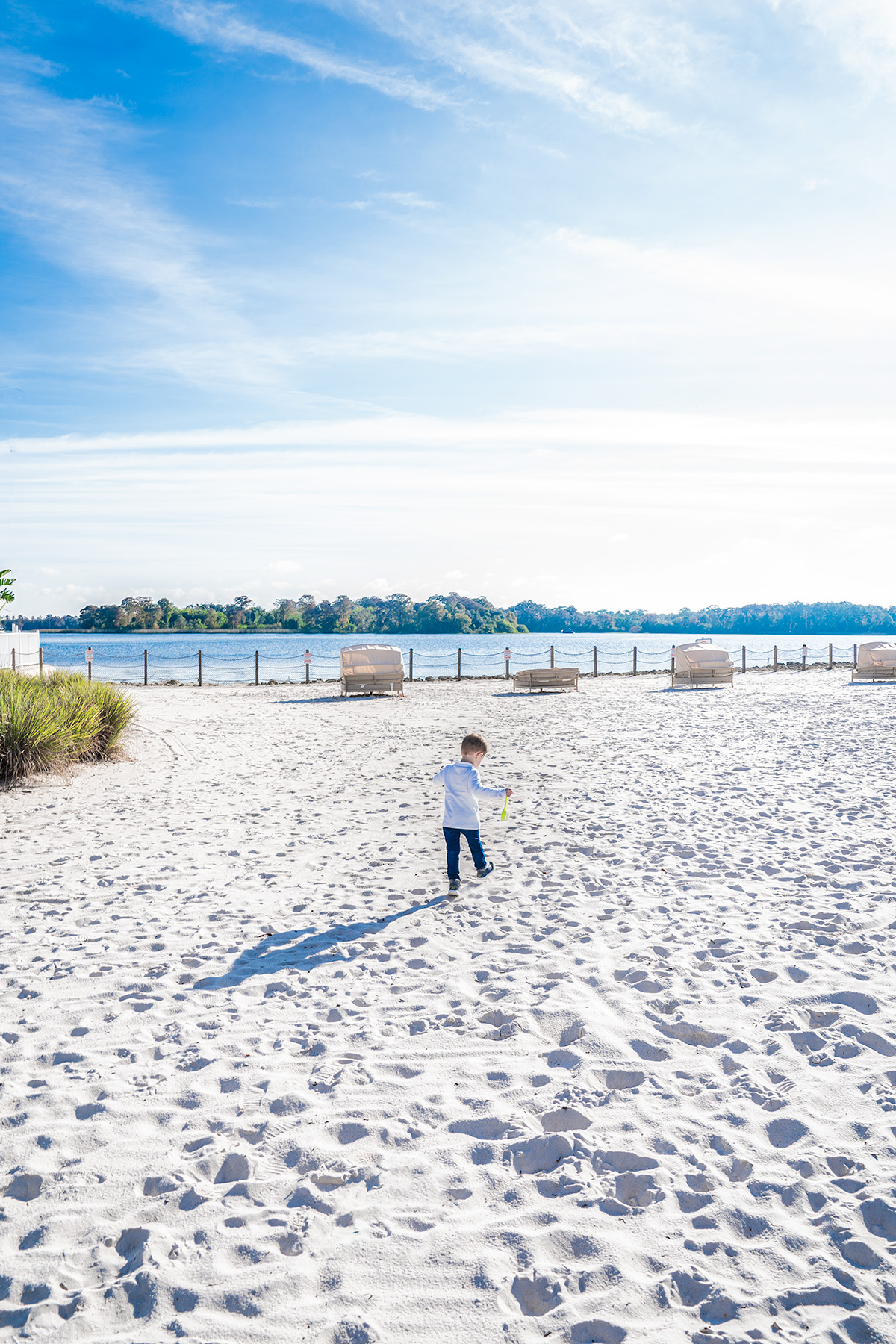 One thing we all loved from our trip: the beaches!
Chris loves Disney, and he plans our trips down to the hour.
He has fast passes and dining reservations booked months in advance.
But Tru had his own set of plans on this trip!
As soon as we arrived at the Wilderness Lodge on our first day, Tru's first words were, "want to go to beach."
Chris's plan was to visit Epcot, he had fast passes booked for the Frozen Ever After ride in the Norway pavilion and a dinner reservation at the San Angel Inn Restaurante in the Mexico pavilion.
So we unpacked our things and got ourselves ready to go out for the evening and assumed Tru would forget his idea.
He didn't forget.
As we made our way to our rental car, he wouldn't stop: "go to beach! go to beach!"
The Wilderness Lodge is located on a lake, but it was too cold to swim and there weren't any sandy beach areas.
So we stopped at the Polynesian Resort, which has a large and beautiful white sand beach.
Since the night was chilly (we were all dressed in light coats and jeans), we were one of the few families on the beach.
Chris and I sat on a giant bench swing that was set up in the sand while Trevor built "castles" (i.e. mounds of sand).
It was so relaxing and peaceful, which are two words I don't use a lot on a trip to Walt Disney World!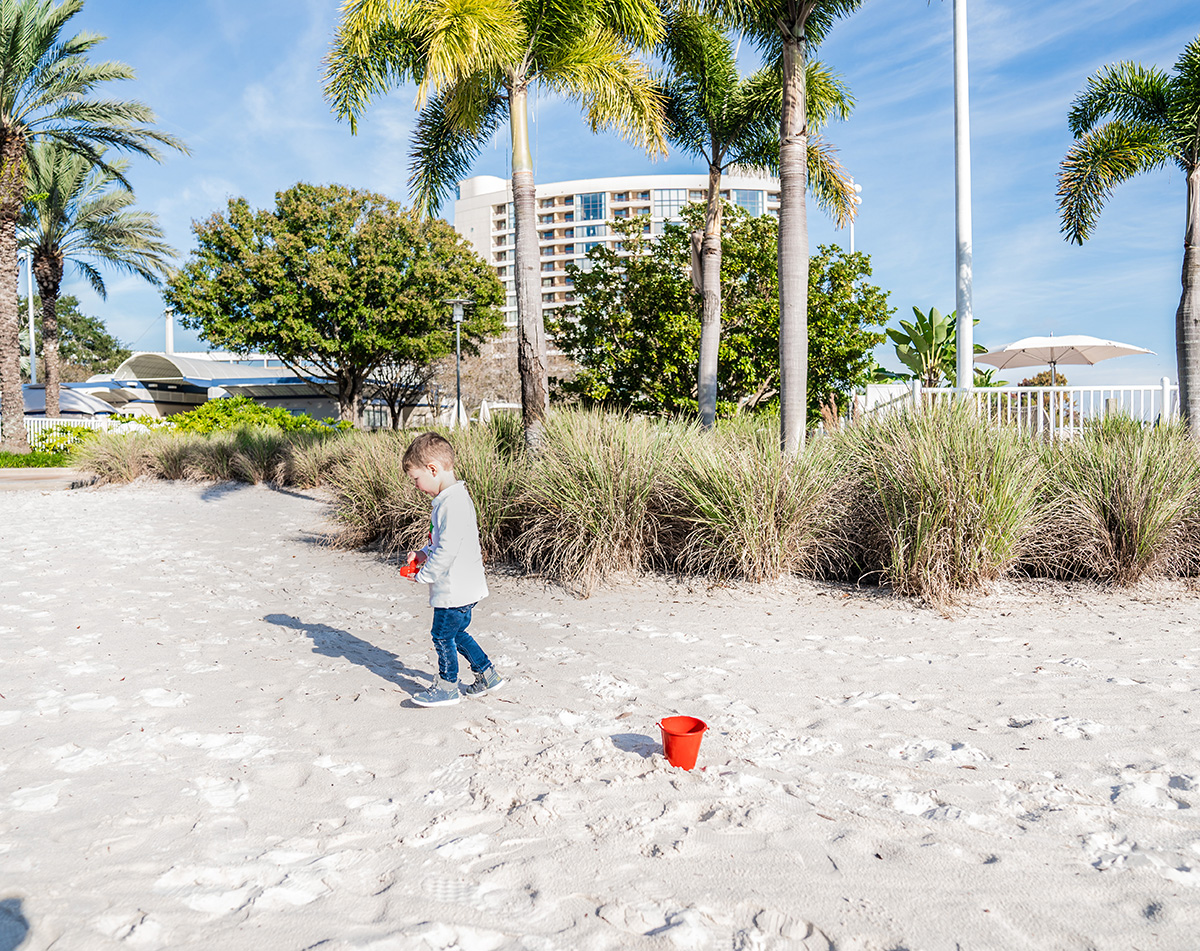 There were also a couple of really nice white sand beaches on the lake at the Contemporary Resort.
So during our stay at the Contemporary, we spent time on the beach each day.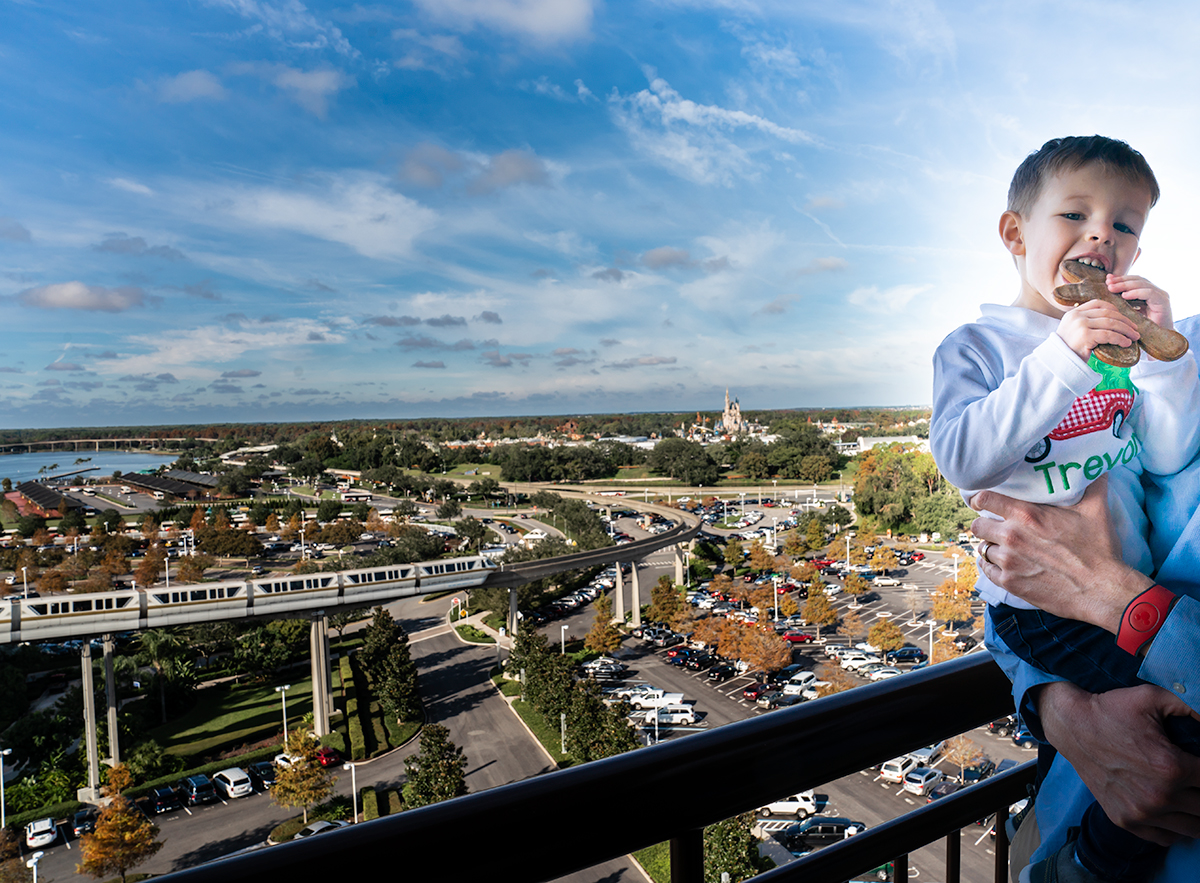 Speaking of the Contemporary Resort, what incredible views!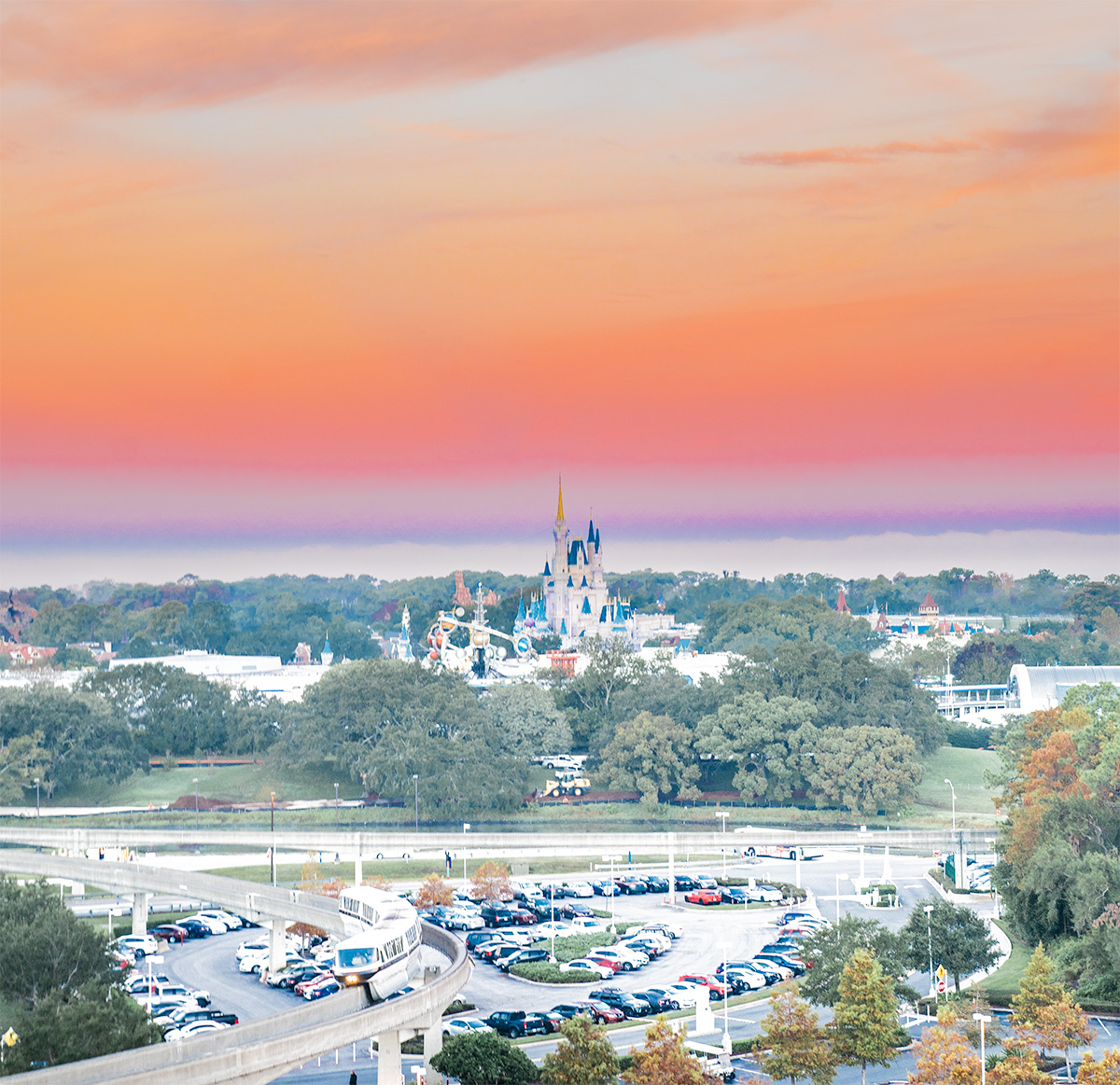 The room we stayed in had giant floor-to-ceiling windows, plus a balcony, with views of the Magic Kingdom and Cinderella Castle.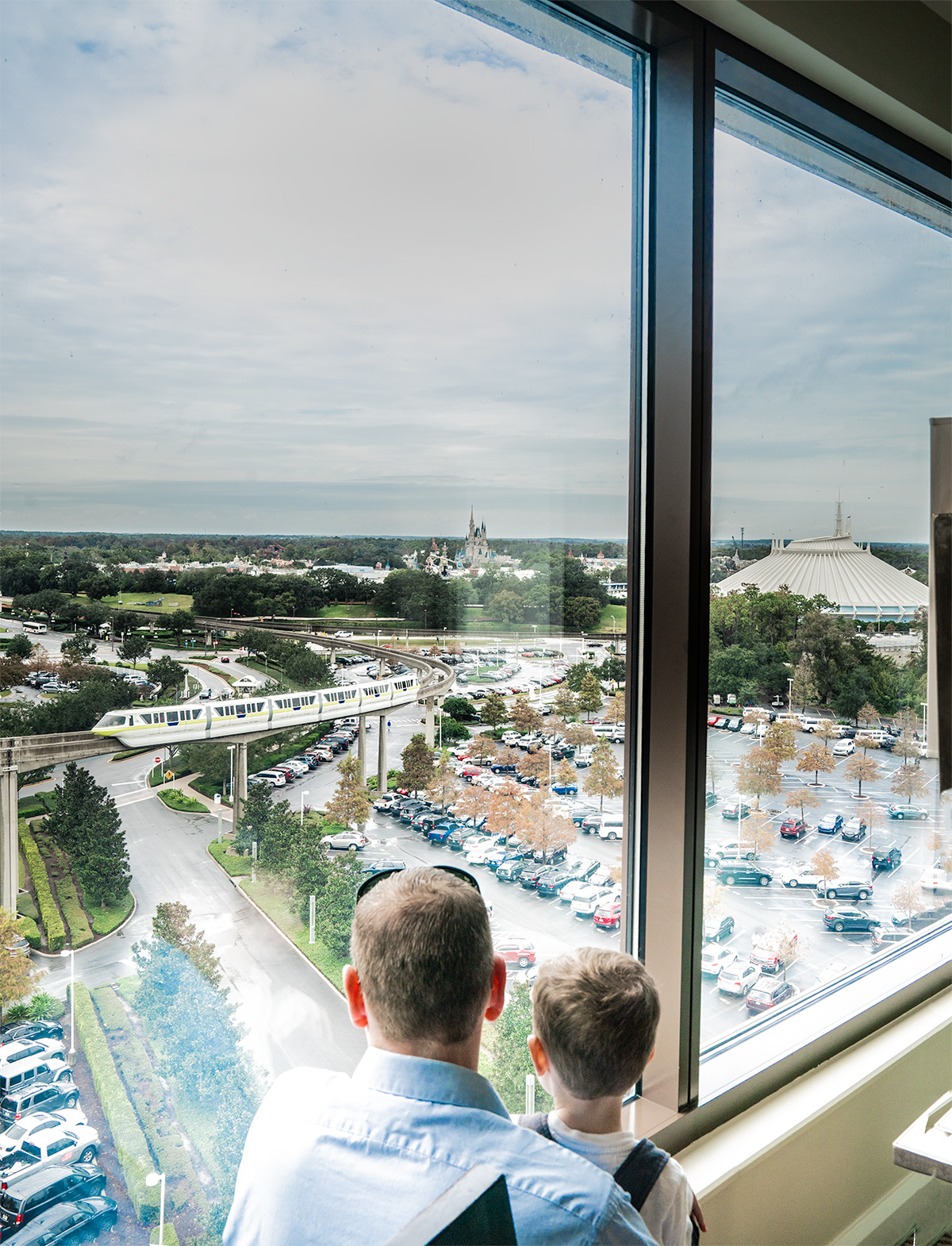 This worked out amazingly well for us.
Each night, we were able to get Trevor bathed and ready for bed.
Then we'd watch the nighttime fireworks show over the castle.
The hotel played the whole musical soundtrack on one of the resort TV channels, so we could turn up the volume on the TV, go outside on the balcony and enjoy the whole show.
Then, it was straight to bed for Trevor, without having to deal with crowds and lines to get out of the park and back to the hotel!
Trevor would often sit on my lap to watch the fireworks for a few minutes. Then he'd wander back into the hotel room to play with his cars. Then wander back out, here and there, to catch a little more of the show.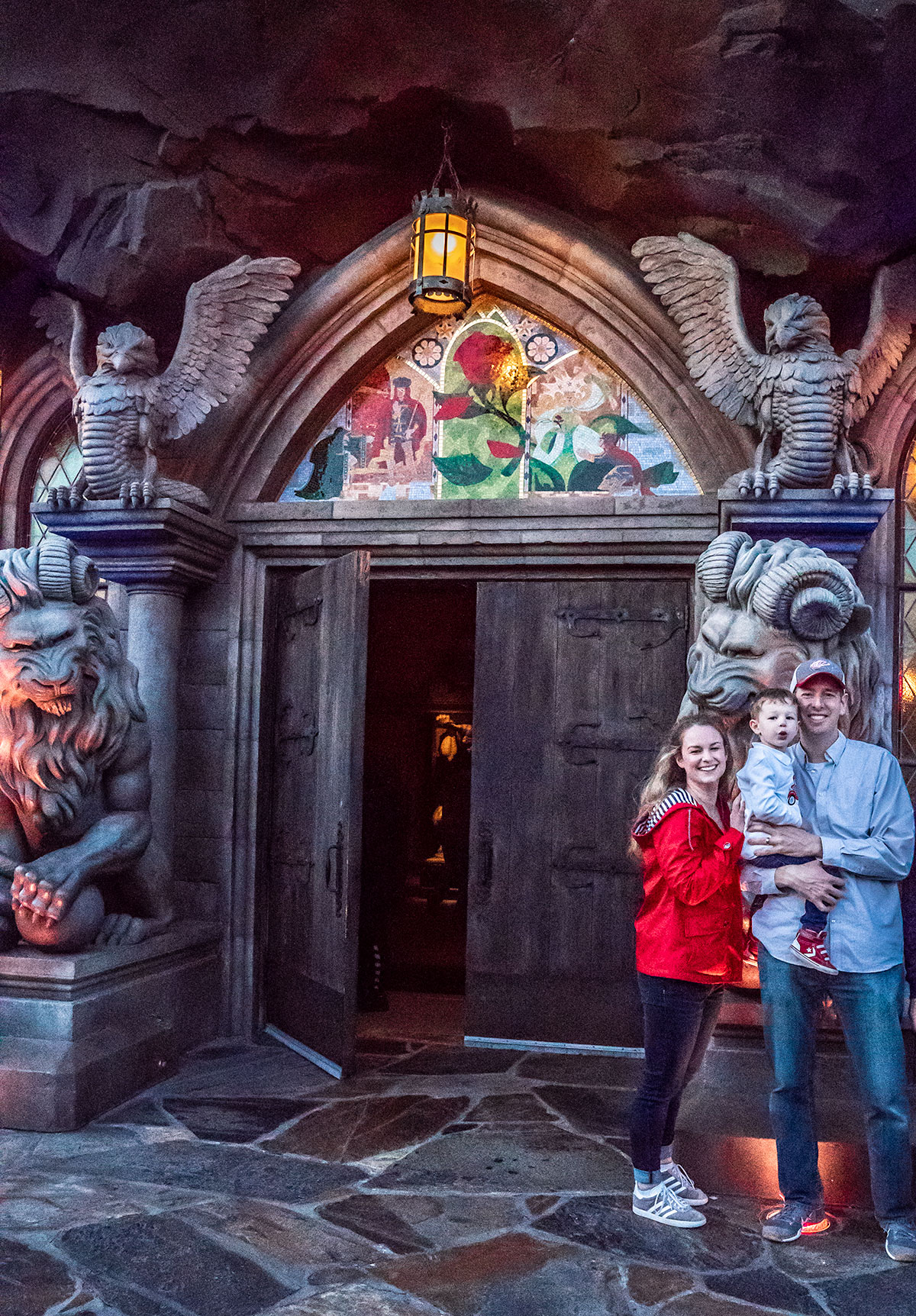 One of the funniest stories from our trip involved a meet-up with The Beast at the Magic Kingdom.
We went to dinner at Be Our Guest Restaurant, which is themed as the "enchanted castle" from Beauty and The Beast.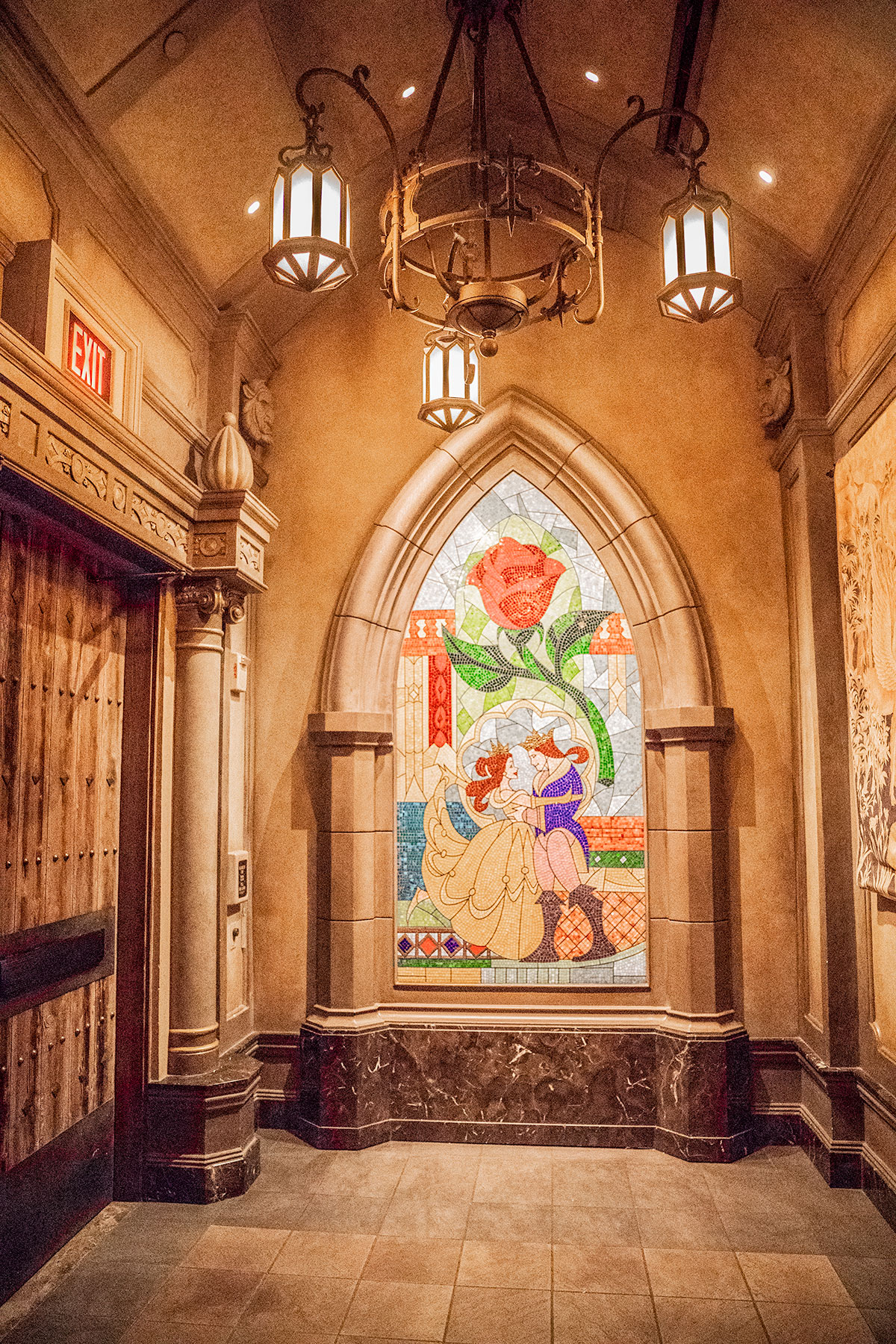 It's beautiful and my favorite restaurant in the Magic Kingdom.
I thought Tru might be in awe of the incredible decor.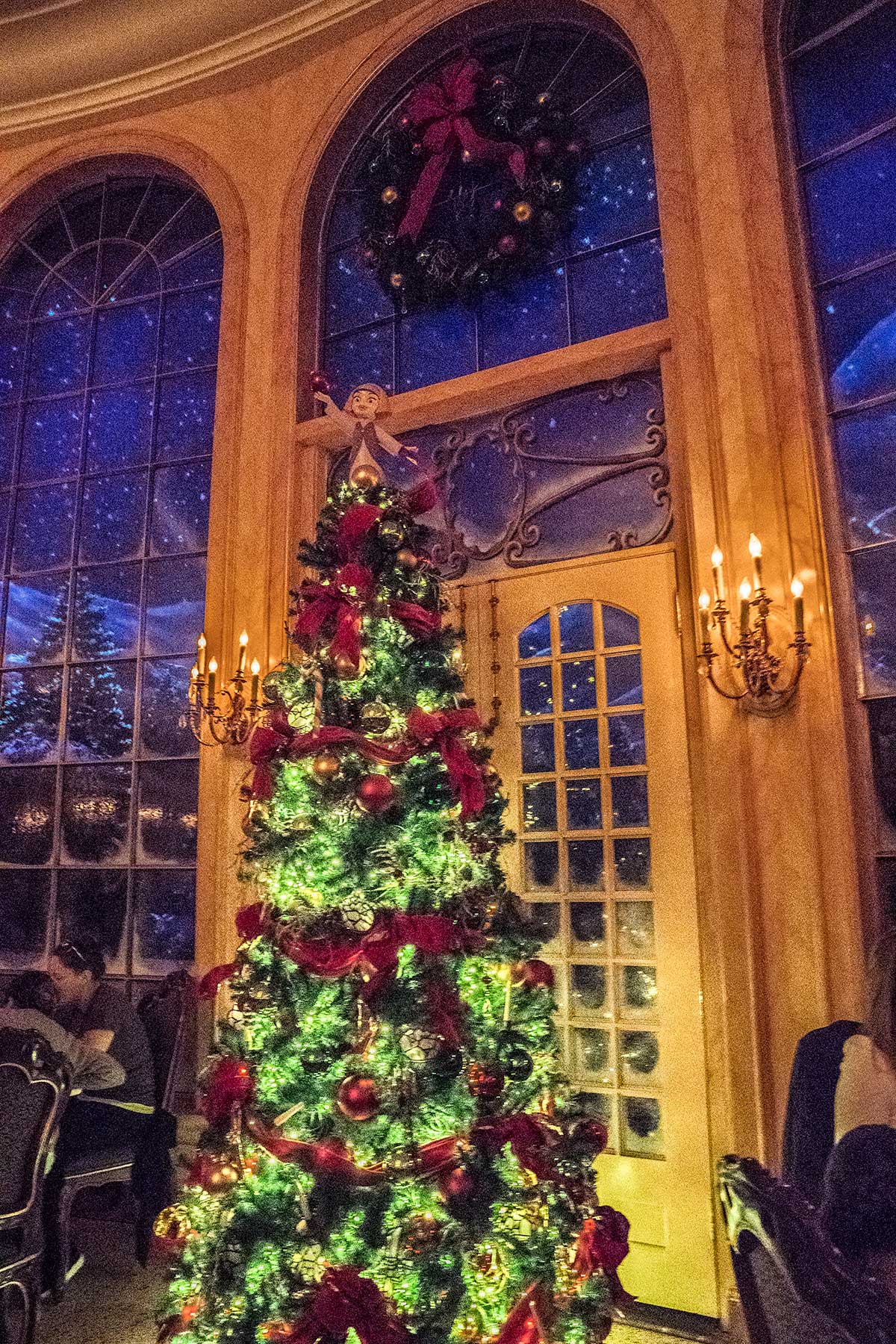 It really looks like a castle, with a virtual "winter wonderland" scene outside the floor-to-ceiling windows.
But Tru couldn't have cared less!
He's just not into the "fairy tales and castles" aspect of Disney World.
But the funny part:
As soon as we were seated and our waitress stopped at our table, music was trumpeted and The Beast made a big grand appearance in the ballroom, waving to guests as he paraded across the ballroom floor.
Tru was terrified.
The waitress told Tru if he wanted to meet this character, The Beast would be waiting in the room next door.
Tru was horrified, "No! No Beast! Don't want The Beast!"
Each time our waitress returned with food or drinks, she'd mention The Beast, in an effort to try to be nice.
But she'd only end up terrifying Tru all over again!
From the waitress, "I just talked to The Beast and he's made you some grilled cheese and wants to be your friend."
From Tru, "No! No Beast! Don't want to meet Beast."
Aside from The Beast, though, Trevor loved meeting all of the Disney characters this year.
Last year, when he was only one, Trevor didn't show any strong reaction to the characters.
This year, he loved hugging Minnie and Pluto and giving high-fives to Mickey and Chip.
Mickey Mouse Clubhouse is his favorite show. He knows every single character from the show, even "Fessah Von Dake" (read: Professor Von Drake).
So he recognized all of the characters and called them by their names.
I guess I never understood the whole characters-in-costume thing at Walt Disney World until this year.
What was really the point of the silly costumes?
Now, after seeing Trevor interact with the characters, I understand.
The light on childrens' faces.
That's the sole purpose.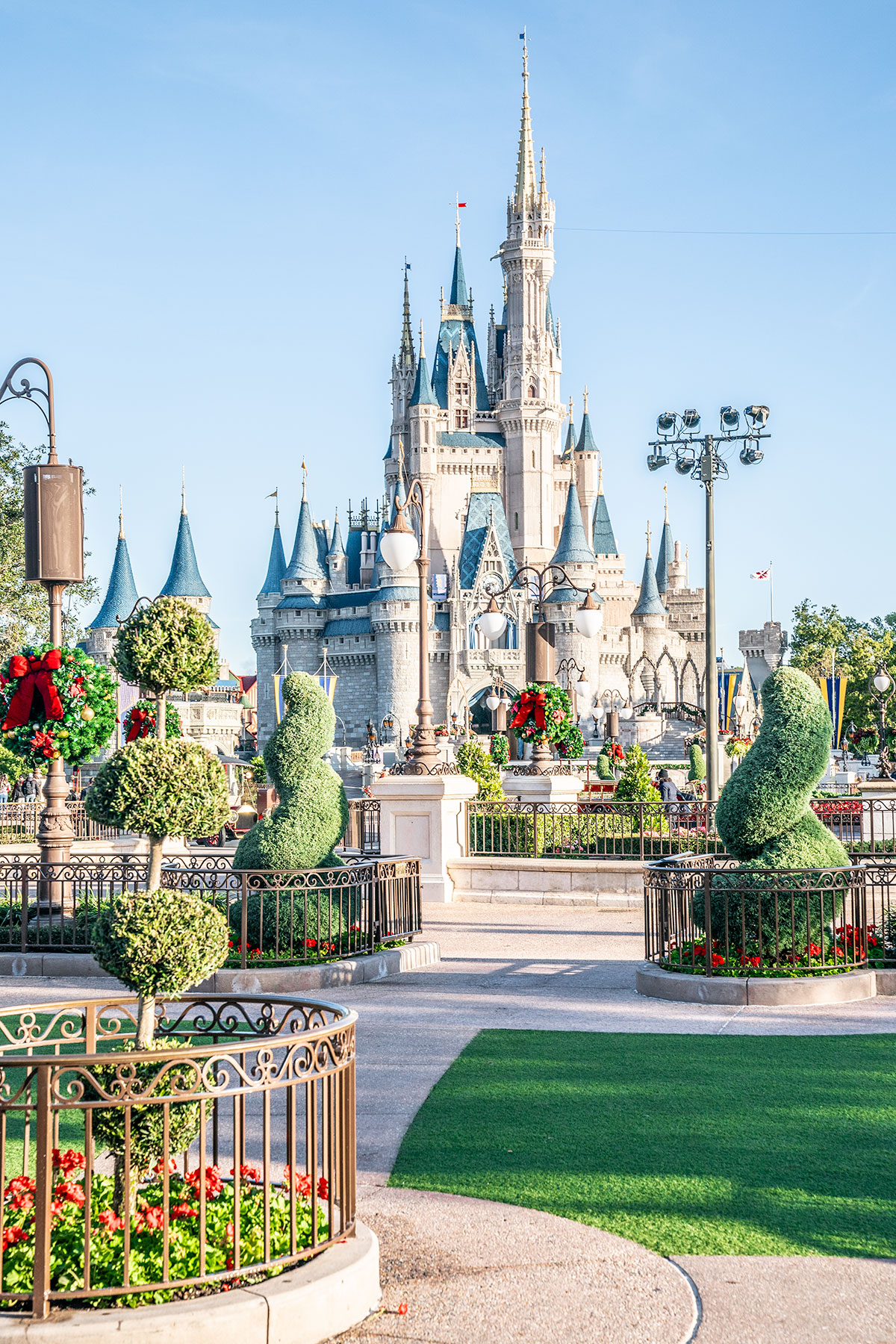 Speaking of meeting the Disney characters, I loved the two Disney character breakfasts we did.
I loved them especially for one reason: early entrance into the parks!
Last Year, Chris figured out that it's possible to book character breakfast reservations for up to one hour before the Magic Kingdom and Epcot open for the day.
I guess that's Disney's way of creating enough time slots for all of the guests who want to book a character breakfast.
Of course, the rides weren't open yet when we entered the Magic Kingdom for the A Buffet with Character breakfast at the Crystal Palace.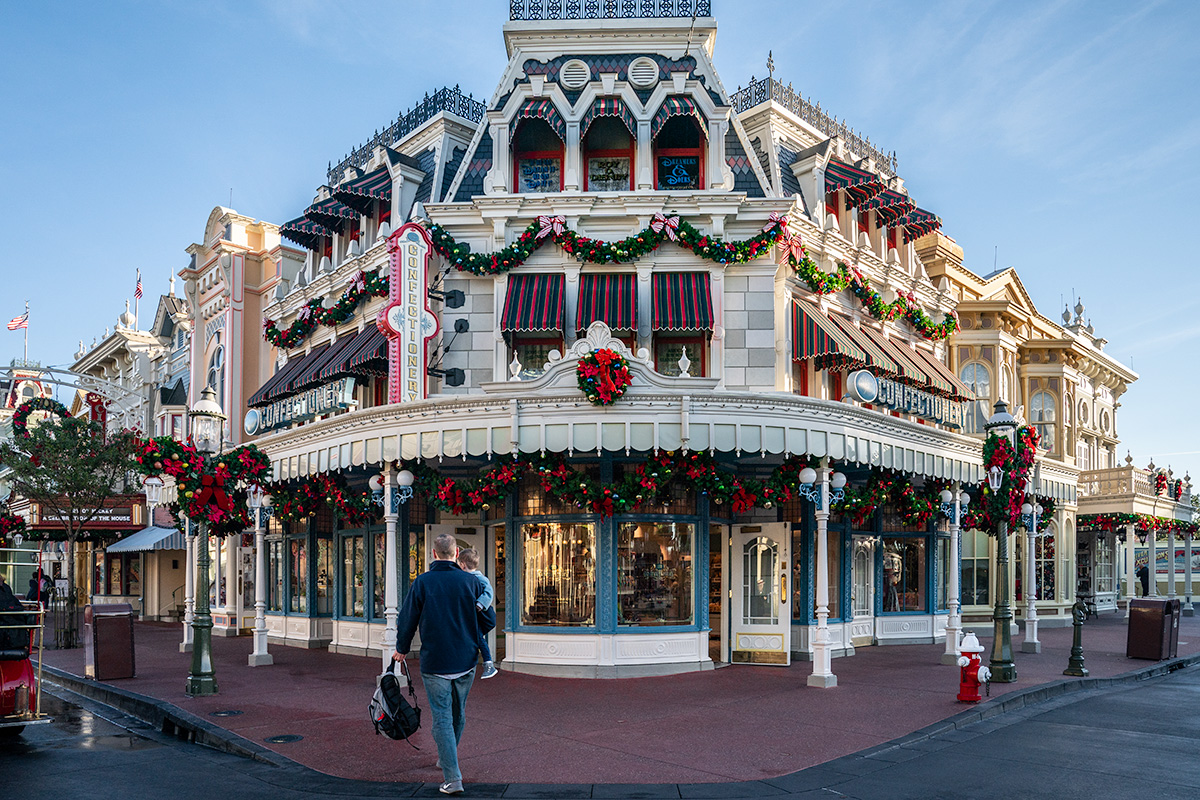 But it was still the coolest thing to wander down Main Street and take in all of the incredible design detail without the chaos and noise of the crowds!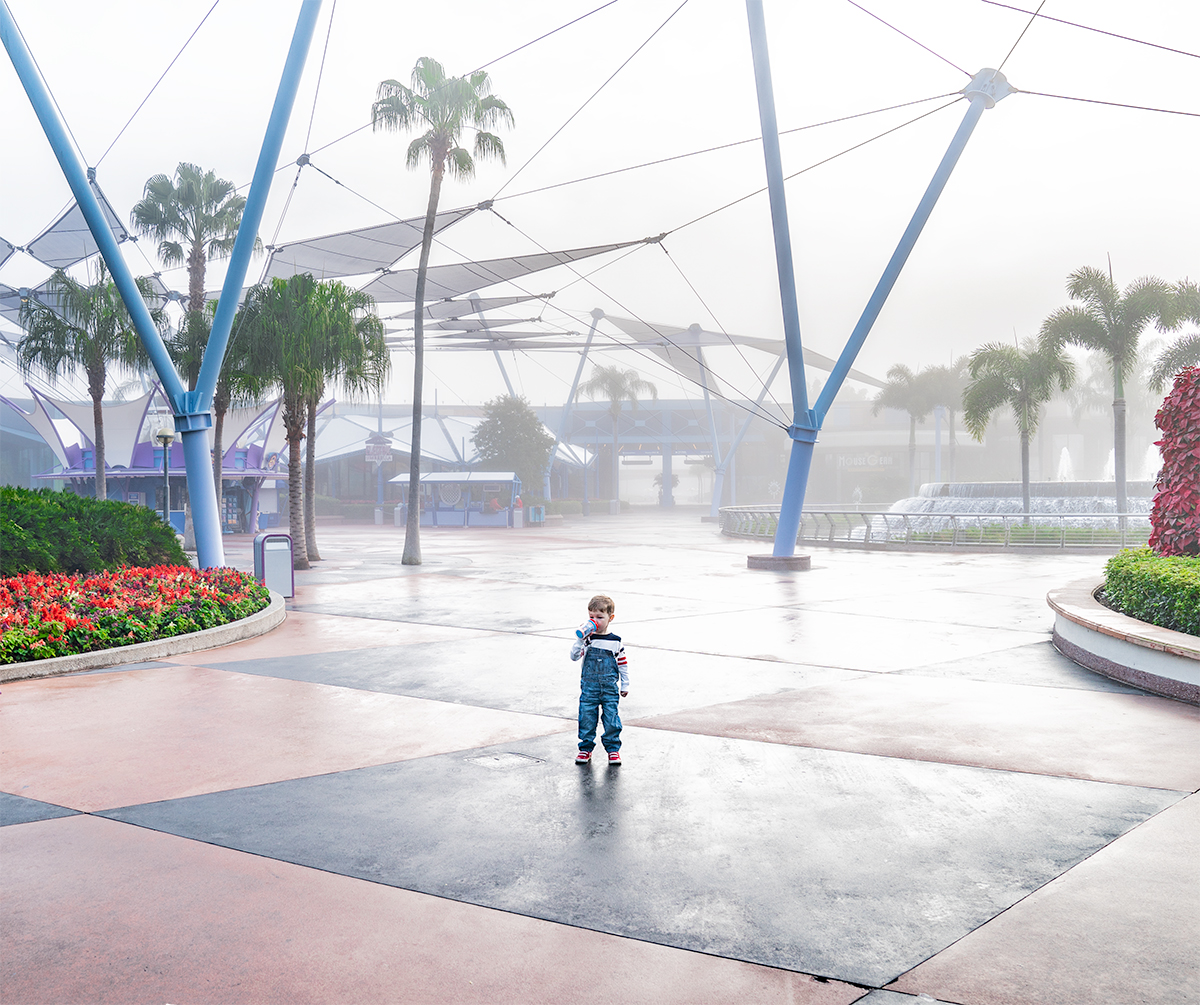 Epcot was truly deserted when we entered for the Chip 'n' Dale's Harvest Feast at the Garden Grill Restaurant!
The tough stuff from out trip was honestly just the same old stuff.
Tru got sick on the trip, and Chris and I both caught it by the time we got home.
Tru also had an accident.
He was jumping around on the bench near the kitchen table, fell, and banged his lip on the edge of the table.
I felt my heart start to race overtime and my panic kick into extreme overdrive when I saw him bleeding pretty badly.
We were very lucky.
His lip stopped bleeding within just a couple of minutes, and his hysterical crying stopped nearly as quickly.
He was left with just a little cut on his lip for the rest of the trip, as a reminder.
But that's all just real life with a toddler!
Food was a challenge, as it always is on our trips.
Giant desserts and snack foods (like potato chips) were literally everywhere Tru turned on the Walt Disney World property.
So it was an especially large challenge to get him to eat anything healthy.
Also, my anxiety with flying and travel (it started when Trevor was born) was as bad as ever.
I need to pack several packages of antibacterial wipes and clean everywhere (light switches, door knobs, tables, countertops) before I can even begin to feel settled and comfortable anywhere we stay.
I still have trouble sleeping in most beds that aren't my own comfy bed at home.
Especially at the Disney hotels I had trouble with sleep.
The blankets seemed really thin and lightweight (I like weighted, heavy blankets).
And the hotels are always so crowded at Disney, and there's always a lot of noise from the hallways and through the walls.
I did figure out one technique that has helped with my flying anxiety.
I tried it for the flights to and from Orlando (both were three-hour flights).
What I tried: I made up a very specific game-plan for work to do on my laptop during the flight.
Just keeping my mind really busy and occupied with work seemed to help a lot.
There wasn't room left for anxious thoughts.
Leading up to the flights, when anxiety would strike, I'd try to turn my attention to thinking in detail about what I'd accomplish for work on the plane.
My mind can't operate in two directions at once, so it was a big help.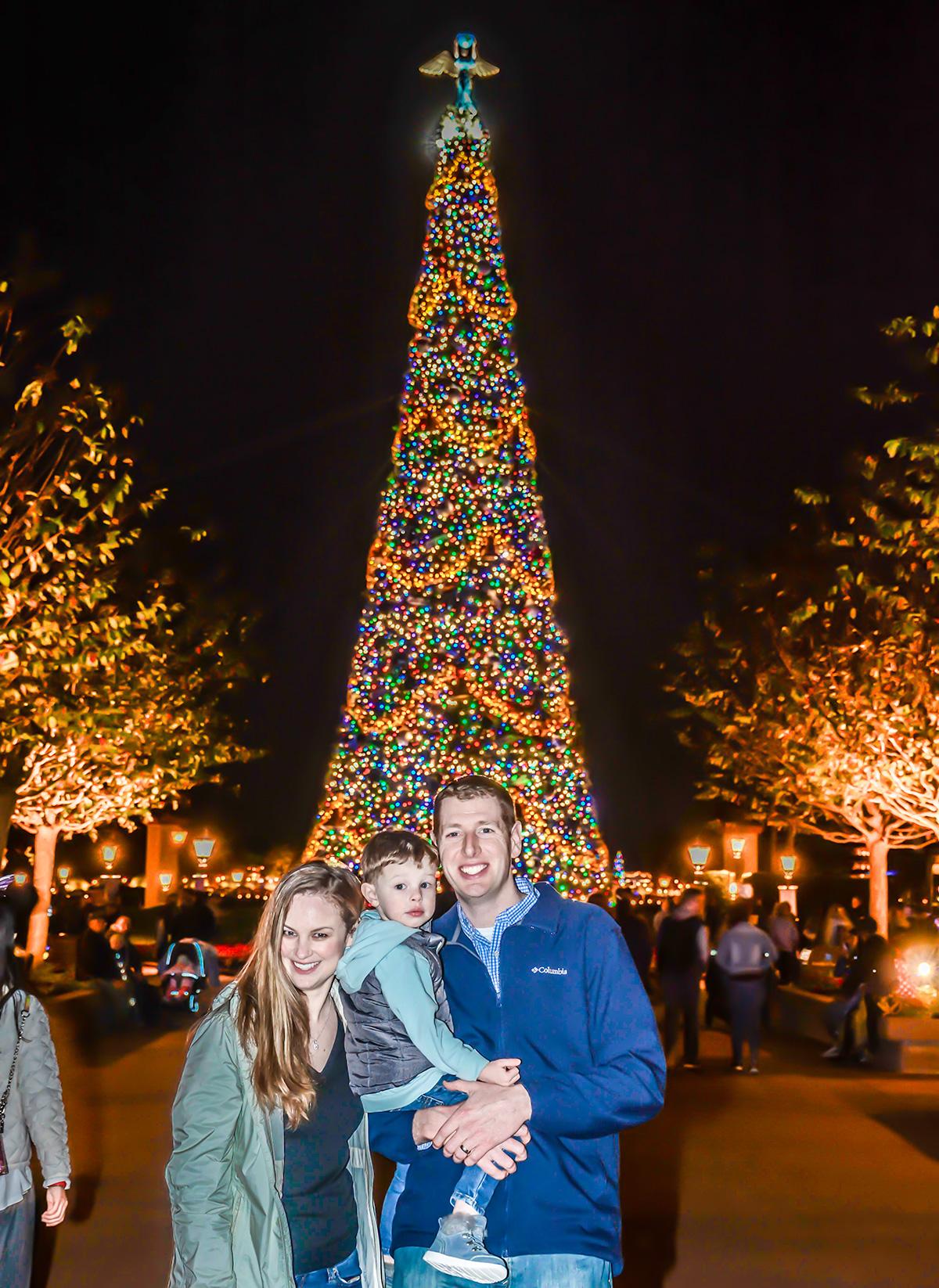 It's funny thinking back to the concerns I had – in terms of toddlers and travel – at the beginning of 2018.
I worried a lot about potential meltdowns on the plane or in the car on long road trips.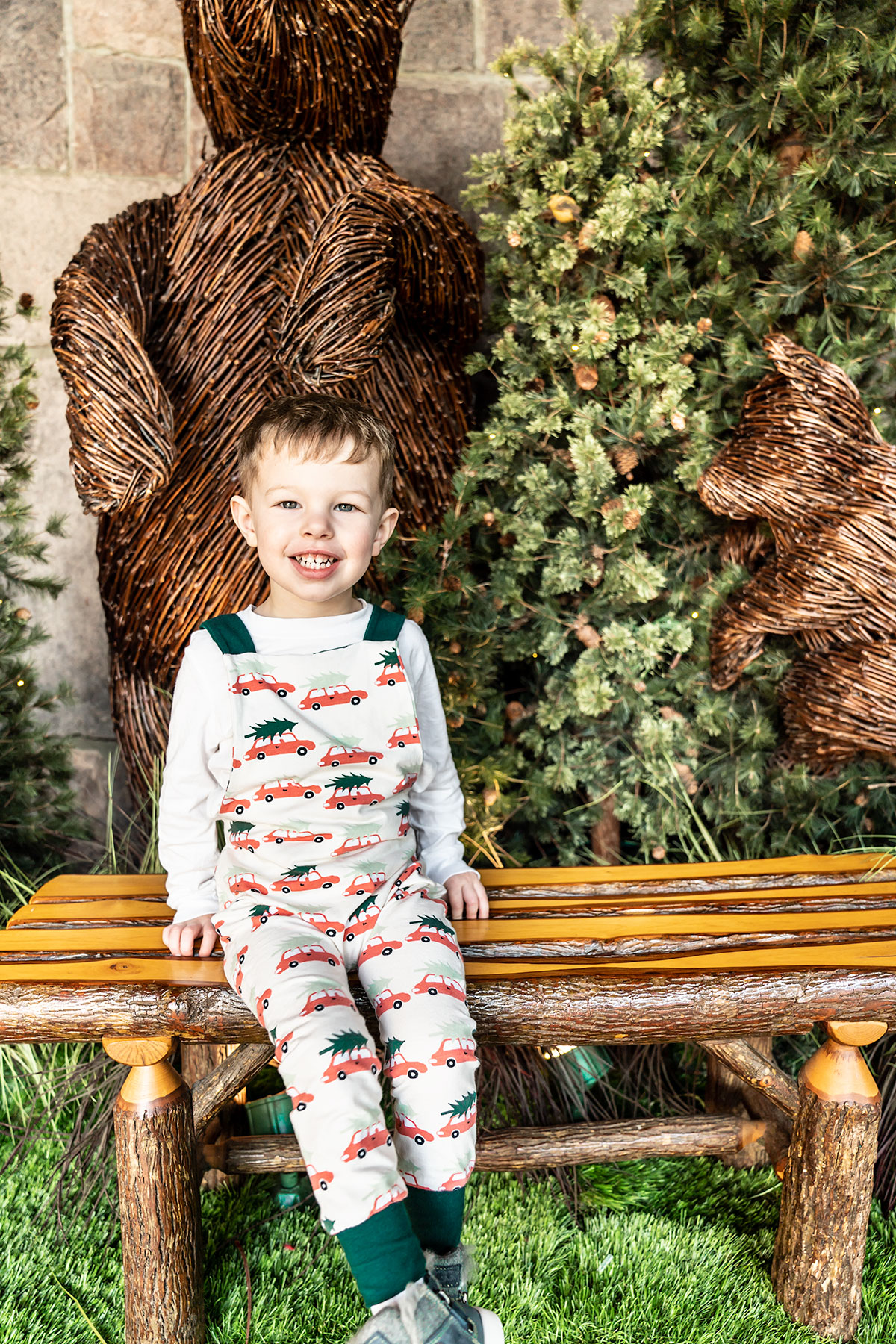 But Tru's grown up so much so fast!
And now he's also a seasoned pro at travel.
We're hardly dealing with those things anymore.
Tru did great on the flights and received compliments from other passengers (!).
He slept great in the two hotel rooms (I'm sure long days at the parks helped with that!)
And he was able to stay up past his bedtime without major meltdowns, so we were able to stay late at the Magic Kingdom for Mickey's Very Merry Christmas Party.
Probably the biggest challenge for Chris was his sore arms and back by the end of the trip!
Tru doesn't like to be in a stroller, and Chris and I don't love lugging around all the extra bulky weight of a stroller on our travels.
So Chris mostly carried Trevor around the parks (Trevor's thirty pounds and too heavy for me to carry for long stretches).
Sweet Tru did fall asleep once in his stroller, on our way out of Epcot.
I wondered if it might be one of my last times seeing him asleep in a stroller … so I got a photo to remember.
As I look back on our Christmastime trip to Disney, some of my favorite moments are:
1.) Seeing the look of pure joy and delight on Trevor's face when he rode a roller coaster.
2.) Riding the Frozen Ever After boat ride, just Tru and I. Trevor was at that sweet spot age, where he was old enough to understand the basic stories behind each ride, but still young enough to take it all in with wide-eyed wonder.
(Although he was definitely extremely disappointed there wasn't a "big slide" on the boat ride, like the one he saw at Splash Mountain).
3.) Walking through the Magic Kingdom with Chris and Trevor for our very early morning breakfast reservation.
Since it was before the park officially opened, it was so peaceful and empty. I loved watching Tru run free through the Plaza Garden in front of Cinderella Castle.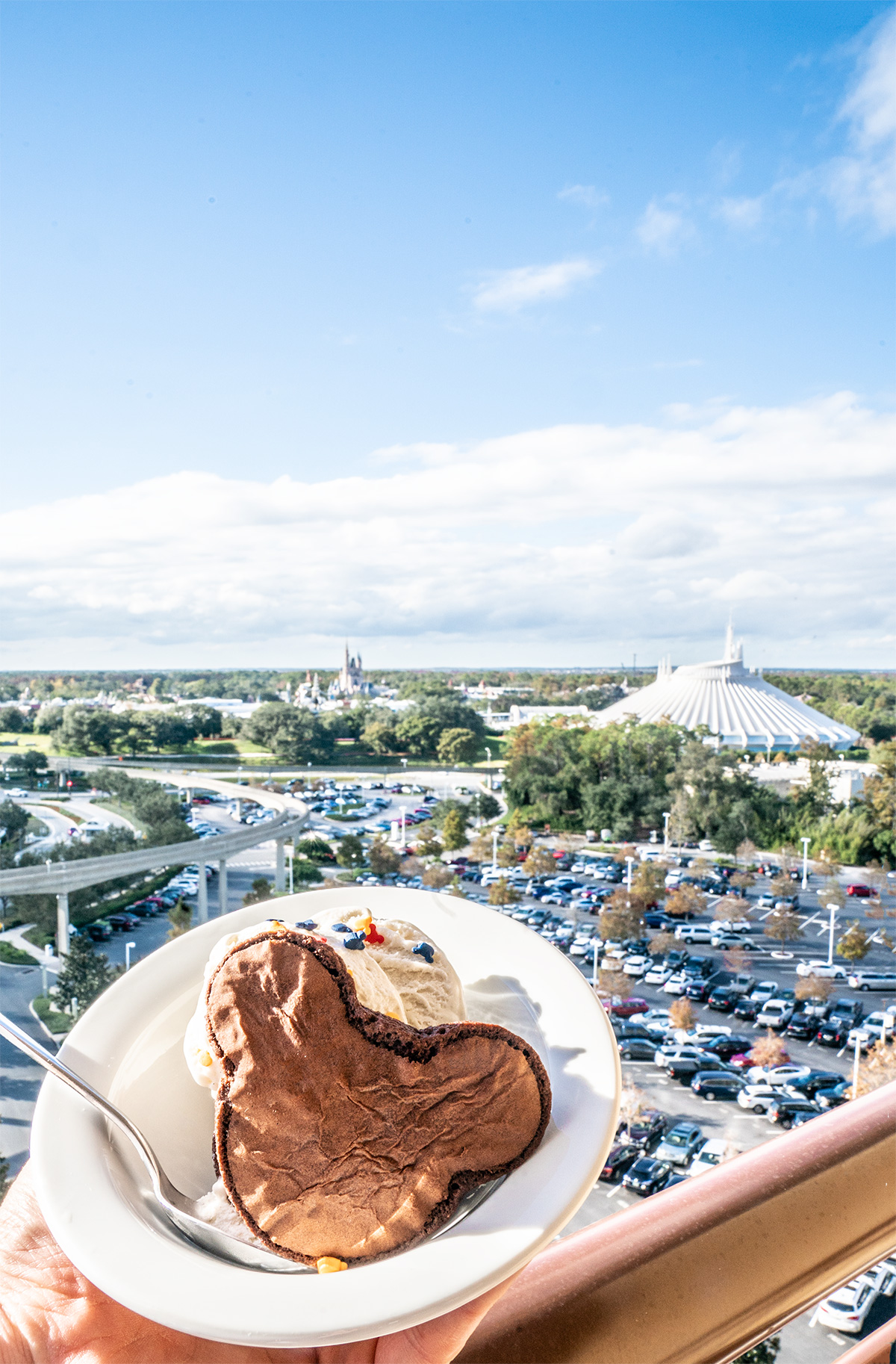 4.) Enjoying an hour of peace with Chris when Trevor napped in the late afternoon.
We would sit out on the balcony while Tru slept inside, playing music and sometimes splitting a little (and by "little" I mean huge!) Disney treat…
Read Next:
33 Photos to Inspire You to Visit Walt Disney World at Christmas
What It's Like to Stay at Disney's Wilderness Lodge at Christmas
Magic Kingdom at Christmas | Part I of Disney World Christmas Series
Where To Find The Ultimate Disney World Character Breakfast
For More Travel Confessions, Check Out:
Travel Confessions: A $225 Smoothie in Chicago
Travel Confessions: Paradise Found in Bermuda
Travel Confessions: Trevor's First Trip To Walt Disney World