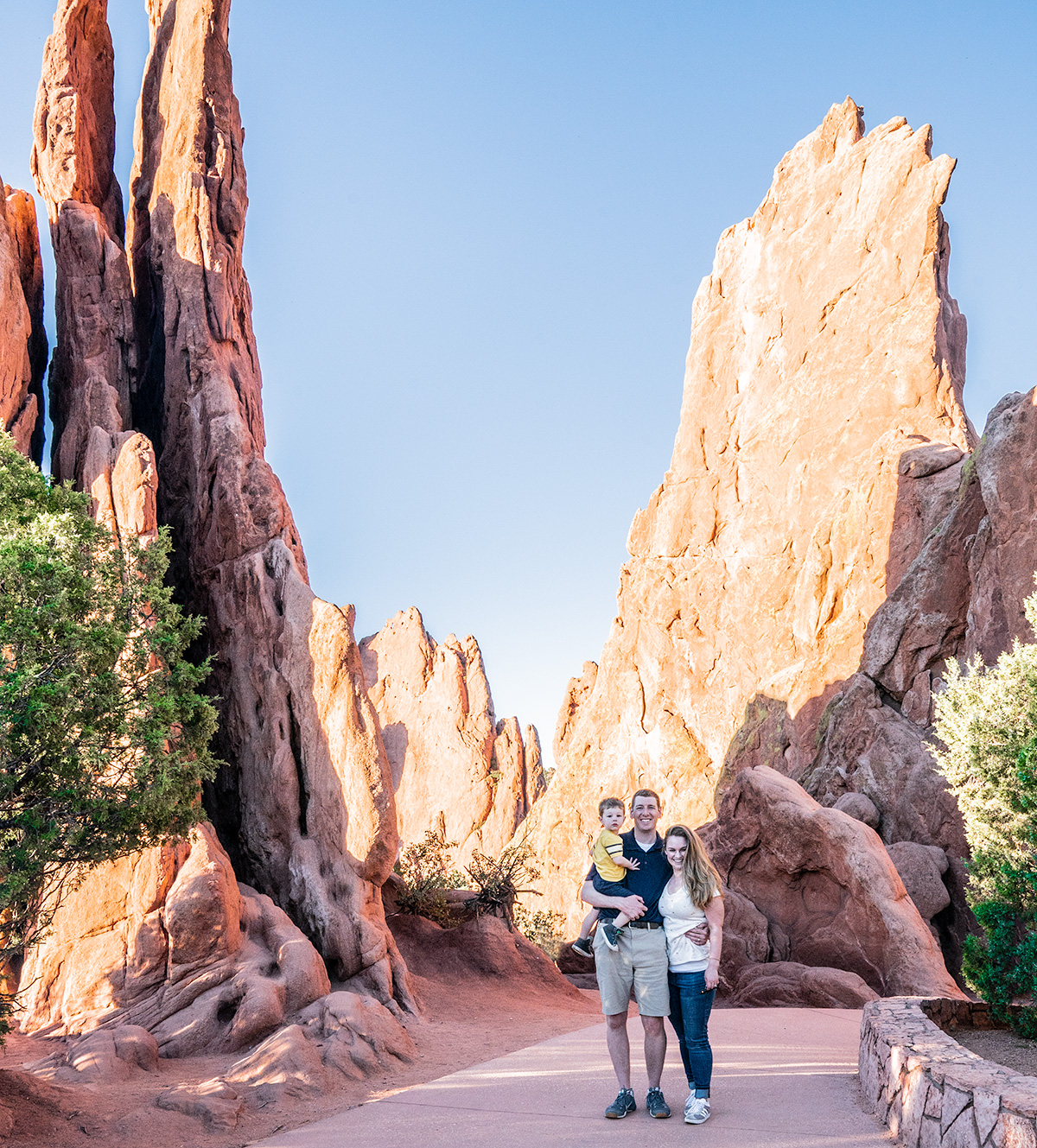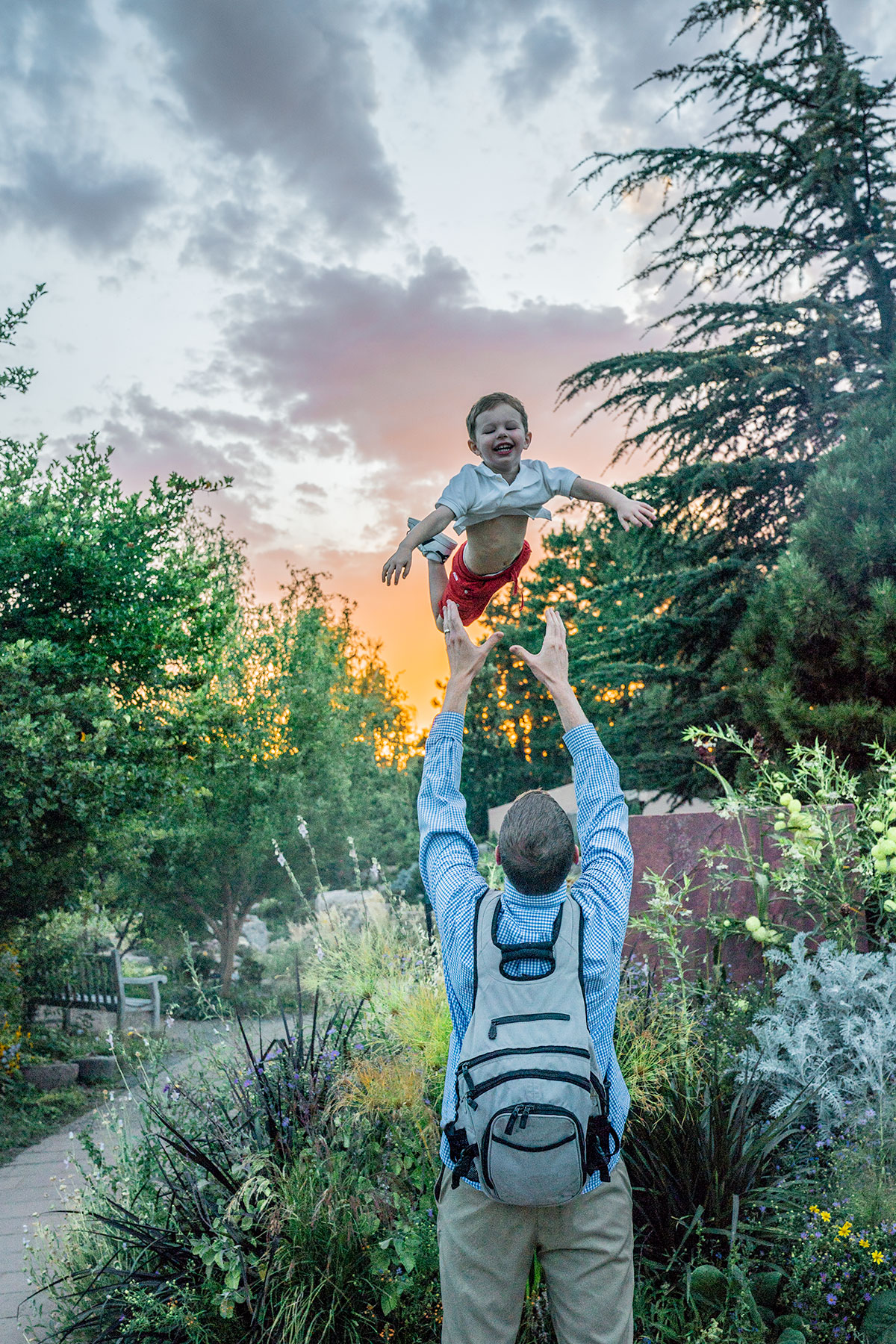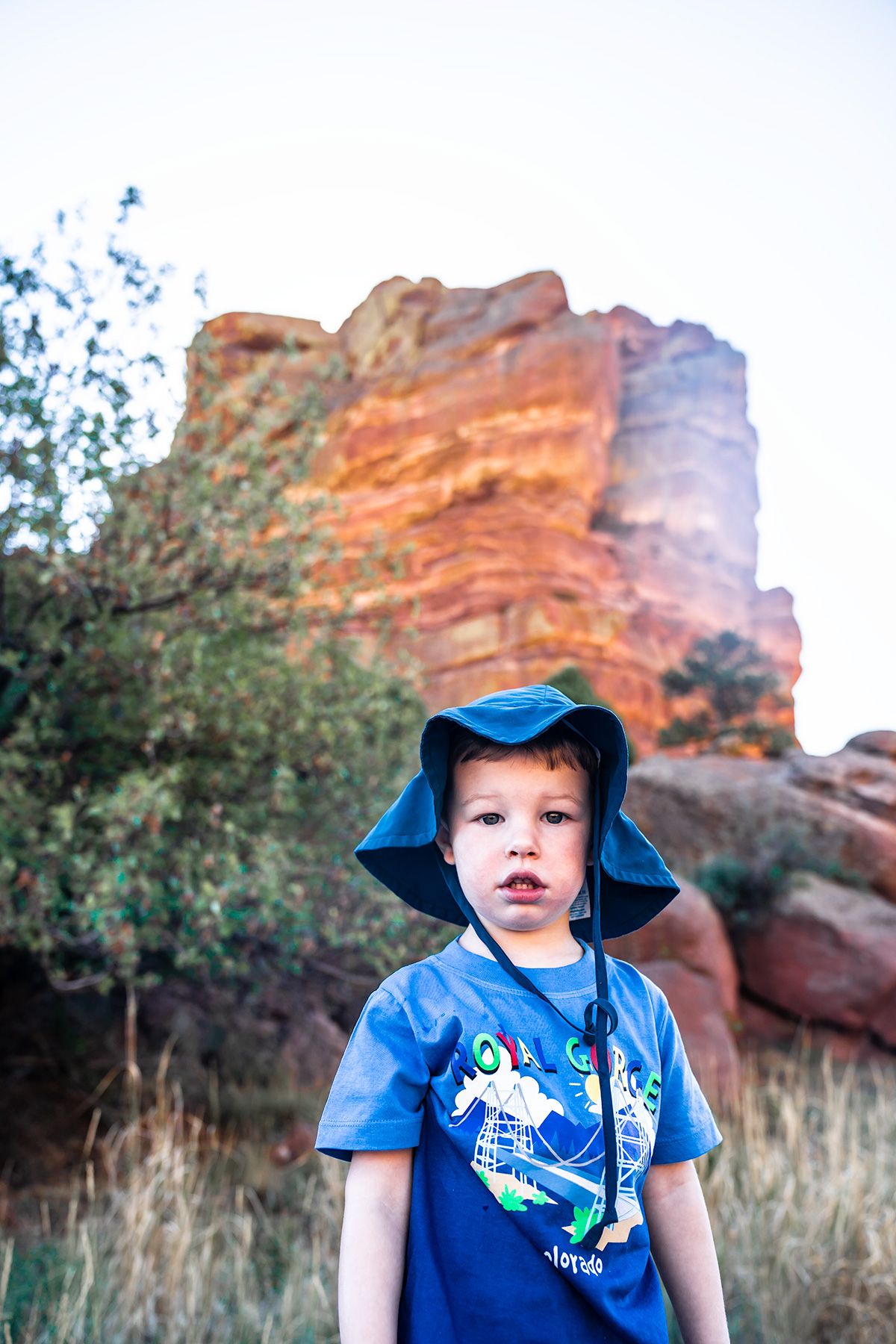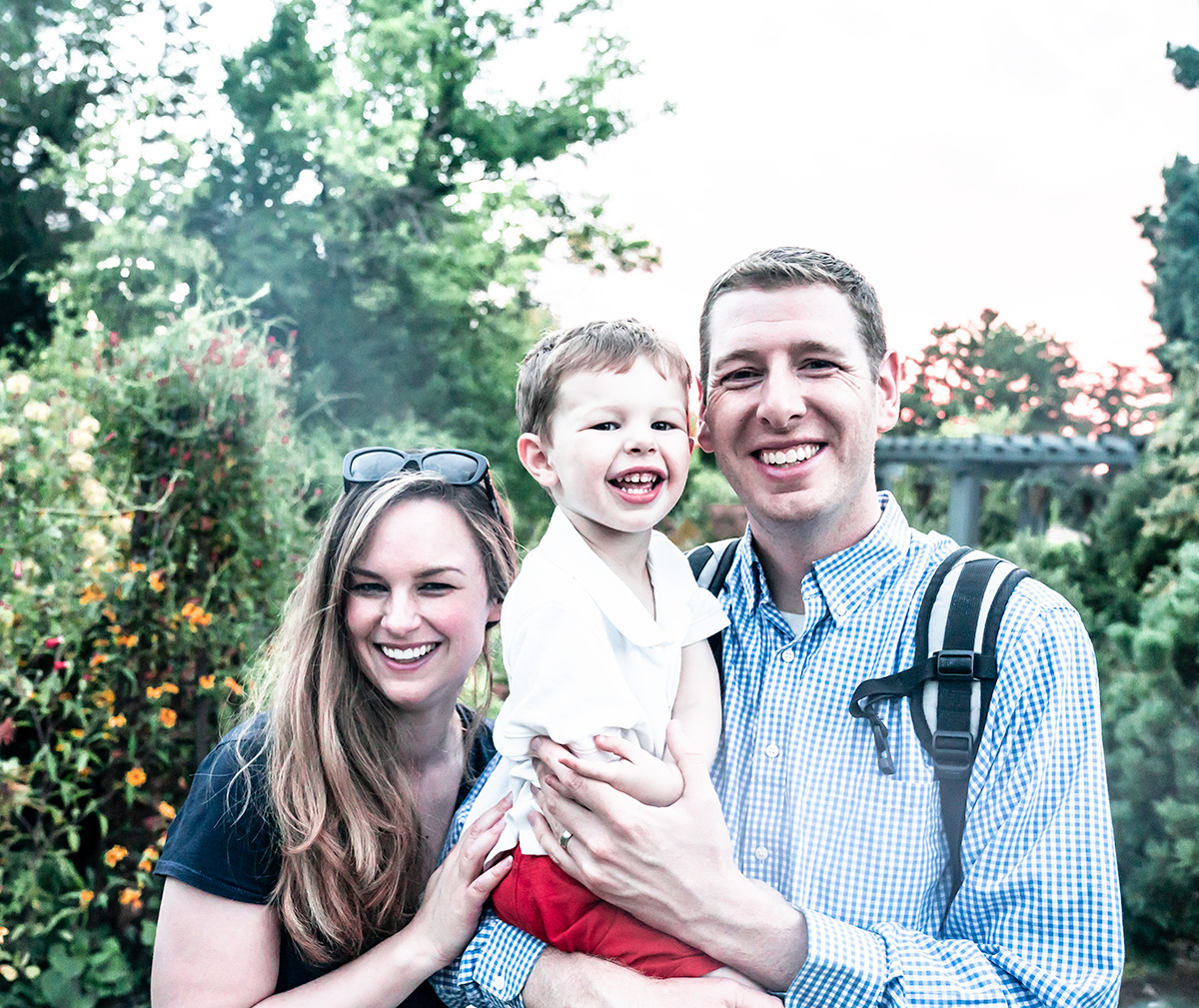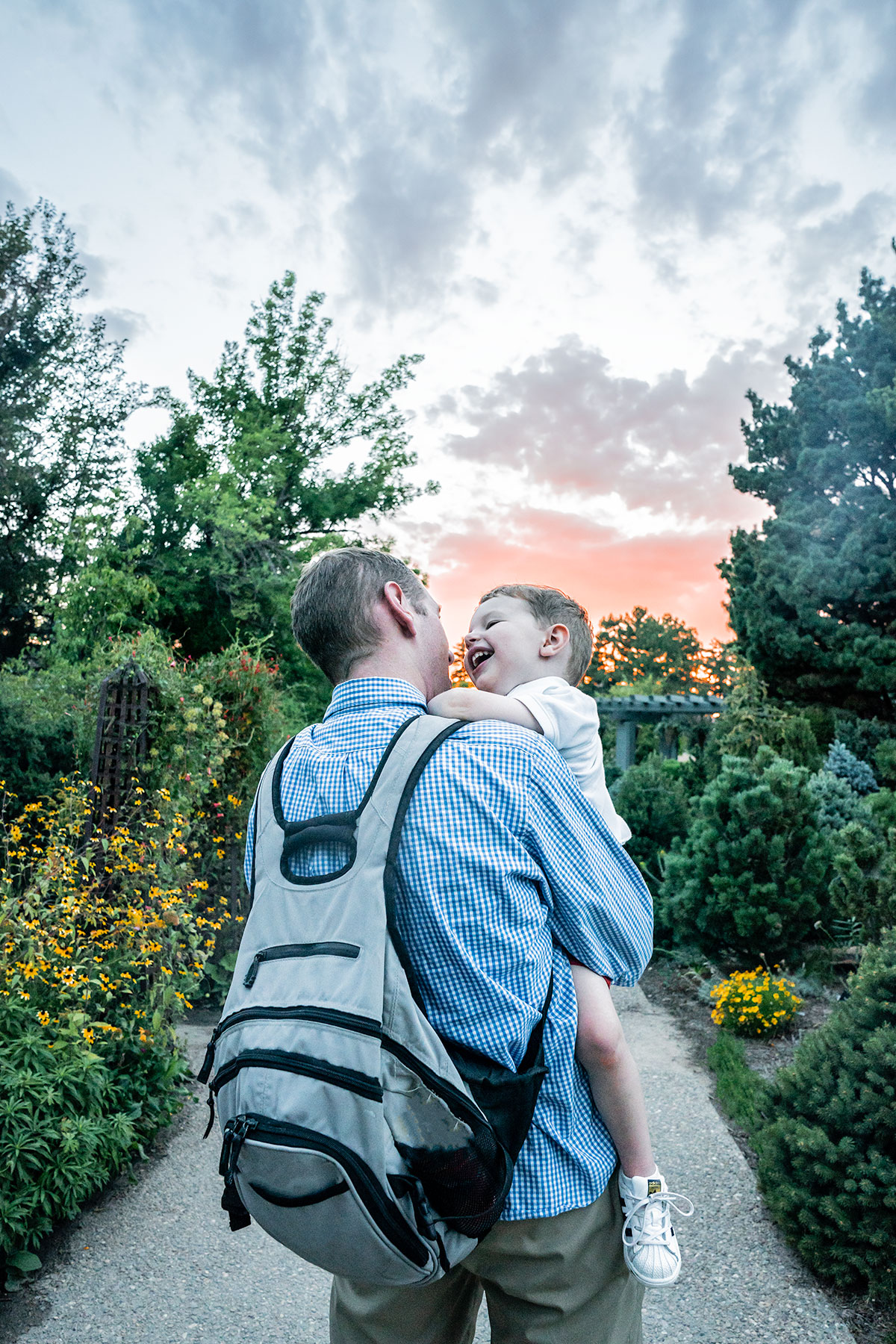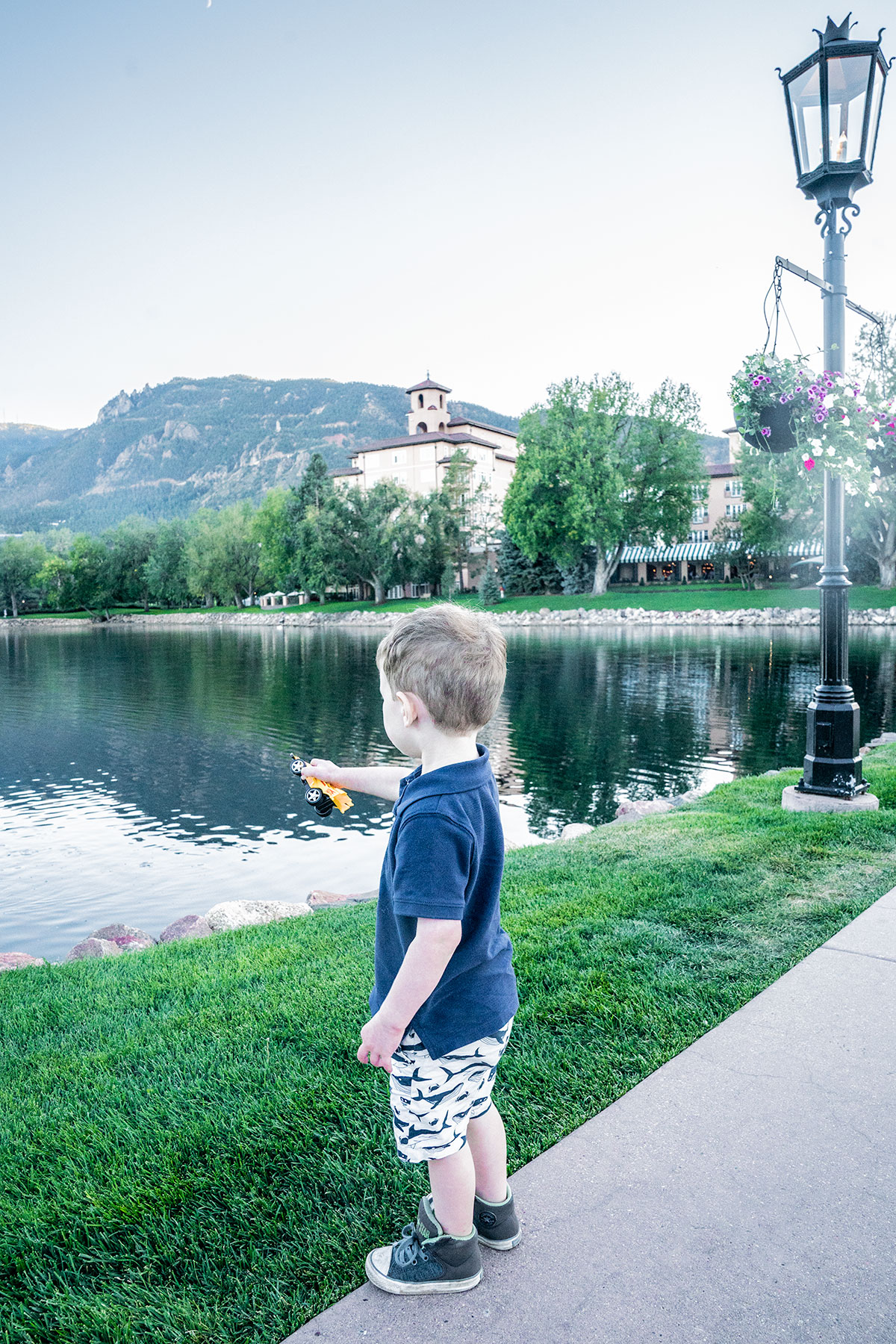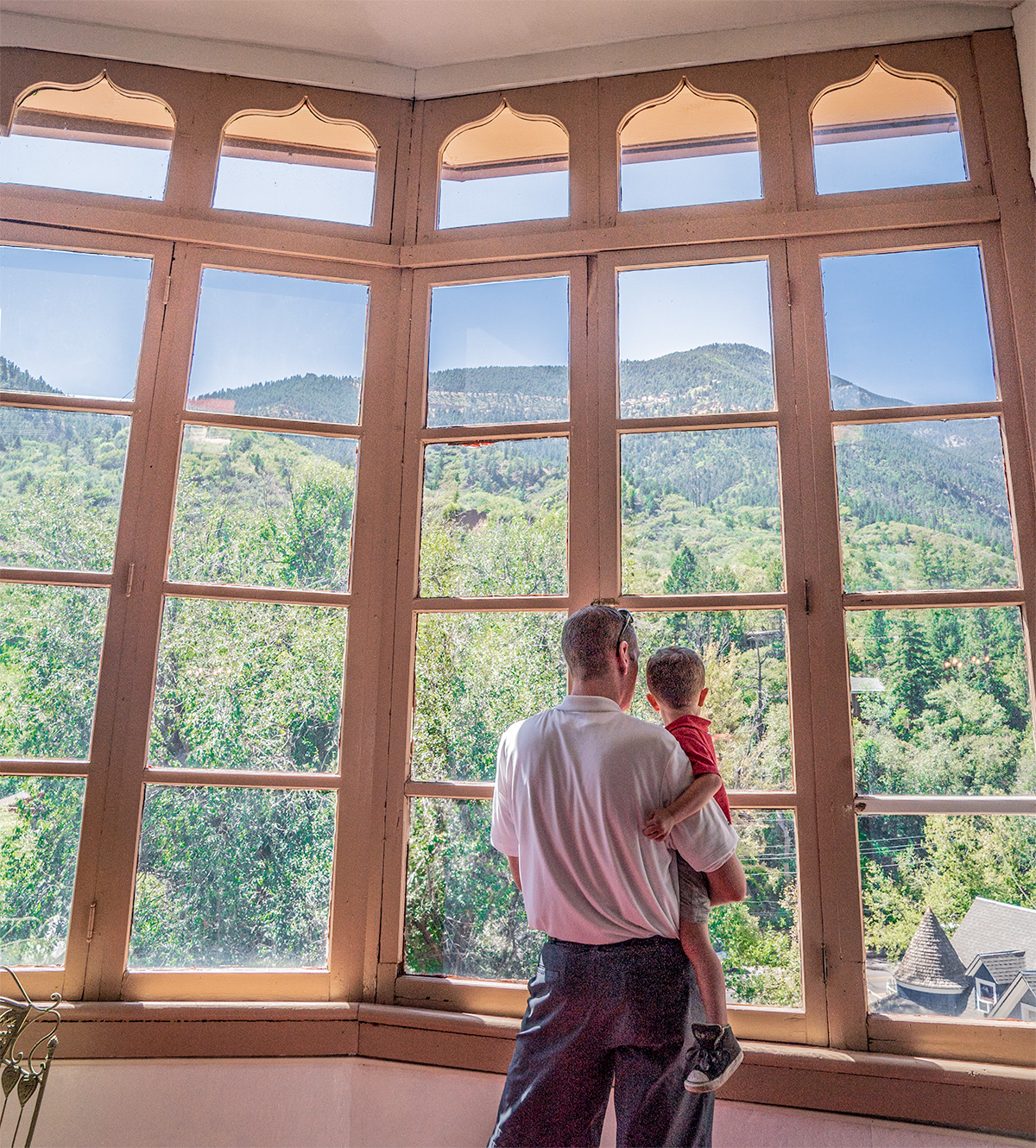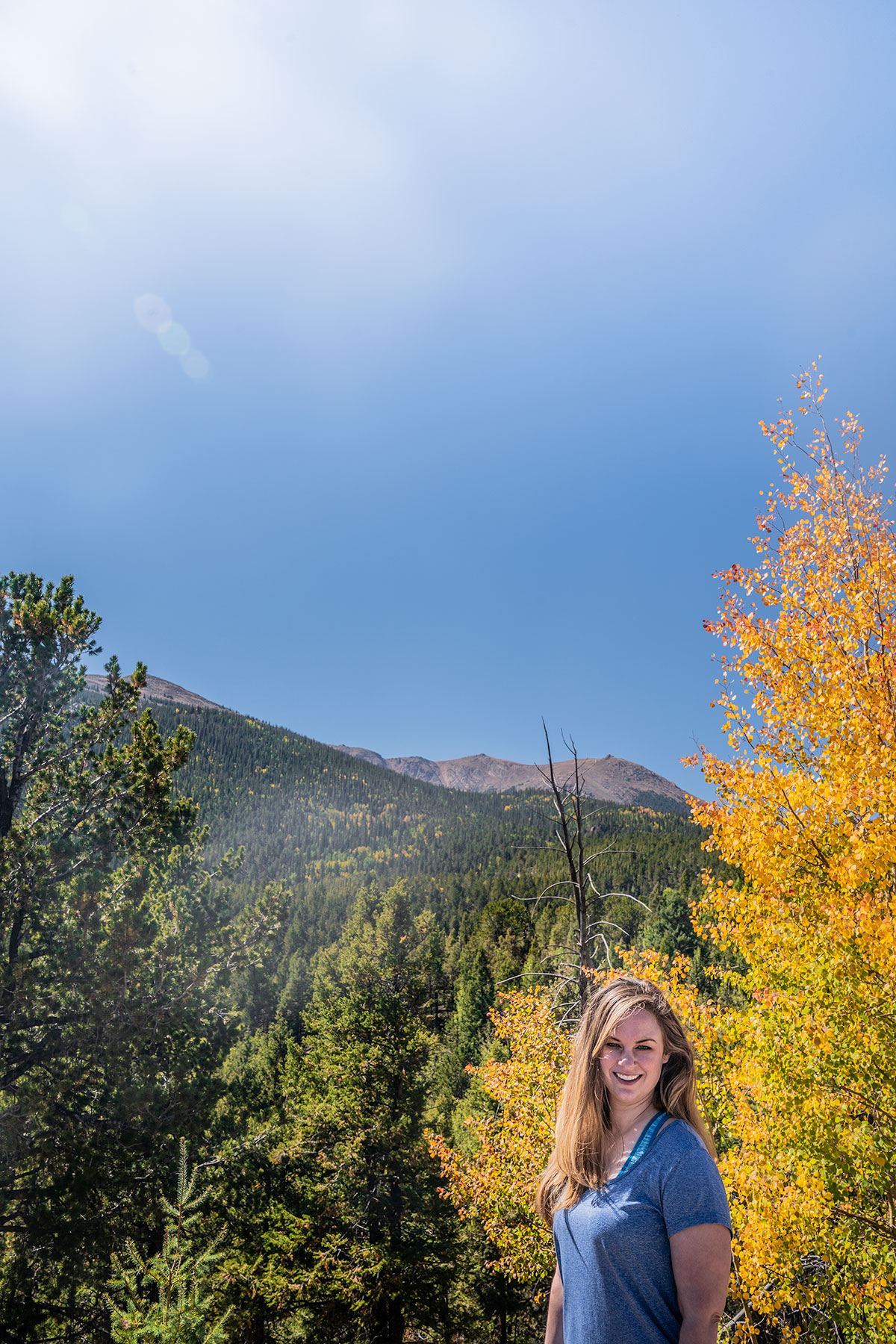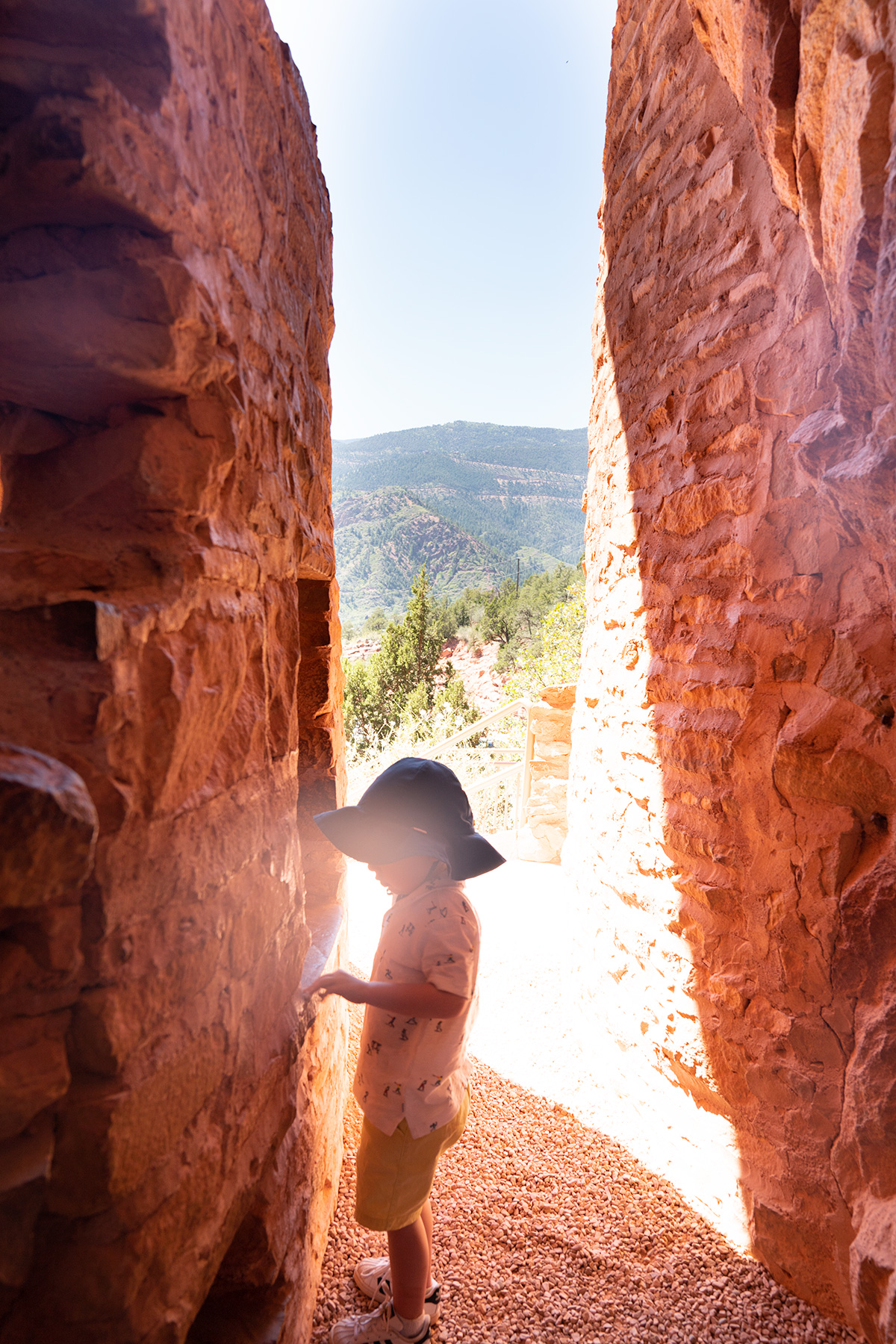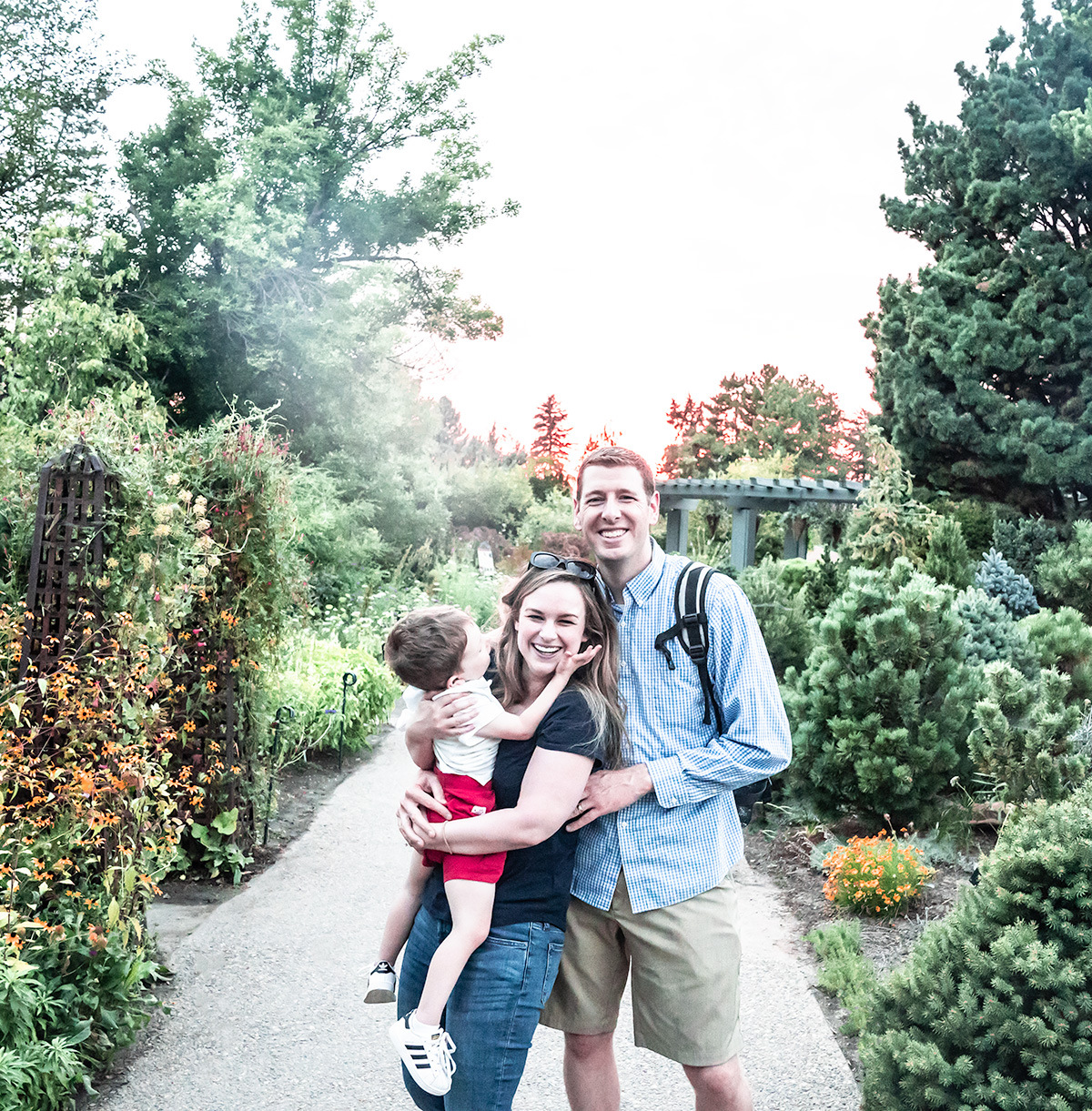 Trevor's Favorites in Colorado
Trevor's absolute favorite thing about Colorado was stopping in gift shops to look at the toy cars. I think we bought a new $5 toy car every single day, either at the hotel gift shop or a local toy store or gift shop. Chris and I wavered on whether or not this counted as "spoiling him" or "giving in." But in the end, I felt we did the right thing. It was easy and simple to make stops in local gift shops as we were out exploring. It eliminated exhausting tantrums, because travel with a two-year-old is challenging enough without the melt-downs. It was the absolute highlight of Trevor's day. And, once he had a toy car, it would keep him happy and entertained so Chris and I could actually see the sights.
Tru also loved the hotel playground and the hotel pool, which we visited each day of the trip.
The Fear I Had In Colorado
When we pulled up to the entrance of Pikes Peak to pay the entrance fee, we received a map of the mountain. I looked it over and zeroed in on one thing: a large warning printed on the back of the map. It said children under 6 months were not permitted on Pikes Peak, due to the high altitude at the top of the mountain.
I'd been hearing about altitude sickness since we'd arrived in Colorado. Basically, altitude sickness is a common ailment at high elevations and, since Colorado is so filled with mountains and cities at high elevation, visitors need to watch out for it. The best prevention is to drink lots of water and stay well hydrated at all times.
As we made the very nerve-wracking, steep drive up Pikes Peak – all winding curves along mountain cliffs – I was terrified we'd made a mistake. What if the altitude affected Tru? I kept handing him sippy cups of water and milk. I actually started crying at one point, I worked myself up with so much worry. But, at age 2 1/2, Trevor was well over the age he needed to be to go to the top of Pikes Peak. And he was absolutely fine. The only problem we actually experienced at Pikes Peak was my fear. I guess I'd sum it up in this way: the worries and anxieties I feel as a mom are very overwhelming sometimes. A lot of times, I'd prefer to just lock us up in our house, safe and sound. I have to be careful that my fears don't cause me to miss out on incredible and special experiences with my family.
The Tough Stuff in Colorado
The tough stuff during our trip to Colorado: just the same issues that many (most?) parents of two-year-olds deal with.
Picky Eating
Trevor's diet consisted of mostly crackers with peanut butter and milk on this trip. Sometimes he'd eat some hummus with pretzels, or drink a fresh fruit smoothie. I mentioned above how I worried about Trevor and altitude sickness. I was just happy whenever he was willing to drink water (you can lead a horse to water, but you can't make him drink!) And – although he tends to fill up on milk and then not want food – I just let him have as much milk as he wanted on this trip, to make sure he was getting plenty of liquids.
Sleep Struggles
Trevor woke up several times – each and every night we were in Colorado – fussing or crying. It was like going back to the newborn stage. Although at least now, Tru would quiet down as soon as we rubbed his back and told him to go back to sleep. Chris and I never figured out what the problem was. The hotel provided us with a nice large crib that looked really comfortable (not just a pack 'n play). We wondered if maybe Tru had a cold draft blowing in his direction, and we tried moving the crib to different locations in the room. Nothing made a difference. And so none of us got any restful sleep on this trip. I've often said, traveling with young kids is not a "vacation." Because "vacation" implies relaxation and rest. Relaxation and rest rarely happen when you're with a two-year-old, no matter where you are in the world!
Meltdowns and Tantrums
Trevor, for the most part, does really well on long car rides and he did great on this trip! But there was one drive where things got really tough. We'd had a really full, busy morning with a day trip to a site about an hour from our hotel. As we made our way back, Tru was past due on his nap and exhausted. He fell asleep for a short time but woke up (he rarely sleeps more than 20 minutes in the car these days). That's when he just lost it. He started wailing and screaming about nothing in particular. We couldn't soothe him. He just needed a nap in his own crib, and we were doing our best to get there. Eventually, Chris came up with a genius idea. He found a nearby Smoothie King on Google maps, so we made a quick detour. Tru loves his smoothies, and the break from his car seat cheered him up. Bonus: we got some healthy fresh fruits and greens into him!
The Sweet Stuff in Colorado
The incredible experience that I never expected: feeding the giraffes at the Cheyenne Mountain Zoo. We visited the zoo just for Tru, but this became one of my favorite memories. The giraffes were incredible and gentle and I loved watching Tru light up and laugh over their warm, sticky black tongues!
I also loved wandering the serene and calming gardens at the Denver Botanic Garden (not a surprise, since gardens are my favorite).
One of my favorite things about Trevor now that he's a bit older and has better communication abilities and a longer attention span: he likes to cuddle! (He never did as a baby.) Each morning, Tru would wake somewhere around 7 am. He'd climb into our bed and snuggle in under the covers between Chris and I. Then we'd turn on the TV and watch whatever cartoon was on the Disney channel. Somehow, Tru's hair always smells like sugar when he first wakes in the morning. The mountain landscapes in Colorado were surreal in their beauty. But still, they pale in comparison to cuddles with my two-year-old son.
Other than that, we just loved The Broadmoor resort. We loved eating pizza and pasta for dinner on the outdoor patio at the resort's Italian restaurant. Then taking evening strolls around the lake, eating gelato and watching the swans and ducks float across the water.
For More on Colorado Travel, Check Out:
The One Kid-Friendly Site Families MUST See In Colorado Springs
Ultimate Family Bucket List | Colorado Springs for Kids
17 Photos to Inspire You To Travel to Colorado Springs
Complete Photo Review | The Broadmoor Luxury Resort
Calling All Photographers! The 4 Most Beautiful Sites in Denver