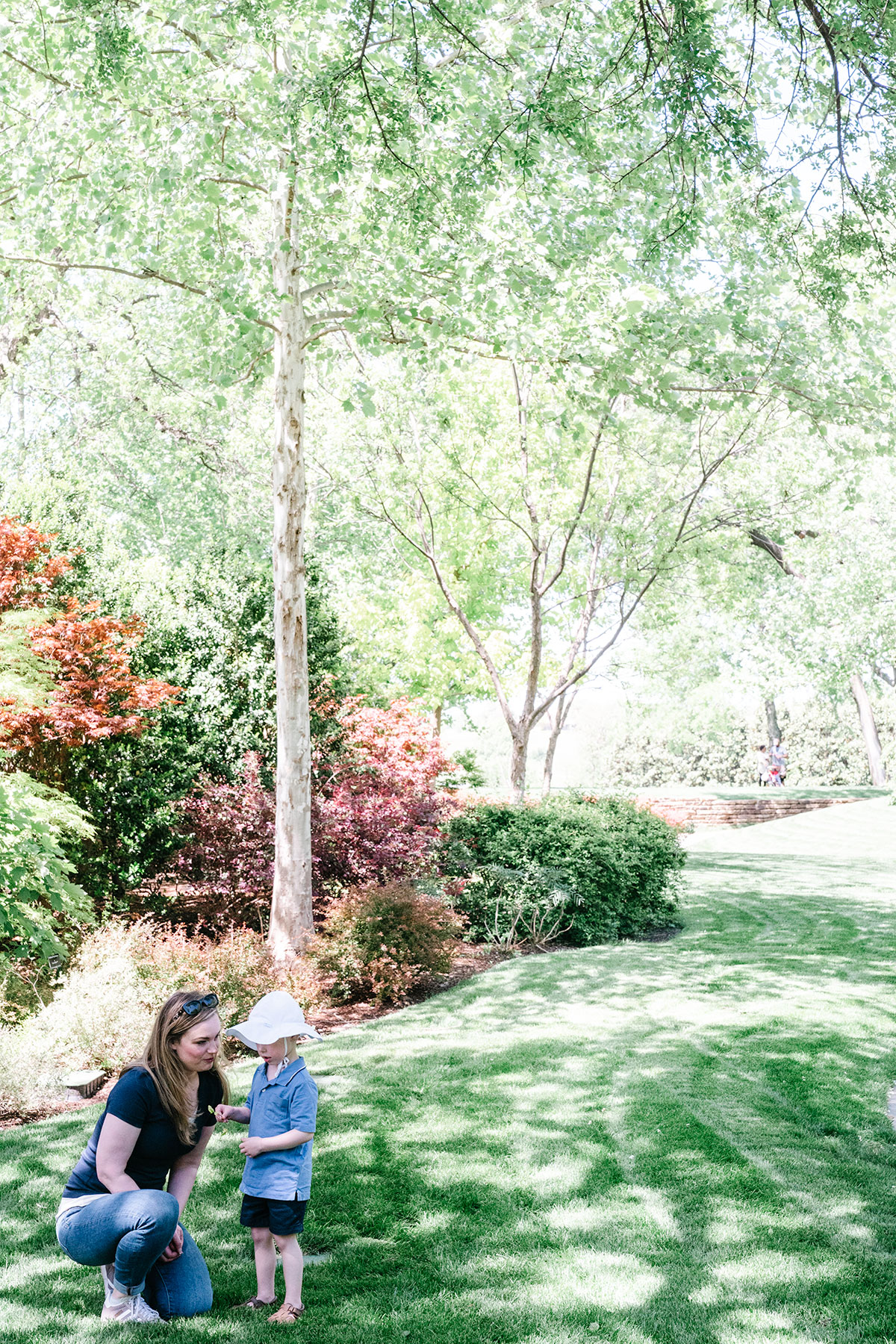 After being cooped up like sardines in those impossibly tiny airplane seats all morning, it feels so good to run free on such a vast open field.
Trevor does a flying leap at the 50 yard line, then starts sprinting toward the goal post.
I snap some action shots while Chris scoops Tru up and spins him around.
Minutes later, they both collapse breathless onto the vivid green artificial field.
Tru rests his head on Chris's chest as they gaze up at the colossal 160-foot-wide jumbotron screen.
They say everything's bigger in Texas. And so far, we're finding out that this seems to be very true.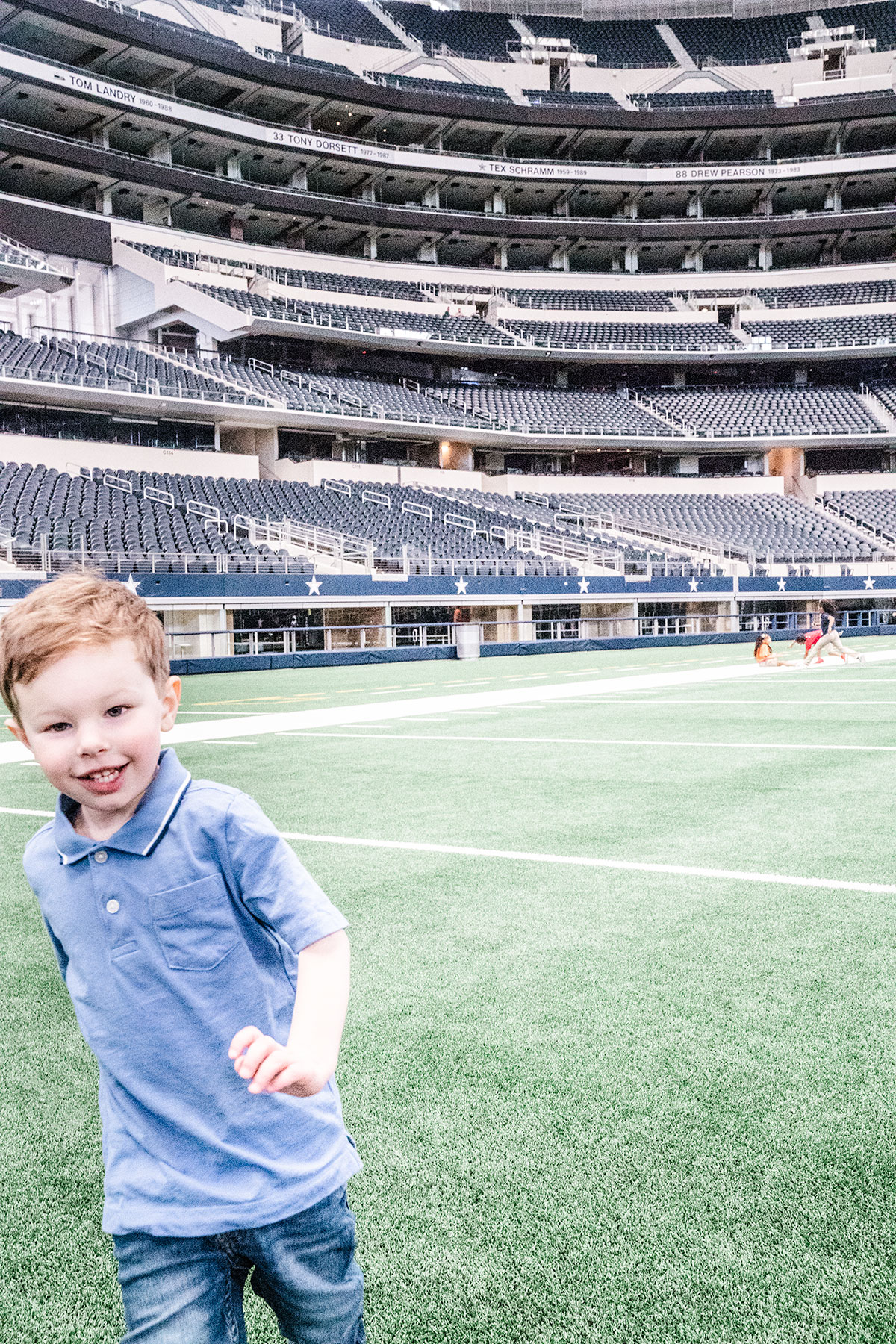 Dallas Cowboys AT&T Stadium
Chris did some research before our trip to Dallas and found out that visitors can sign up for self-guided tours of AT&T Stadium (home of the Dallas Cowboys).
I'm not a football fan like Chris but, even so, I was excited to see such an iconic place that seems to represent so much of Texas culture.
As part of the tour, visitors are allowed to actually walk out on the field (or run and jump and play, in Trevor's case!).
You can't tell from these photos. But earlier on our tour, busloads of children were running up and down the field and having the time of their lives.
So this is definitely one of our top recommendations for family friendly sites to visit in Dallas!
As for the stadium: it was perfectly maintained and state-of-the-art and probably the most lavish sports stadium I've ever seen.
It felt like a true shrine to American football.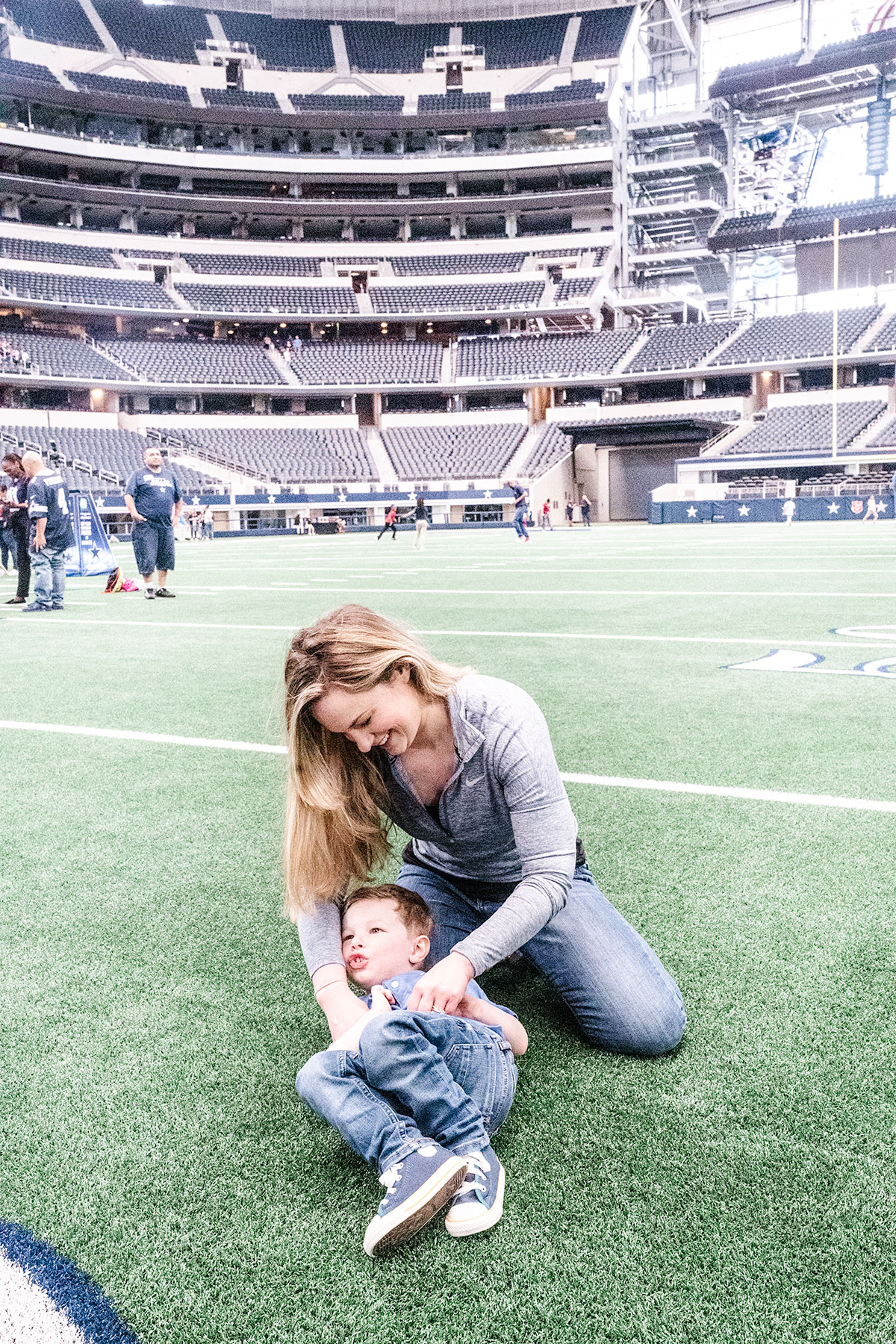 Aside from being able to walk out on the field, another cool feature of the tour: we were able to walk through the Cowboys locker room as well as the Dallas Cowboys Cheerleaders locker room.
Dallas Arboretum and Botanical Garden
Another wide-open green space we loved in Dallas: the Dallas Arboretum and Botanical Garden.
We visited Dallas in mid-April, when spring was already in full bloom.
(Meanwhile, we'd just escaped from the still-dreary, still-brown, still-wintery conditions at our hometown outside of Boston.)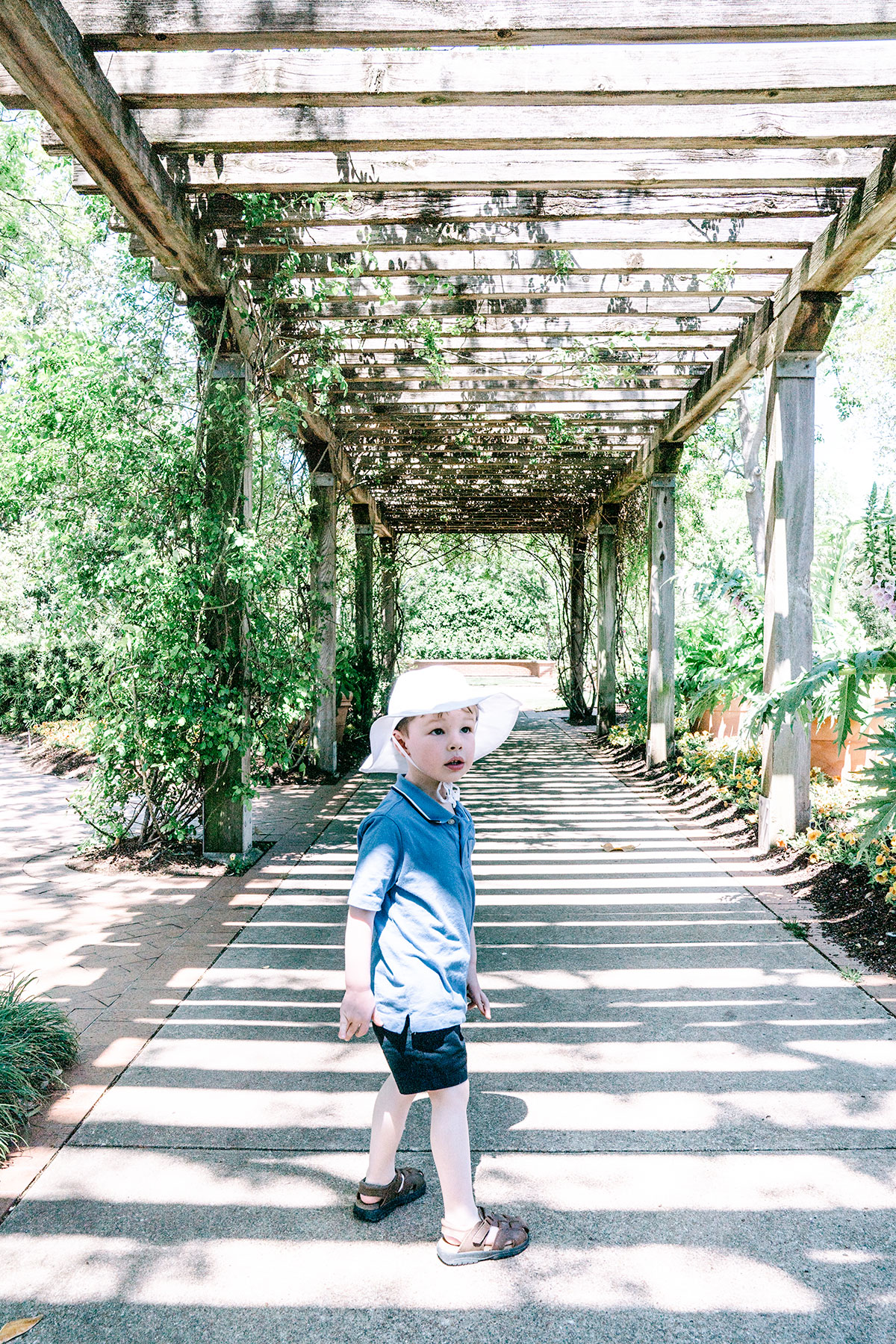 This botanical garden was beautiful and my favorite site in all of Dallas.
Everywhere we looked, there were brightly blooming flowers, sculptures, waterfalls, and fountains.
The grounds were huge (66 acres!), so we didn't even see half of the gardens.
We had lunch at an on-site outdoor cafe, and Tru had fun at the Children's Adventure Garden.
There were shady fields perfect for a picnic.
And serene, calming spots like the Lay Family Garden, which had waterfalls that cascaded down a stone structure and into a flower-trimmed pond.
Dallas World Aquarium
What impressed me about the Dallas World Aquarium was that it looked like any old city building from the outside.
But, once we payed our admission and made our way into the main atrium, we discovered a full-blown rainforest environment inside!
Tropical birds, a huge variety of fish, and even some animals (including ocelots and monkeys) enjoyed a lavish setting of greenery and towering waterfalls.
This aquarium was an understandably popular place. Even though we arrived early in the morning, the entire building was mobbed.
So Tru was acting up a lot during our visit.
I think he was just completely overwhelmed by all of the noise and activity. But if you can find a quiet weekday morning to visit, this is an amazing spot for kids!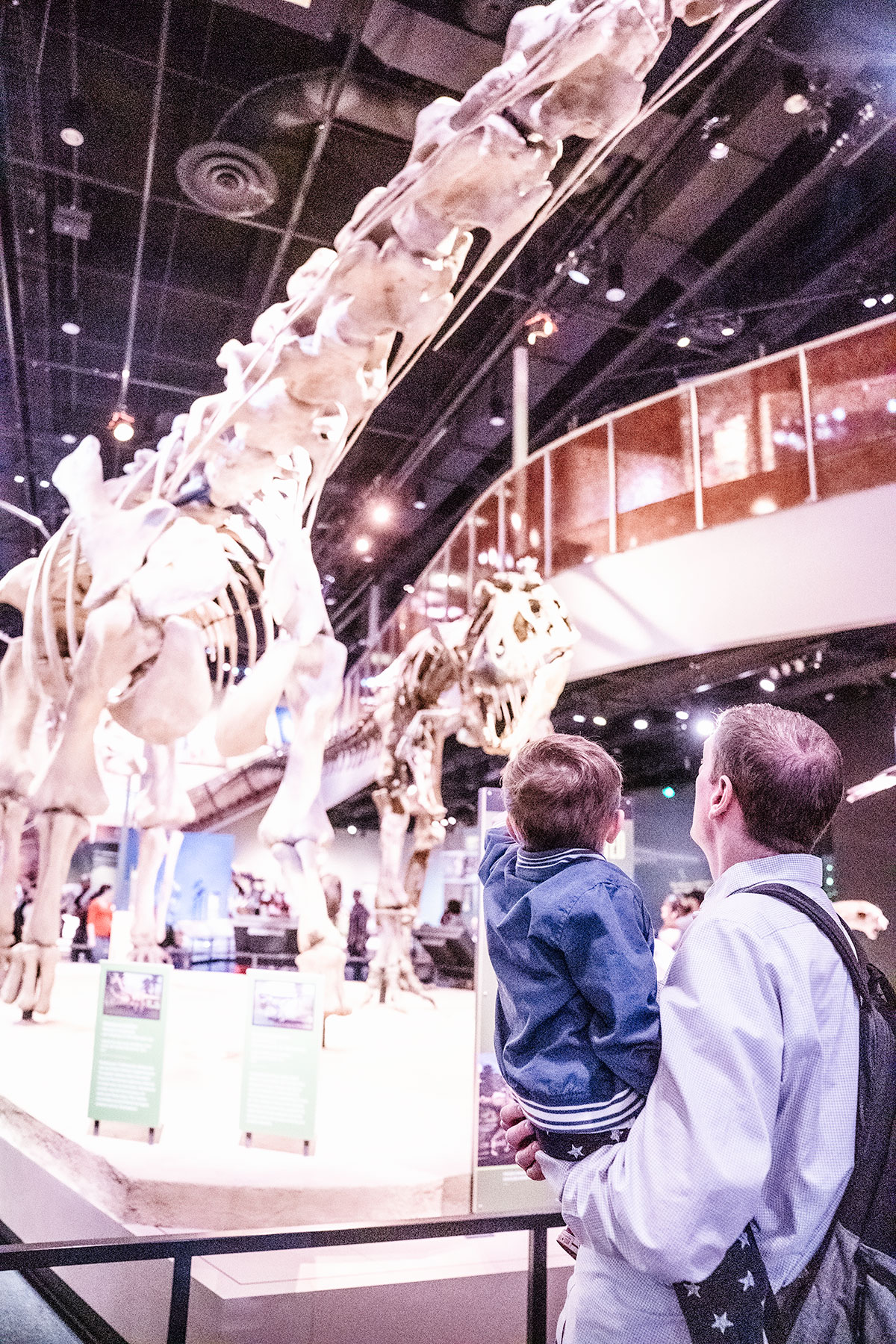 Perot Museum of Nature and Science
We loved this museum. It's huge, there's so much to explore, and everything is hands-on and interactive.
It seemed geared toward older kids, but there were still a lot of exhibits for little kids like Tru.
This was one of those museums that keeps things interesting for adults too.
Tru loved checking out the dinosaur exhibits.
His favorite was a special, limited-time exhibit featuring LEGO art!
Tru loves building with LEGOs, so this was no surprise.
The artist recreated famous, well-known works of art with nothing but LEGOS.
Four Seasons Resort and Club: Dallas at Las Colinas
When Chris and I met, we never dreamed we'd one day stay at a place like the Four Seasons Dallas. We didn't even know what the Four Seasons was. But it's never lost on me how lucky we are to have the opportunity to stay in beautiful hotels like this one.
If you're considering staying at the Four Seasons when you visit Dallas, let me reassure you. This resort checks every box:
The beauty: the open, airy lobby was filled with floor-to-ceiling windows and endless glass vases of white orchids. The outdoor spaces were stunning too: lanterns hanging from giant old trees, fire pits, outdoor fireplaces, and comfy rocking chairs.
The pristine cleanliness: this is not a place where you'll find dust on the headboard or a hair in the bathtub. Everything about the room felt welcoming, comfortable, fresh, and new.
The bed: I think the bed was about as heavenly comfortable as is possible on this earthly plane. I tend to have trouble sleeping when I travel, but I was out cold for the entire night at the Four Seasons Dallas.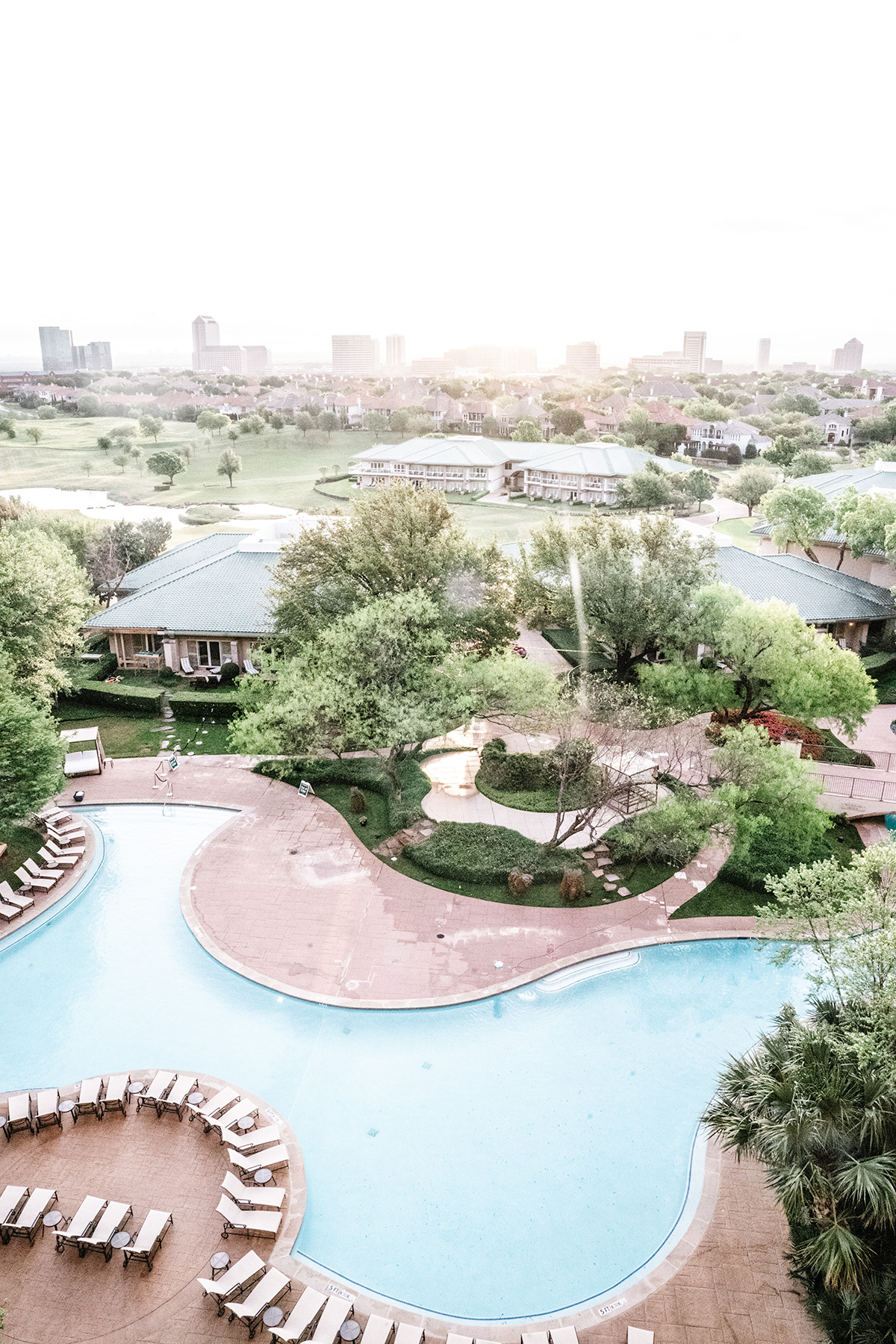 The view: from our little hotel room balcony, we could see the beautifully landscaped pool and the Dallas skyline in the distance.
The peace and quiet: How is the Four Seasons so soundproof? I wish they'd share their secrets with every other hotel. I never heard a sound – from another room, or a hallway, or outside – for our entire stay.
The amenities: This resort was also an impressive sports club. I think a lot of nearby residents must pay membership fees for daily access to the facilities. They had everything: golf courses, racquetball, squash, basketball and tennis courts, a huge gym, plus indoor and outdoor pools. Tru went swimming every day and had the time of his life. On the day it was chilly out, he headed for the indoor pool.
I'm typically excited to go back to my Home Sweet Home at the end of a trip. But this was one place where I was truly sad to leave!
I had to include one shot of the living room area, featuring the portable crib that was set up for Tru. He's so big now, his head touched one end of the crib while his feet touched the other. But he slept comfortably and soundly for this trip. This was the last time Tru ever slept in a crib for a trip. He's since moved to a fold-out bed. And so, this photo shows one of the last signs of Trevor's "babyhood" from our trip to Dallas.
Other sweet touches for kids at the Four Seasons Dallas: a little stuffed horse, some cowboy-themed kids' toiletries, and a toddler-sized white robe hanging next to the adult robes in the bathroom.
Road Trips from Dallas
We did a couple of amazing road trips from Dallas: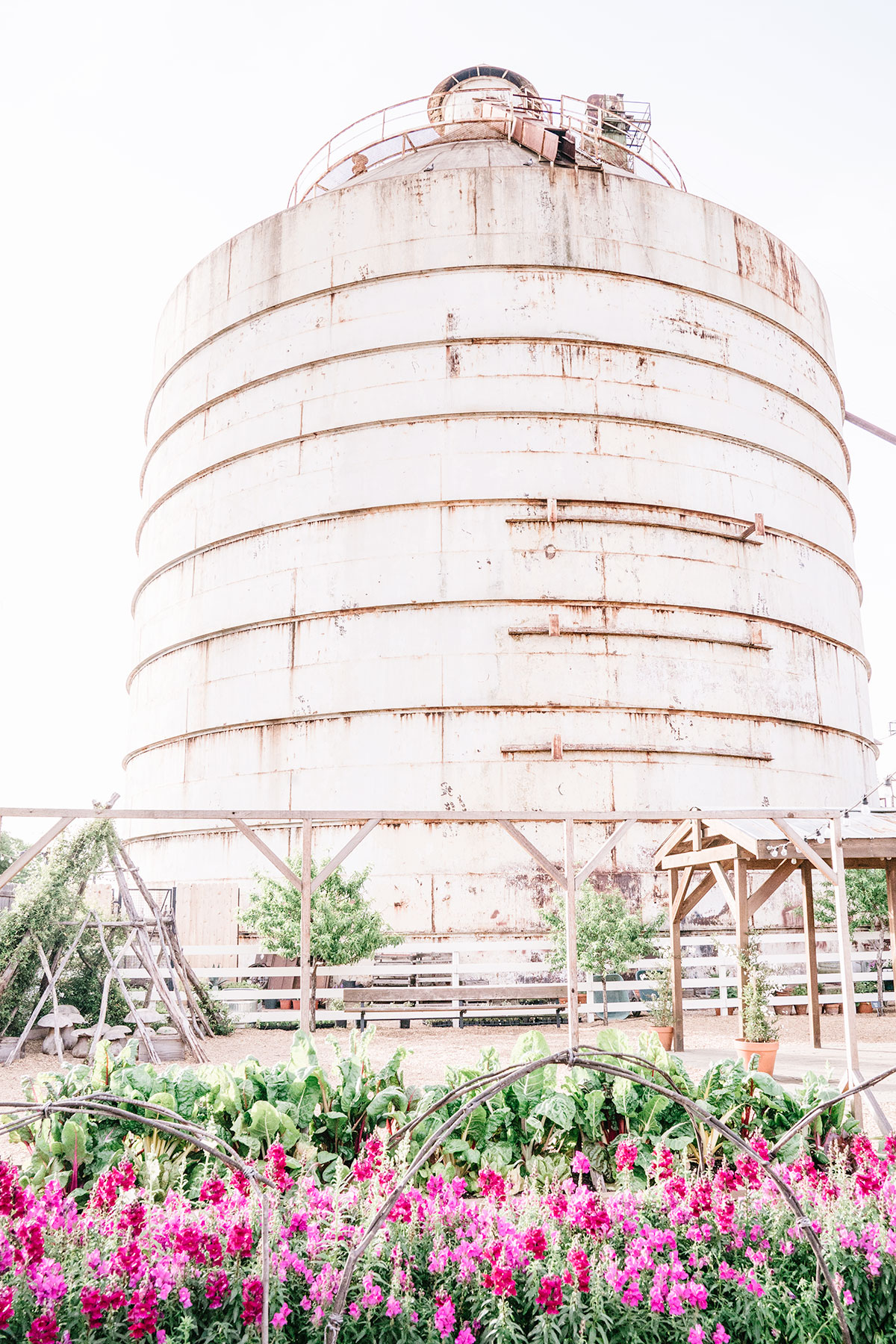 Magnolia Market at the Silos
Chip and Joanna Gaines' Magnolia Market is located in Waco, Texas. The drive from Dallas is about 1 1/2 hours. Here's everything we learned during our trip to Magnolia:
Travel Journal: Magnolia Market at the Silos
Bluebonnet Trails
If you visit Dallas in spring, try a day trip to Ennis, Texas. Here you'll find the state wildflower, the bluebonnet, in full bloom! The drive from Dallas is about 30 minutes, and the Ennis Visitor Center offers road maps marked with the best spots to find bluebonnets. Here's everything about our bluebonnet excursion: