Gorgeous falls, wildflowers, lazy rivers, olive groves, and shady spots for picnics. This Texas day trip will show you the natural beauty of Texas!
We almost skipped this road trip, but it turned out to be one of my favorite experiences from our time in Texas.
We saw some gorgeous falls, walked through wildflowers along a lazy river, bought some scented olive oil soaps from an olive grove, and ate a picnic lunch in a peaceful park.
As much as we loved the big city excitement of Austin, this road trip brought us peace and calm and a chance to connect as a family.
It was such a fun and memorable way to see the beauty of the natural Texas landscape.
So where did we go?
We drove to a beautiful spot – about one hour from Austin – called Pedernales Falls State Park. (It's about an hour and a half from San Antonio).
We also added in a couple of other amazing stops nearby, including a river for swimming and an olive grove for lunch.
Here are all of the details of our day trip to Pedernales Falls State Park in Texas:
First Stop: Check Out Pedernales River from Reimers Ranch Park
The first stop on our day trip was Reimers Ranch Park, and I recommend starting your day here (it's a 40-minute drive from Austin).
In my mind, Pedernales Falls State Park was the more scenic and breathtaking spot.
However, Reimers Ranch allowed us to really experience the Pedernales River.
It was gorgeous clear, sunny spring weather on the day of our road trip, and Trevor was in such a happy mood.
He's always excited to "go for a hike."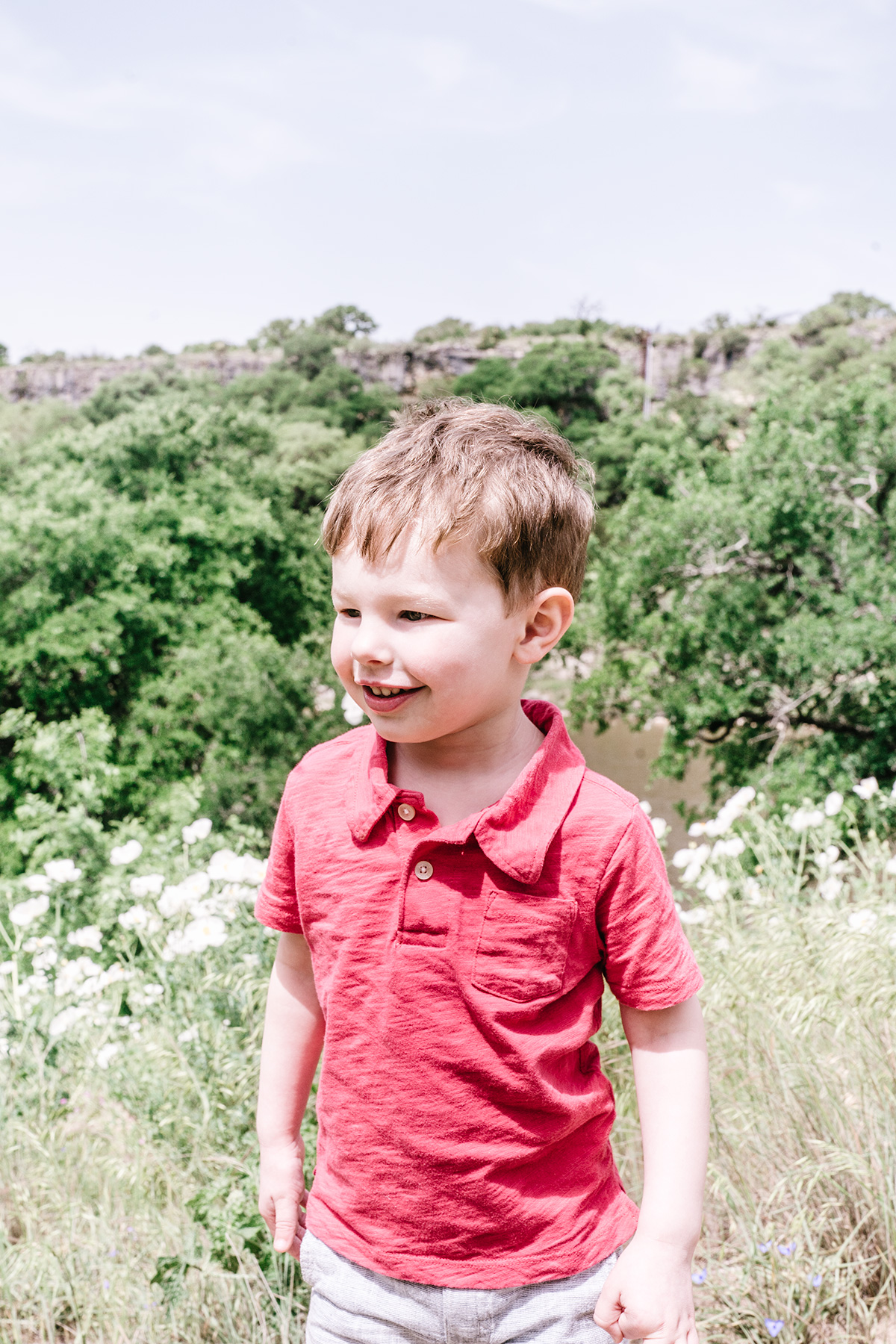 He held my hand as we walked along the (mostly flat) dirt paths that wound along the river.
The views were pretty.
Everywhere we looked were giant old trees growing along the winding river, with a lot of jagged rock cliffs rising up along the river valley.
One tip: you can swim in the river here, so pack your swimsuit!
It's also possible to do a leisurely stroll along the river, which is what we did.
Or, you can do more adventurous hikes to the tops of the jagged rocks for views across the river.
My favorite part of Reimers Ranch Park was all of the wildflowers growing along the pathways.
Tru and I loved finding all of the brightly colored butterflies that hovered around the flowers.
Second Stop: Pick Up A Picnic Lunch at Texas Hill Country Olive Co.
We found Texas Hill Country Olive Co. completely by accident as we were making our way from Reimers Ranch Park toward Pedernales Falls.
Chris and I had skipped breakfast and were completely starving when we found this beautiful spot.
We were driving through the wide open ranch farmland of rural Texas when we spotted a beautiful stone building perched beside rolling hills of olive groves.
Inside, we found a store selling the most richly flavorful and delicious olive oils (there were lots of samples to try!)
And the most incredible-smelling olive oil hand soaps.
I loved this place.
For me, the best thing about travel is when I just randomly stumble on a place I love but never knew existed.
Anyway, we started chatting with the store employees and they said they would be happy to pack a to-go order for a picnic at our next stop (Pedernales Falls State Park).
We bought some olive oil and some hand soap, we grabbed our food, then we drove about 20 minutes to Pedernales Falls…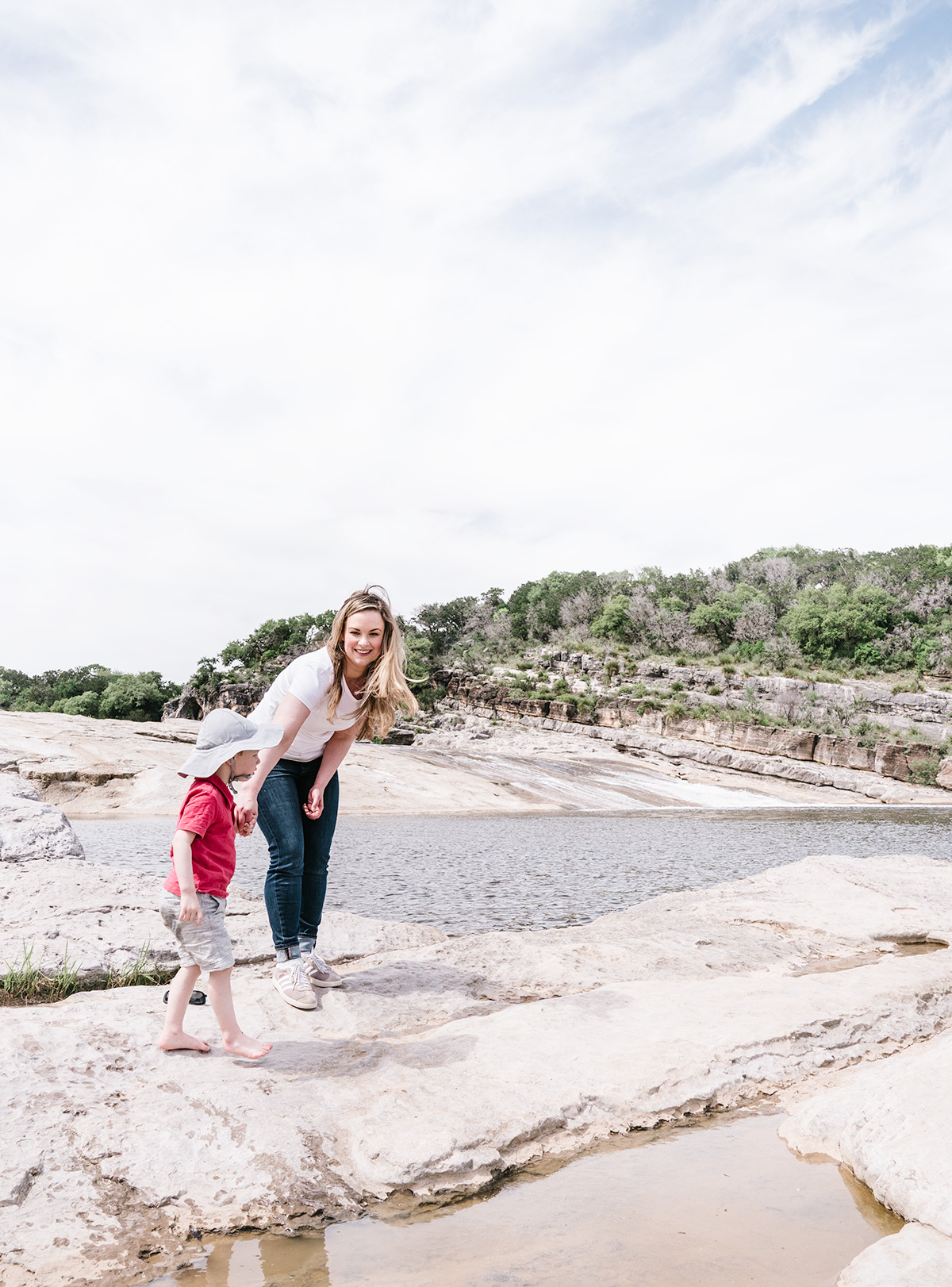 Third Stop: Pedernales Falls State Park
On our way through the Pedernales Falls State Park, we passed a huge green field filled with giant old trees.
There were tons of picnic tables set up along the grounds so we grabbed one and enjoyed our lunch from Texas Hill Country Olive Co.
Our sandwiches and homemade chips were so delicious.
And it was a beautiful spot for a picnic.
We were the only visitors around that day, so our only company were all of the birds and butterflies.
It was really peaceful.
Then we headed on to the most breathtaking part of the road trip, Pedernales Falls.
The most dramatic part of the landscape was the jagged rocky river gorge which was covered in greenery.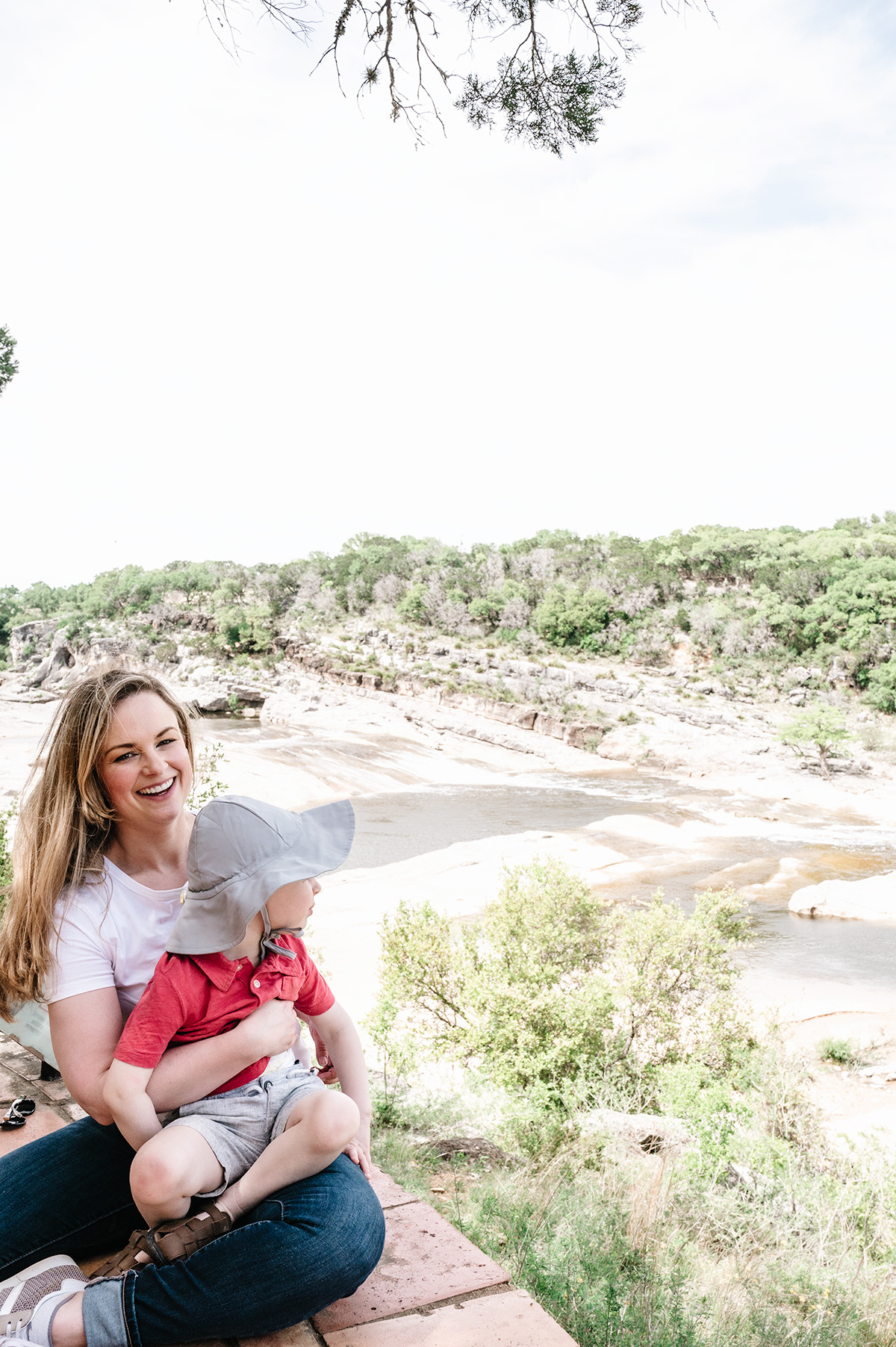 The falls were small but gorgeous and inviting.
Tru took off his sandals to splash in the puddles that formed on the rocks.
If you're traveling to Austin or San Antonio, Texas, you should definitely make a day out of exploring the Pedernales Falls region.
It was one of the highlights of our trip to Texas!
For More on Texas Travel, Check Out:
Travel Journal: Magnolia Market at the Silos
Travel Journal: Exploring the Texas Bluebonnet Trails
Travel Journal: The Cowboys and The Bluebonnets of Dallas
Pin on Pinterest: