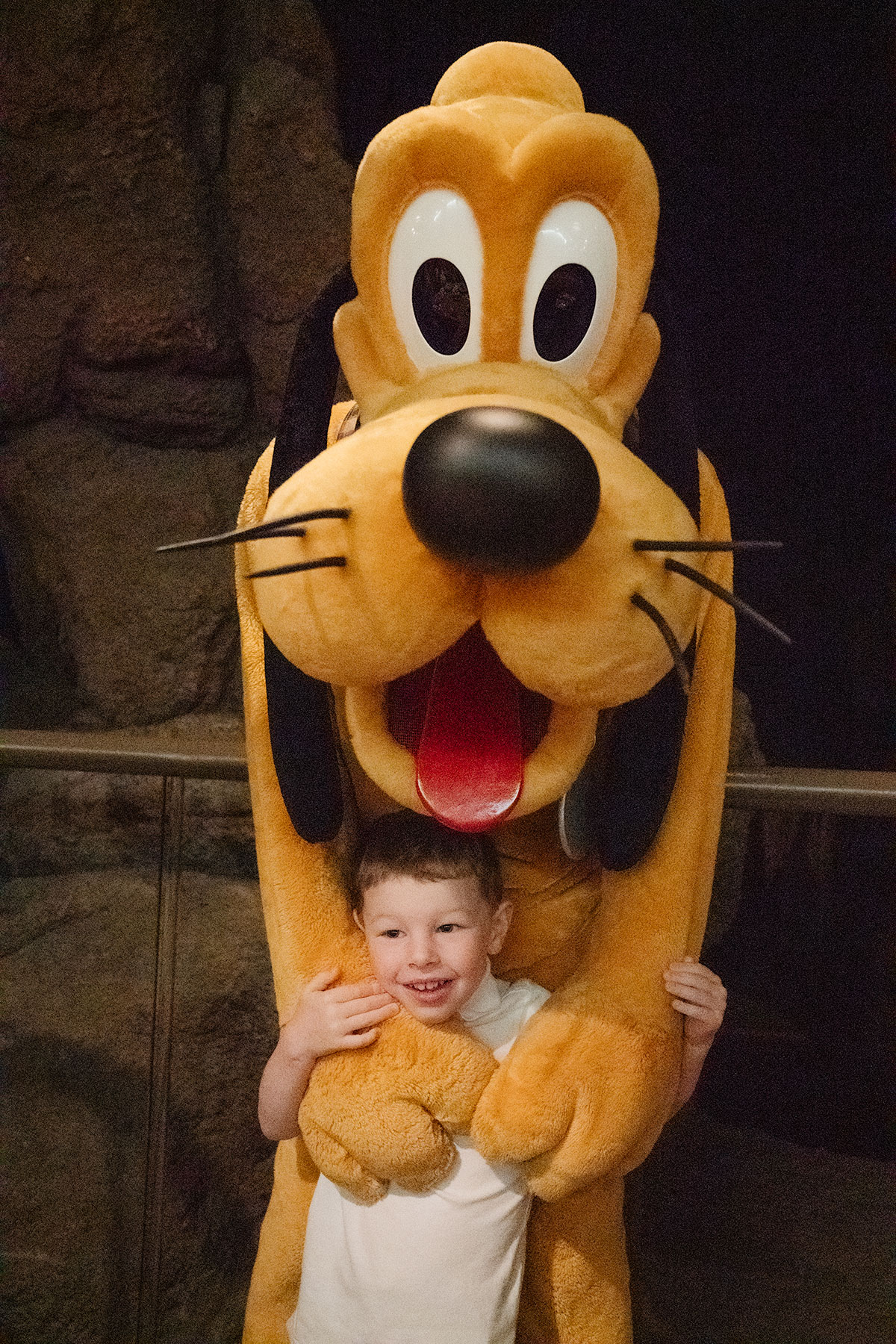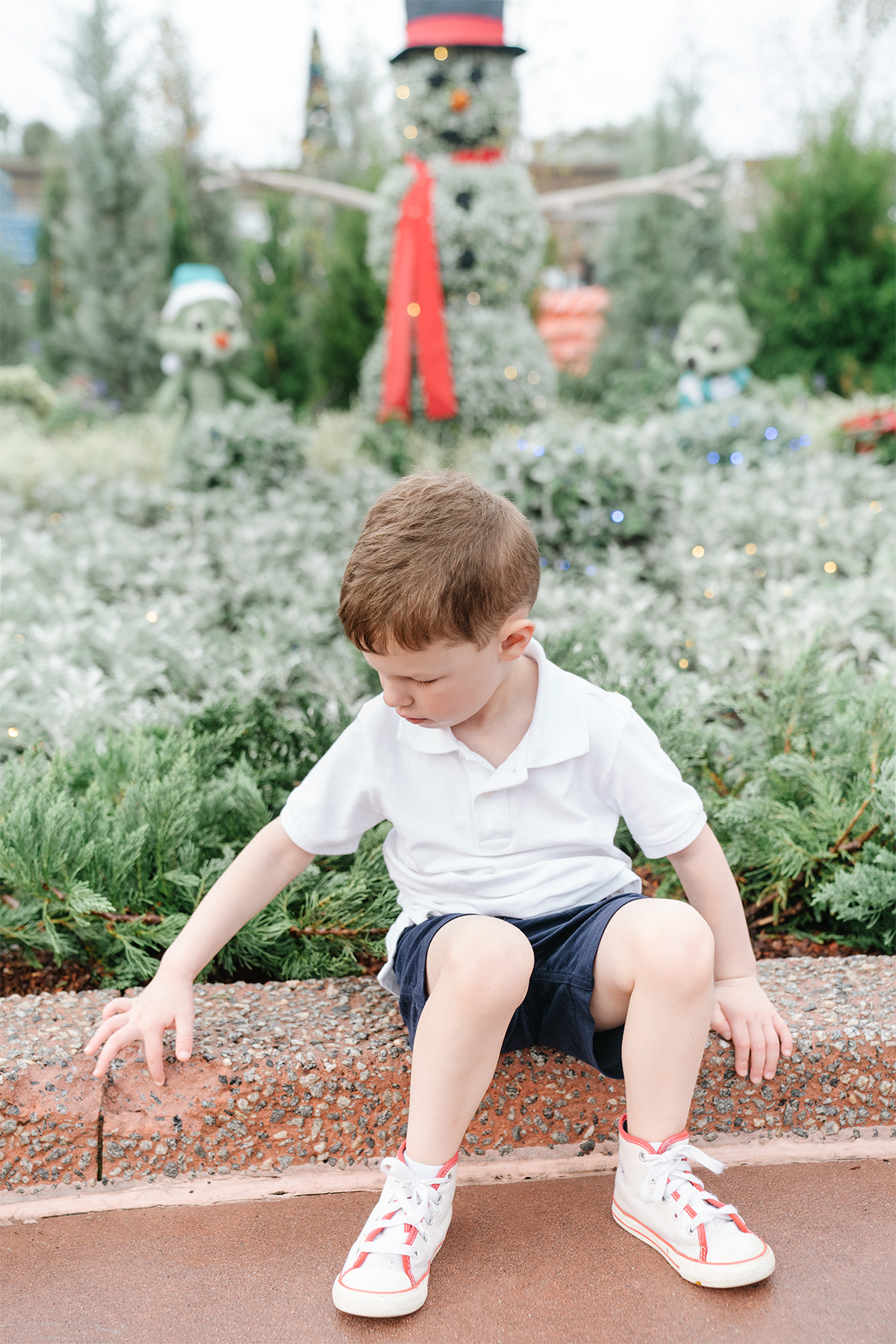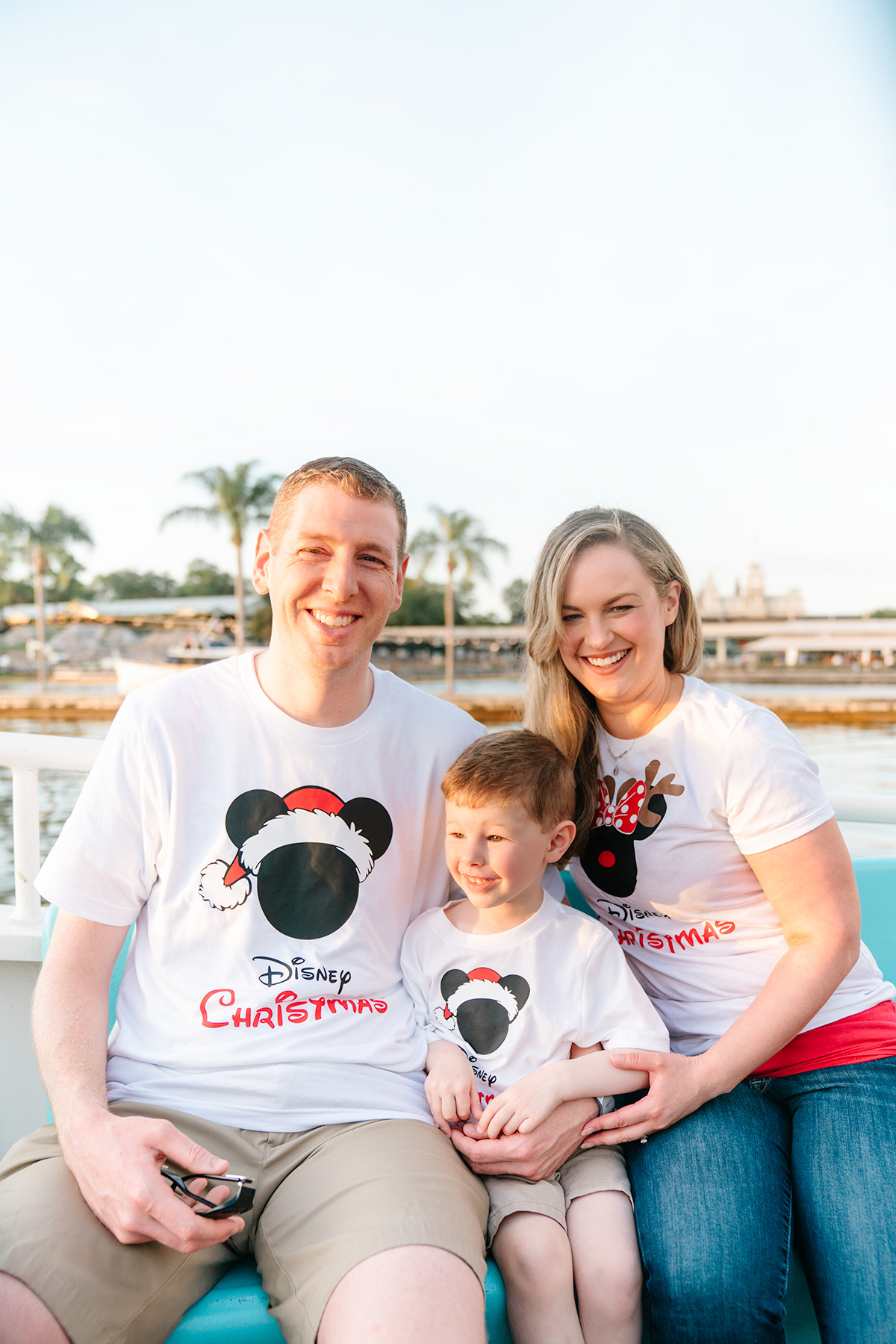 Disney in December
I said last year that I thought early December was an ideal time to visit Walt Disney World. This year, I'm sort of changing my mind about that. The weather this year wasn't great. The first couple of days were hot, sunny, and fairly humid (warmer than I expected for Orlando in December). But the last few days were very humid, cloudy, and rainy. We got a couple of big rain storms that lasted for a few hours each.
Also in terms of weather, we had to deal with some flight issues getting back home to Boston. A light snow storm hit the Massachusetts region during the day of our return flight. And even the lightest snow seems to wreak all kinds of havoc with flights. We were delayed in a very crowded Florida airport for about two hours. Not fun with a high-energy three-year-old! Then we sat on the runway for about an hour waiting for clearance to depart for Boston (since the weather was still not good in the Boston area). Then, just when I thought we'd finally made it to Boston, the pilot came over the loudspeaker to let us know we couldn't land because snow was being cleared from the runway (oh, and he added we could expect "extreme turbulence"!) So we circled Boston for about an hour, waiting for clearance to land. From waking up at about 5:30am (to get ready for the airport), to having an Uber drop us off at our house, our travel day lasted about 13 hours in total. All because of snow in Boston.
It was the kind of experience that led me to say to Chris, "I don't ever want to book airline travel for snowstorm months, ever again." (I'd define 'snowstorm' months in Massachusetts as December through March).
The greatest challenge for me with Disney, though, is the overwhelming crowds. I don't think there's a time to visit Walt Disney World during the holidays where the crowds aren't intense. From the parks, to the restaurants, to the hotels – it feels like you just can't escape the noise and the overwhelm of the crushing crowds. The chaos is especially tough with little ones. Tru has too much energy and too short an attention span to be ably to stand calmly in long lines all day.
Here's how we dealt with the crowds: we'd arrive at the parks before they opened so we could be among the first to line up for popular rides. And Chris booked FastPasses for a lot of the most popular rides. FastPasses cut wait times to about 10 minutes (or less).
A Favorite Character Breakfast
We loved the Chip 'n' Dale Harvest Feast character breakfast so much last time we were at Disney. So we went back this year, and we loved it again! This breakfast is at the Garden Grill Restaurant in The Land pavilion at Epcot. One great thing about it: you can book dining reservations for time slots before the park officially opens. So it's possible to eat breakfast and then be first in line for the Soarin' Around The World ride (also in The Land, and usually one of the most endlessly long lines anywhere!) The breakfast is so tasty here, and it's served family style with unlimited platters: cinnamon buns, fruit salad, Mickey waffles with Nutella and syrup, scrambled eggs, tater tots, bacon and sausage. Tru got to meet Mickey, Pluto, Chip, and Dale, and he had the time of his life. He gave them all hugs and high fives and he jumped and danced with a couple of them. After breakfast, we were some of the first in line for Soarin'. That ride was so much fun with Tru. I think he thought we were literally flying high above the earth. Soarin' is already one of my favorite Disney rides, but his wide-eyed wonder added another layer of joy.
Trevor Falls In Love With Test Track
Trevor was tall enough to ride Test Track in Epcot for the first time this year. And to say 'he loved it' doesn't begin to describe it! He had the world's biggest smile on his face during the final race around the track at the end. He also loved that feature of the ride where you design your own race car before riding. I never really loved the Test Track ride, I guess because I'm just completely not into cars! But seeing the ride through that little boy's eyes: now I understand who Test Track was created for! Oh, and because we had a lot of rain during this Disney visit (and because Test Track closes during rain storms), we had to wait a couple of hours for a storm to pass in order to ride. We waited though. All for that pure-joy smile!
Mickey's Very Merry Christmas Party
We were lucky to attend Mickey's Very Merry Christmas Party at the Magic Kingdom this year. I think all of the Christmas Parties were sold out this holiday season, so planning and purchasing tickets far in advance is key! We've always loved the Christmas Party in the past, and we loved it this time too. The park still felt really crowded during the Christmas Party (at least during the earlier hours. With a three-year-old, we didn't make it past 10pm!) But the wait times for rides were bearable though. The absolute best part of the party was watching the holiday parade. We were able to get seats right along the parade route near the Country Bear Jamboree, so Trevor had a front-row seat. He was in heaven, waving at all of the characters and giving them all high-fives. It was a highlight for all of us. I'll always remember holding him in my lap, swaying to the holiday music, watching his face light up…
Date Night!
Chris and I got to have a date night on this trip! That happens … never! But because Trevor's Grammy and Grandpa came along on this Disney trip, they stayed back at the hotel with Trevor. Chris and I got dressed up. I realized I'd forgotten dressy shoes and had to wear my flat sandals, but at least I wore a dress! And we went to Victoria & Albert's at the Grand Floridian resort. I love the Grand Floridian lobby at Christmas. The giant tree decked out in gold, the enormous fresh flower arrangements, the live piano: it's beyond beautiful. And dinner was incredible. Stepping into Victoria & Albert's is like stepping off of Walt Disney World property. Suddenly everything is calm and quiet and serene and immaculately clean! Everything – from the decor to the live harp music to the fine china – was incredible. The meal included several courses – all small tasting plates – and it was some of the best food Chris and I have ever tasted anywhere, ever in our lives. We were so stuffed by the end of the meal (Chris said he'd never been so full!), we had to ask for our dessert to go. So that was a special night for us. There are a million touches to make the dinner special. At the end of the night, we received a small box of handmade chocolates and I received a single red rose. As a kid, I remember riding the monorail through the Grand Floridian on my way to the Magic Kingdom and wishing I could stay there. The resort seemed so glamorous then. That same feeling of magic and glamour came back to me on our date night.
Fireworks Dessert Party
We decided to try out a Fireworks Dessert Party for the first time this year. And I was blown away by how much I loved it. It was definitely one of my favorite parts of our trip to Disney. The Dessert Party began with a buffet offering a wide selection of desserts. There was also fresh fruit, spinach dip, and bread and cheese available. Plus a big assorment of sweets. Although it felt like absolute chaos with a hundred little kids darting through the buffet line (!), the food was enough for a nice light dinner. Afterward, guests were guided to special reserved seating in Plaza Garden in front of Cinderella Castle for a view of the fireworks that was about as perfect as I could imagine. I've visited Disney World at least twenty times, and this was the absolute best view of the Magic Kingdom fireworks that I've ever seen. That's not to say the Plaza Garden wasn't crowded! They packed all of us Dessert Party guests in pretty tightly! But still, the view of Cinderella Castle and the fireworks: it was all up-close, completely unobstructed, and really spectacular. Tru usually loses interest in fireworks shows pretty quickly, but he was in awe of the view!
Our New Fave at Epcot
Chris's and my typical go-to restaurant in Epcot is San Angel Inn Restaurante. We like the setting and atmosphere of the Mexican village after dark, and we love the food. But this time Chris wanted to try something new: Via Napoli in the Italy pavilion. When we arrived, the restaurant was so unbelievably crowded, I was sure we'd be waiting an hour for a table. There was an atmosphere of "sheer chaos" in the restaurant, which I find overwhelming and just generally try to avoid. But Chris had booked a reservation and we were seated in under 10 minutes. And the pizza was so, so good! Chris told me the pizza was "traditional Neapolitan pizza," and I guess I just brushed it off as, "no way could it ever compare to actual pizza from Italy." But then I tasted it and it really was the most incredible-tasting pizza. The pizza was a very thin-crust, cooked in a wood-burning oven, and made with fresh mozzarella and San Marzano tomatoes. It really did transport me back to Italy. So I was impressed. I'd return, especially if I could return during a time where there weren't lines out the door (wishing for an uncrowded Disney restaurant is just a silly dream, I know!)
Tru's Favorites From Our Trip
Tru remains a daredevil, so his favorite activities at Disney were the thrill rides he's tall enough to ride. He got to ride Splash Mountain for the first time this trip, and he loved it. Chris, Tru and I were placed in the front row, and a tidal wave of water poured over us at the bottom of big drop at the end. We were drenched. Tru had a minute where he lost his breath from the shock of all that water hitting his face. But then he was dancing around and asking if we could ride again. He also loved steering his own race car at the Tomorrowland Speedway ride (while Chris pressed on the gas pedal). And he kept begging to ride the "big golf ball" at Epcot. He was pretty fascinated by the sheer size of Spaceship Earth (plus he loves golf, so I'm sure that added to the appeal)!
Chris also had a plan to wake up at 5:30am one morning to check out the new Star Wars: Galaxy's Edge land at Hollywood Studios. He was determined to get a ticket on the brand new Star Wars: Rise of the Resistance ride that had opened only days before we arrived at Disney. He heard tickets for the ride were given out before the park officially opened for the day, and that tickets were typically gone before 8am. I asked Tru if he wanted to stay at the hotel with me, but of course we wanted to see "wise of the wesistance." He refused to miss it! So he jumped out of bed before the sun to go check it out! Chris and Trevor both loved the ride. But the only thing Tru was talking about when he returned to the hotel was "Slinky Dog wollah coastah!" Slinky Dog is a faster roller coaster, and therefore Tru loves it!
Our Typical Day At Disney
Our typical day at Disney involved getting up early (typically about 6-6:30am) to get into one of the parks at or before opening (we could get in before opening with breakfast reservations). We'd spend a few hours at the park, then head back to our hotel so Tru could swim in the hotel pool (he must have gone down the pool slide 300 times!) Tru would nap for a couple of hours in the late afternoon – truly, he was out cold as soon as his head hit the pillow each day! And who could blame him? Disney is the world's most exhausting "vacation"! Then we'd head back to a park most evenings for a few hours. Generally we were back at the hotel by about 9pm for Tru's bedtime routine. One night, we caught the Magic Kingdom holiday fireworks show by the lake next to our hotel (The Wilderness Lodge). It was nice to watch the fireworks and then have the convenience of doing a peaceful five-minute walk to our room!