These oven-baked Pretzel Chicken Strips are easy to make in 30 minutes, with just 6 ingredients! Tangy, salty, sweet, crispy, and so delicious!
I'm trying to look at the bright side today.
So instead of complaining about how my three-year-old is a super picky eater, I'm going to tell you one of the benefits:
I get to eat all of the deliciousness he rejects!
Take these Pretzel Chicken Strips for example.
I invented this recipe purely out of my endless struggle to cook something Trevor might be willing to at least taste.
Tru loves pretzels. And he also loves McDonald's chicken nuggets.
So I thought: why not combine the two in a homemade recipe?
Maybe he'll taste them. Maybe he'll even like them. Maybe then I'll finally be in the running for the Mom of the Year award!
Here's what happened though:
Trevor took one look at my Pretzel Chicken Strips and said, "no thanks."
But here's what also happened:
Chris and I gobbled them up. Every last bite. We fell in love with pretzel chicken.
These chicken strips are so unbelievably yummy….
These pretzel chicken strips are tender on the inside but deliciously crispy on the outside!
To add lots of tasty flavor, I start by coating the chicken strips with a Dijon-honey mixture.
It adds a tangy-sweet element to the chicken strips that's completely addictive.
The Dijon and honey also keep the chicken really tender.
Next, I dip the chicken strips in crushed pretzels.
The pretzels add that necessary salty-crispy crunch.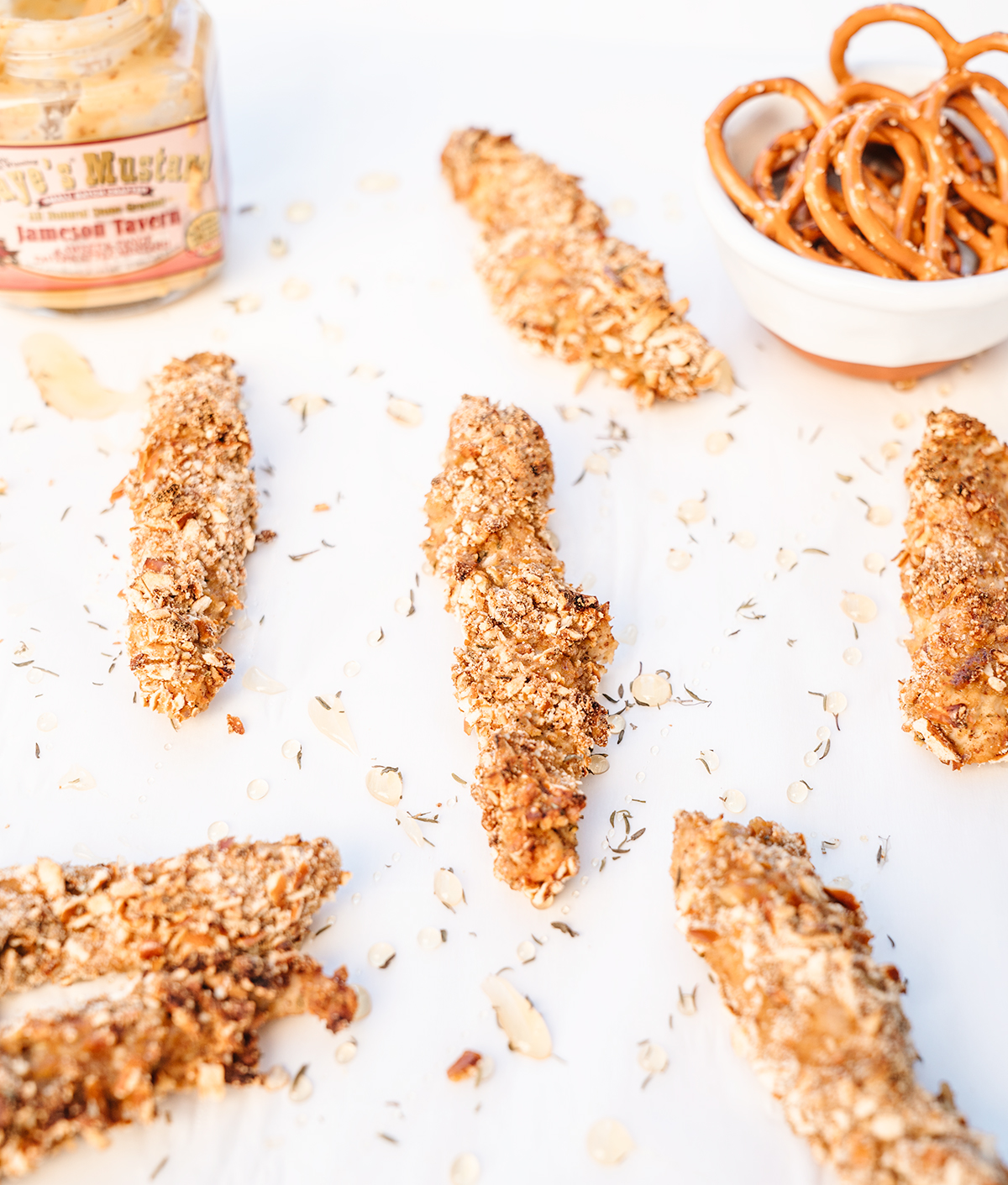 These chicken strips are super flavorful and crispy, but they're oven baked!
Just be sure to coat the chicken strips with some olive oil spray before you bake them in the oven.
The olive oil combined with the crushed pretzels = that delicious "crunch" we all crave in chicken strips.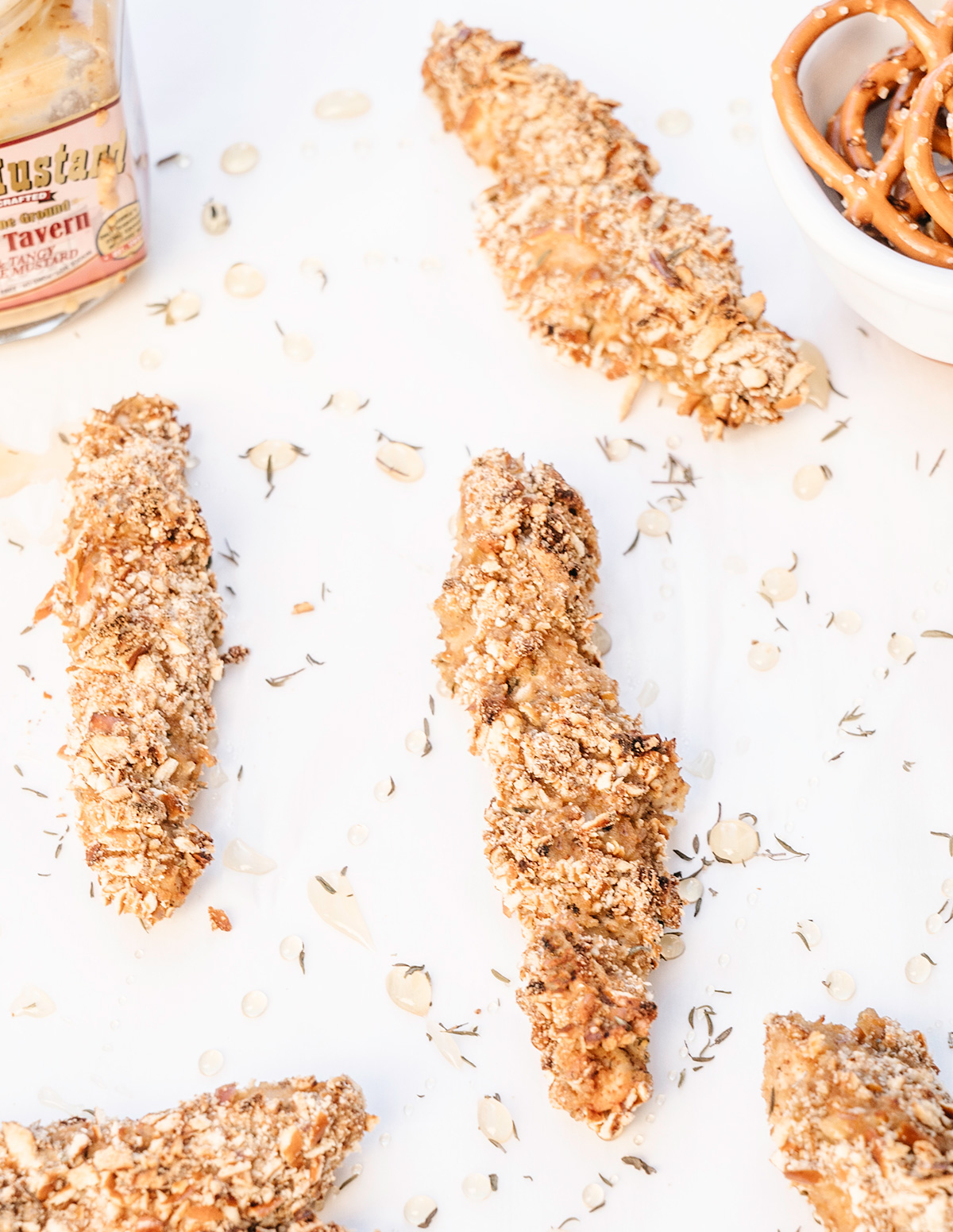 This easy 30-minute recipe requires just 6 ingredients!
Since becoming a mom, I've also become the world's biggest fan of simple, streamlined recipes.
And these chicken strips are so quick and easy.
Perfect for a busy weeknight dinner.
So thank you, Tru, for inspiring this delicious pretzel chicken strip recipe.
One day, maybe you'll realize what you're missing.
Until then … more for Daddy and me!
Here's the recipe for Honey Mustard Pretzel Chicken Strips:
Print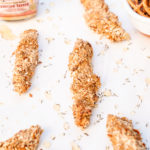 Honey Mustard Pretzel Chicken Strips
Author:

Prep Time:

10 minutes

Cook Time:

20 minutes

Total Time:

30 minutes

Yield:

4

servings

1

x

Category:

Chicken

Method:

Oven Baked
---
Description
These oven-baked Pretzel Chicken Strips are easy to make in 30 minutes, with just 6 ingredients! Tangy, salty, sweet, crispy, and so delicious!
---
1

pound organic, pastured, skinless, boneless chicken breasts

2 cups

pretzels

1/4 cup

stone ground Dijon mustard

1/4 cup

honey

1 teaspoon

dried thyme
Olive oil spray
---
Instructions
Preheat oven to 425 degrees F.
Line a large baking sheet with parchment or aluminum foil. Place a wire rack on the baking sheet. (The wire rack helps the chicken to become crispy while baking.)
Cut chicken into strips. Set aside.
Place pretzels in a plastic bag and seal. Pound pretzels with a meat pounder/tenderizer until pretzels are broken down into a thick breadcrumb mixture. Pour pretzel breading onto a large plate or platter. Set aside.
To a large bowl, add the honey, Dijon mustard, and thyme. Whisk until well combined. Set aside.
Next, create your breading station. Working one strip at a time, first dip chicken into Dijon-honey mixture until thoroughly coated. Then dip chicken strip into pretzel breading until thoroughly coated. Place chicken strip on the wire rack on the baking sheet.
Arrange chicken strips on the wire rack so they're evenly spaced and not touching. Coat each strip with a thin layer of olive oil spray. (The oil helps the pretzel breading turn evenly cripsy and golden.)
Bake until pretzel breading turns crisp and golden, about 18-22 minutes. Serve.
---
Notes
Because the Dijon mustard and the pretzels already contain salt, I find that no additional salt is needed in this recipe.
For the crispiest oven-baked chicken strips, be sure to place the chicken on a wire rack and spray with olive oil spray!
Keywords: chicken fingers, chicken tenders, chicken strips, oven fried, oven baked, pretzel chicken, honey, mustard, Dijon
For More Recipes You Might Love, Check Out:
Easy Baked Chicken Parmesan Bites
Easy Baked Parmesan Dijon Chicken Tenders
Eggplant Parmesan Bite Pasta Bowls
Crispy Sesame Chinese Chicken Salad
Pin on Pinterest: