It's really tough to strike a balance between a dinner that's satisfying and delicious and one that's still healthy and not overloaded with fat and calories. When you have that craving for something cheesy and filling, I think this dish offers that perfect combination. It tastes sinful while providing a lot of nutrients that keep you from feeling like you've just blown your healthy-eating resolution.
Here are the key ingredients. 95 percent lean ground beef, olive oil, and salt and pepper are also a part of the recipe.
Begin by preparing the potatoes.
Potatoes have gotten a bad rap recently for being high on the glycemic index with a lot of carbs. But there's actually a ton of good things about them – they're full of phytochemicals (to protect against disease), fiber, potassium (more than a banana) and vitamin C (more than a tomato). They're really good for you. The key to eating potatoes the right way is just to keep your portions in moderation and watch that you're not preparing them with tons of added fat (i.e. frying them and topping them with butter and sour cream!).
Cut the potatoes in half lengthwise and set them flat-side down on the cutting board. Now you have a nice flat surface to keep the potatoes stable so that you can then slice them into thin quarter-inch strips.
I leave the skins on the potatoes – a lot of the fiber is in the skin so it's a healthy choice. Also, here's the real reason I leave the skins on: you don't have to spend time peeling potatoes. So you can say you leave the skins on for nutrition and save yourself lots of time and labor too!
Now onto one of my favorite cooking secrets: it's parchment paper. When I started using it a few years ago, I couldn't believe I hadn't learned this earlier. Whenever you use a baking sheet, always line it with parchment paper and say goodbye to ever standing over your sink scrubbing off burnt-on messes ever again! It also nearly guarantees your cookies or roasted nuts or veggies won't burn on the bottoms. As much as I sound like a paid advertisement – this isn't. I love this stuff. It's just so helpful around the kitchen.
Side note: wax paper looks similar to parchment but it can't stand in as a parchment paper substitute in a pinch. I learned this the hard way. I ended up with a tray full of wax-coated potatoes that were stuck to the paper like glue. A baking sheet full of potatoes, completely inedible. Don't make this mistake!
But back to the delicously, properly baked potatoes. Place them on the parchment-lined baking sheet and drizzle them with the olive oil and some salt and pepper. Use your hands to mix and make sure everything is well coated and pop them in the oven to brown and crisp.
In the meantime, prepare the meat mixture. My tip for the meat mixture is to use less ground beef and bulk up the recipe with black beans and fresh produce such as onion and bell pepper. These additions make the meat especially tasty and flavorful and they add a lot of healthy nutrients while keeping down the saturated fat and calories per serving.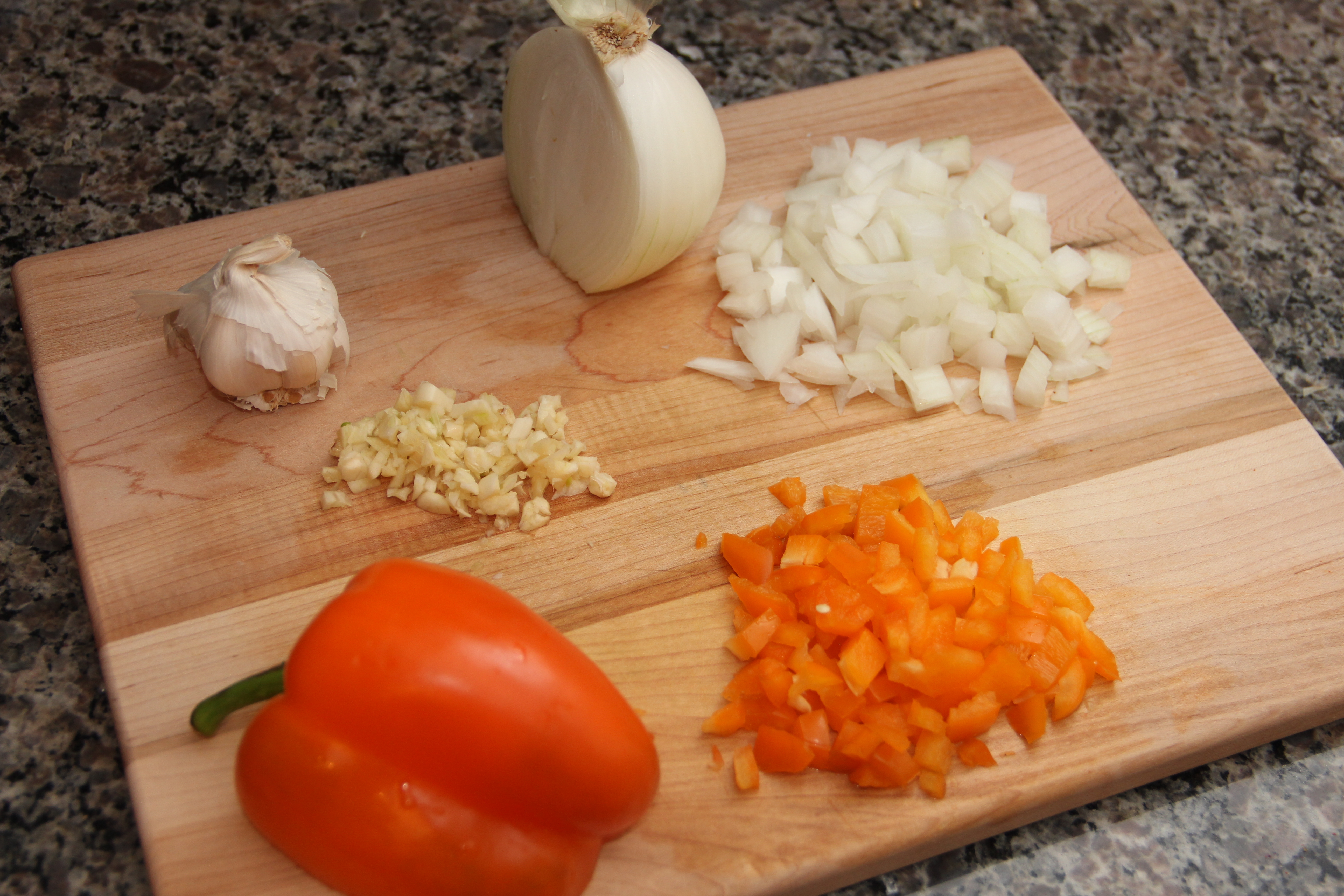 While browning the lean ground beef in a large sautee pan, dice up an onion, a bell pepper, and a couple cloves of garlic.
Allow the veggies to cook until they're soft. Then add the drained and rinsed black beans and your homemade taco seasoning mix (find the easy 2-minute recipe here). Stir to combine and your meat mixture is ready to go!
After the potatoes have been removed from the oven nice and brown and crisp, begin assembling your dish in a casserole dish.
Spoon half of the meat mixture along the bottom of the dish.
Next layer on of half of the potatoes. Sprinkle about half of the shredded sharp cheddar on top of the potatoes. Repeat this process with the remaining meat, potatoes, and cheese. Pop the dish back into a 250 degree oven for a few minutes to allow the flavors to combine and the cheese to melt.
Top with diced tomato and plenty of chopped chives and it's ready to serve.
Enjoy! This dish is so cheesy and delicious, your family and friends won't believe it's good for them!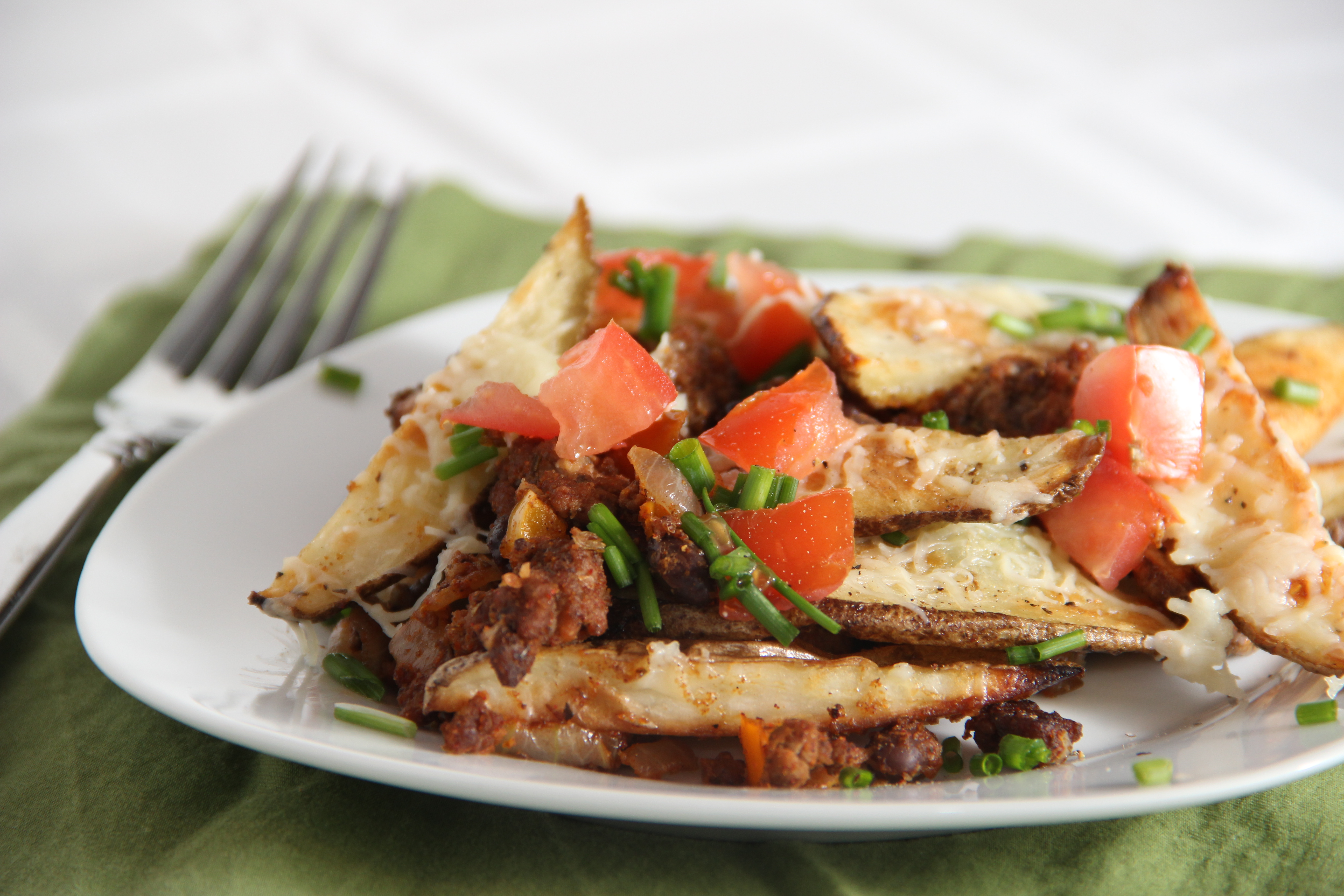 Other dishes you may enjoy:
Crispy Parmesan and Dijon Chicken Strips
Winter Vegetable Shepherd's Pie with Potato, Cauliflower, Cheddar & Chive Crust
Here's the complete recipe:
Cheesy Potato Nachos
Total Time: 45 minutes
Prep: 25 minutes
Cook: 20 minutes
Yield: 4 servings
Ingredients
3 medium russet potatoes
2 tablespoons olive oil
salt and freshly ground black pepper
1 pound 95% lean ground beef
1 small onion, diced
3 garlic cloves, minced
1 orange or yellow bell pepper, diced
1 14-ounce can black beans, drained and rinsed
1 cup grated sharp cheddar cheese
1 small tomato
3 tablespoons chives
Directions
Preheat the oven to 475 degrees F.
Begin by making the potatoes: Cut potatoes in half, lengthwise. Next, slice potatoes in thin strips, lengthwise. Place potatoes on a baking sheet covered with parchment paper. Brush olive oil over potatoes and season with salt and pepper. Roast potatoes in the oven until they begin to turn golden brown, for 15-20 minutes, Prepare ground beef mixture while potatoes cook.
For the ground beef: In a large saute pan, brown the ground beef over medium high heat. Season with salt and pepper. Add the onion, garlic, and bell pepper and allow vegetables to soften, about 5 minutes. Reduce the heat to medium low. Add the black beans to the pan and then add the taco seasoning. Cook for 5 minutes, allowing the beans to heat through and all of the flavors to combine.
Assemble the potato nachos:
After removing the potatoes from the oven, reduce the oven temperature to 250 degrees F.
Spoon half of the meat mixture along the bottom of a small casserole dish. Next, arrange half potatoes over the meat mixture. Top with half of the shredded cheddar. Repeat the process with the remaining meat, potatoes. Cook the potato nachos in the oven until the cheese has melted, about 5 minutes. While the the potato nachos are in the oven, dice the tomato and chop the chives. After removing the potato nachos from the oven, top with the tomatoes and chives and serve.