It seems like everyone is talking about omega-3's these days.
I knew it had really gone mainstream when I saw a commercial the other day for Flintstone's Vitamins 'now with omega-3.'
There are good reasons for the sudden popularity. Research has shown omega-3 fatty acids have anti-cancer properties, protect against heart disease, and support the immune system.
A lot of my friends have expressed interest recently in cooking salmon because they know it's one of the best sources of omega-3. But their questions are: What's a fast, simple preparation that makes sense for a weeknight meal? And also: What flavors work well with salmon?
My best solution is something I learned in a cooking class, 'fish en papillote.' Meaning: fish combined with vegetables, herbs, and braising liquid, sealed up in a packet, and baked in the oven. You end up with deliciously flavored fish, complete and individually-portioned meals in each packet, and virtually no clean-up.
Yes, that's right. No pile of dishes to deal with after a delicious home-cooked meal. What could be better?
And the following recipe is a combination of flavors I love that work perfectly with salmon – white wine, capers, spinach, potatoes, and lemon. When you remove these packets steaming from the oven, the aroma is wonderful. It's a delicious and flavorful dish.
Here are the key ingredients.
Begin by preheating the oven to 425 degrees F.
Next, mince some garlic. If you've been frustrated dealing with garlic in the past, don't give up. It's really good for you. Here are my best tips.
Hold the knife horizontally over a clove of garlic and smash down on the knife with your fist. Now the skin should easily separate from the garlic clove.
Next, hold the knife so that the very end of the knife, or tip, never leaves the cutting board. The knife will slide forward and back as you chop, but that end should never leave the cutting board. Now cut the clove in strips lengthwise. Then, running your knife back through, cutting in the opposite direction this time, mince up the clove.
Next chop up an onion.
Then cube the potatoes. Cut a potato in half. Lay one half flat-side-down for a stability and cut small strips lengthwise. Then go back in the other direction, chopping cubes.
The key for this recipe is to get the potato cubes into very small, bite-sized pieces. Otherwise the fish may cook faster than the potatoes.
Now begin creating the packets. In class, we learned to create packets by carefully cutting out heart-shaped pieces of parchment paper. It makes for a beautiful presentation.
But do friends and family care about the presentation? My husband, for one, couldn't possibly care less. So I just use aluminum foil, which just makes everything quick and easy.
To create your first packet, tear off a piece about 1 1/2 feet in length. Make creases in the foil to create a square shape in the center.
Fold up each of the four sides of the foil to create a square 'bowl' that will contain the vegetables and fish.
Place the potatoes, onion, and garlic in the square.
To each individual packet add: 1 tablespoon of olive oil, 1/2 tablespoon of herbes de provence, 1/2 tablespoon of oregano, and 1 tablespoon of capers. Season well with salt and pepper.
Use your hands to mix and ensure everything is well coated with oil and herbs.
Top with fresh spinach. Go ahead and pile it high! This will wilt down to a fraction of the size when cooked, so feel free to add heaps of the stuff. Season spinach with a bit more salt and pepper.
Top with 1 tablespoon of white wine and the juice from 1/2 of a lemon.
Squeezing the juice into a small bowl, rather than directly onto the vegetables, is helpful here. That way, if any seeds make their way into the bowl, you can easily get them out instead of digging through the spinach to find them.
Next up: the salmon. When you're buying the salmon, you'll have a few questions to answer. 1) Skin or no skin? 2) wild or farm raised? 3) stop quickly by the bakery section after this for just one cookie or be good and stick to the grocery list?…
In terms of the skin – You can leave the skin on or ask the fishmonger to remove the skin for you. I asked to have the skin removed because I don't like the taste and I place the fish on top of the vegetables, so it makes sense to just remove it. Leaving the skin on helps keep the fish tender and moist though. So the choice is yours.
Next, you'll probably have the choice of either farmed or wild salmon. Farmed salmon is almost always the more economical choice. However, wild salmon has been shown to have less contaminates, such as PCBs. I've noticed a difference in the taste, and you can just see the difference, looking at the salmon. The beautiful, bright pink color is something you'll only find in wild salmon (the color comes from the tiny shellfish salmon eat in the wild; farm raised fish obviously don't get this in their prepared diet).
Whatever you choose, know that all the experts say you're making a very healthy choice for yourself either way.
Cut the fish into two equally sized portions and place on top of the spinach. Season with salt and pepper. Drizzle just a teaspoon of olive oil over the fish.
Cut about three slices of lemon and arrange them over the fish. Top with a few capers if you'd like.
Now seal up the packets. Making sure the two shorter sides are tucked in, match the two long ends together and fold them up, creating a sealed packet.
Once the packets are carefully sealed from all sides, place them on a baking sheet.
Bake in the oven for about 20 minutes.
After you remove the packets from the oven, allow them to cool for a few minutes before opening. Not only is the foil hot, the steam that is released when you open them is also very hot.
The cooking time will vary depending upon the quantity of vegetables you use and the thickness of your fish, so if you open the packets and find that the fish isn't cooked through, just seal them back up and pop back in the oven for another 7 minutes or so.
When they're fully cooked, transfer the vegetables to a plate and place the salmon on top.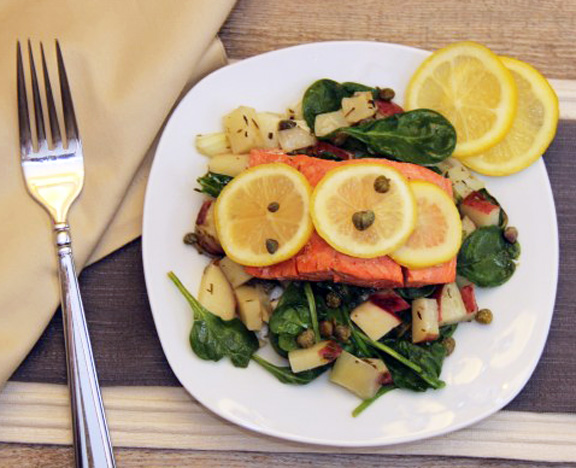 The dish has a beautiful combination of colors, so it just looks delicious.
And all of the flavors from the herbs and wine and lemon and capers combine for one really tasty and savory dish.
So there you have it. A salmon dish that is basic and easy, with just a few key ingredients.
And can I just say this again: virtually no clean-up! Can you tell I hate washing dishes? Enjoy!
Here is the complete recipe:
Salmon, Spinach, and Potatoes with Lemon-Caper Sauce
Prep: 20 minutes
Cook: 20 minutes
2 medium red potatoes, cut into 1/4-inch cubes
1 small onion, diced
2 cloves garlic, minced
2 tablespoons plus 2 teaspoons extra virgin olive oil
1 tablespoon herbes de provence
1 tablespoon oregano
2 tablespoons capers
1 7-ounce package fresh spinach
2 lemons
2 tablespoons white wine
3/4 pound wild salmon
salt and freshly ground black pepper
Preheat oven to 425 degrees F.
Tear off two squares of aluminum foil, each about 16 inches in length. Place equal amounts of the potatoes, onions, and garlic in the center of each piece of foil. Fold up the sides of the foil to create a square 'bowl' containing the vegetables. To each packet add: 1 tablespoon of olive oil, 1/2 tablespoon of herbes de provence, 1/2 tablespoon of oregano, and 1 tablespoon of capers. Season with salt and pepper. Using hands, mix to combine ingredients. Place the spinach on top of potatoes and season with a bit more salt and pepper. To each packet add: 1 tablespoon of white wine and the juice of 1/2 of a lemon. Cut the fish into two individual portions and place on top of the spinach. Season fish with salt and pepper and drizzle 1 teaspoon of olive oil over fish. Place lemon slices over fish and top with a few capers. Match up the ends of the foil and fold over to create an air-tight packet. Place the packets on a baking sheet. Bake for 20 minutes or until fish is cooked through.
Transfer fish and vegetables to dinner plates, and serve.