An easy, complete meal that's ready in 30 minutes, this cacio e pepe pasta recipe is packed with rich flavor from asparagus, arugula, parmesan, and bacon.
"I actually really hate that we'll never eat this one again."
Those were the words Chris said when I made this cacio e pepe recipe to photograph.
That's the funny thing about having a recipe website.
I work really hard to perfect a recipe.
I'll tweak things, adjust measurements, switch out ingredients.
Chris and I will eat a dish several times (and fall in love with it!) during the development stage.
But then, after I've posted the recipe, I'll never cook it again.
I have a hundred new recipes to try out and test.
There isn't enough time in the day (and there aren't enough meals in the day!) to go back to cooking old recipes.
Anyway, though, Chris and I were extremely sad to bid this cacio e pepe one final farewell.
It's a pasta dish that's just addictive and delicious and unbelievably comforting…
My favorite recipes always combine three things. They're:
simple and easy to prepare
full of fresh, healthy ingredients
delicious and full of flavor
This cacio e pepe recipe definitely checks all of those boxes.
Cacio e pepe is traditionally made with just pasta, butter (or oil), cheese, and a good dose of ground black pepper. So simple!
I kept all of those elements in this particular cacio e pepe recipe.
But I also added a few things to make this pasta dish a complete meal that really packs a lot of spring flavor.
There are lots of fresh, healthy, spring ingredients: crisp asparagus, sweet green peas, peppery arugula.
But there are also a couple of rich and indulgent ingredients (just a hint of them!) that make this pasta dish so addictive and comforting:
Bacon and real Parmigiano-Reggiano cheese!
Just a little crumble of bacon and a small sprinkle of parmesan to top off the dish.
You don't need to add a lot to make the dish richly flavorful.
One other great thing about cacio e pepe: it's really simple and quick to prepare.
This pasta dish is a complete meal that's on the table in about 30 minutes.
Here's the Recipe for 30-Minute Cacio e Pepe with Asparagus and Bacon:
Print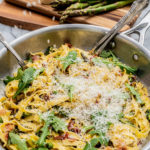 30-Minute Cacio e Pepe with Asparagus and Bacon
Author:

Prep Time:

15 minutes

Cook Time:

15 minutes

Total Time:

30 minutes

Yield:

4

servings

1

x

Category:

Pasta

Cuisine:

Italian Inspired
---
Description
An easy, complete meal that's ready in 30 minutes, this cacio e pepe pasta recipe is packed with rich flavor from asparagus, arugula, parmesan, and bacon.
---
4

strips organic, humanely raised bacon

8 ounces

whole wheat linguine (or substitute spaghetti or fettucini)

1/2 cup

pasta water, reserved

3 Tablespoons

olive oil

1/2

shallot, diced

1 cup

asparagus, chopped into quarter-inch pieces

1/3 cup

frozen green peas

1 cup

arugula, chopped

1/2 cup

Parmigiano-Reggiano, grated

1 teaspoon

ground black pepper
Sea salt
---
Instructions
Preheat the oven to 400 degrees F.
Place a wire rack on a baking sheet and arrange bacon on wire rack so no two strips are overlapping. Cook the bacon about 8-10 minutes, or until small bubbles form and the bacon turns crisp and golden. Very carefully remove the baking sheet from the oven, taking care to not splatter bacon grease. The bacon will continue to crisp as it cools on the counter.
Meanwhile, as bacon is cooking, bring a stock pot of water to a boil. Salt the water and add the pasta. Cook according to package instructions, until pasta is al dente.
Use a ladle to scoop 1/2 cup of the pasta water from the pot. Set aside the pasta water to add to the dish later. Drain the pasta.
Next, heat the olive oil in a sauté pan over medium heat. Add the asparagus and shallot and cook until shallot is softened and asparagus is lightly tender, about 4 minutes. Add the peas and cook until warmed through, about 2 minutes. Season with salt.
Turn off the heat and add the pasta to the sauté pan, along with the pasta water, arugula, and ground pepper. Season thoroughly with salt, and stir until everything is well combined.
Transfer cacio e pepe to serving dishes. Crumble bacon over each serving, and top with grated parmesan. Serve.
---
Notes
1 teaspoon of ground black pepper will add a hint of spicy heat to the dish. It's delicious! If you want less, start with 1/2 teaspoon and add more according to your tastes. Or, if you want a lot of heat, start with 1 teaspoon and add more according to taste.
Don't forget to add the 1/2 cup of reserved pasta water to the dish! It's the key to forming a nice sauce for the cacio e pepe!
For maximum parmesan flavor – and to keep the sauce from clumping or becoming lumpy – don't stir the parmesan into the sauce. Just sprinkle the parmesan over the top of the pasta immediately before serving.
Keywords: cacio e pepe, healthy, easy, 30 minutes, asparagus, peas, arugula, parmesan, bacon, pasta, Italian
Related Recipes:
Easy Greek: Pasta with Tomatoes and Feta
Asparagus Carbonara with Poached Egg
Asparagus, Bacon and Egg Breakfast Sandwich
Egg Skillet with Bacon and Potato
Spring Quinoa with Asparagus and Parmesan
Pin on Pinterest: