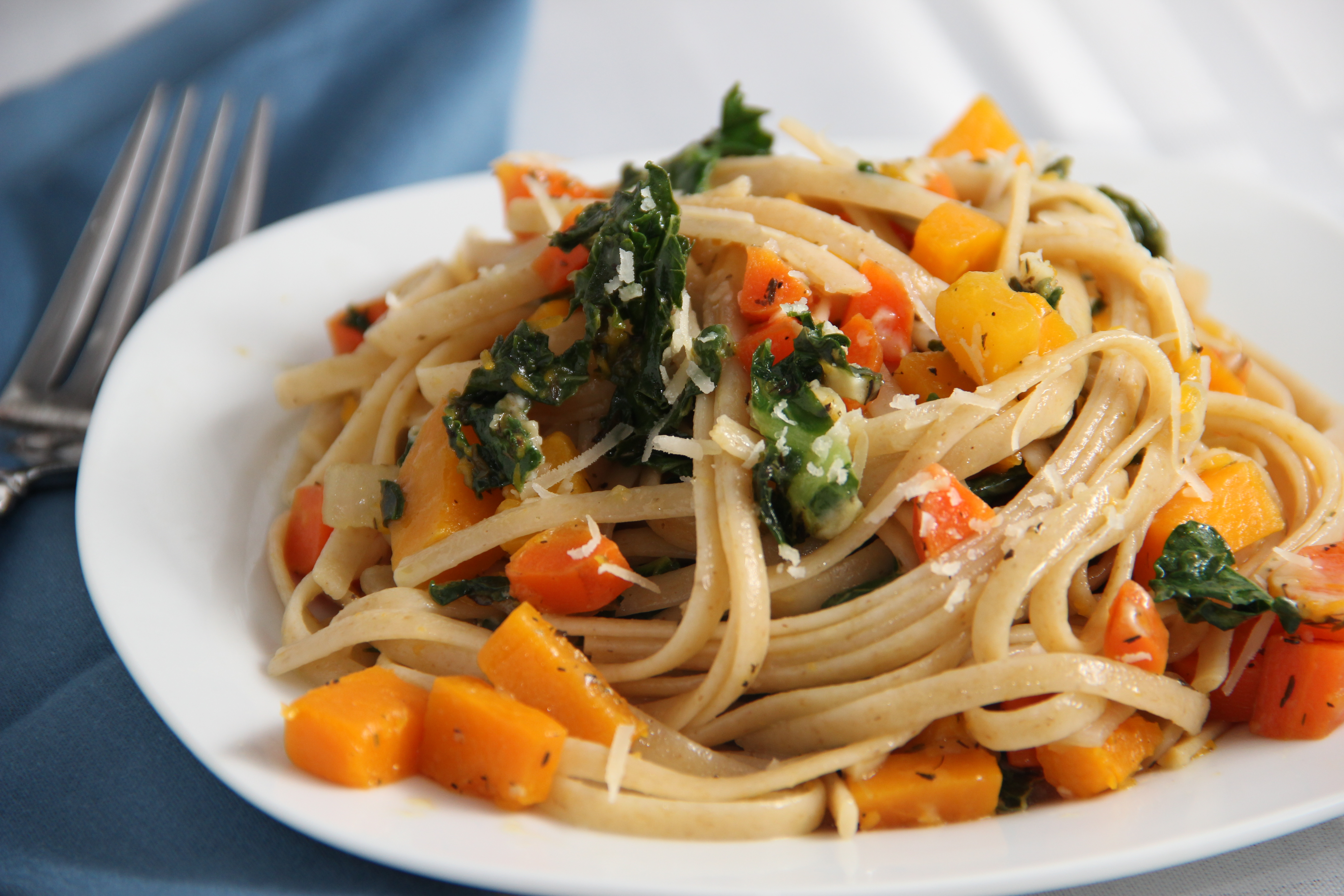 I could eat this pasta every day of the week. It's so simple but such a delicious combination of flavors with the sweetness of the squash, the crisp kale, the hint of thyme and white wine, and the salty, cheesy Parmesan.
I try to make one meatless meal a week – eating a diet rich in fresh fruits and vegetables and low in processed and red meats is proven to help you maintain a healthy weight and lower your risk of heart disease, cancer, and diabetes. The meat industry generates vast amounts of greenhouse gas emissions, so it's also good for the environment to try to cut out some of the meat from your weekly diet. But I always worry whether my husband Chris (a major meat-and-potatoes lover) will like any of my new vegetarian meal creations. This is one he loves. And the protein from the cheese and whole wheat pasta – along with the fiber from all of the vegetables – make it very satisfying and filling too.
Here are all of the key ingredients.
While you start a pot of boiling water for the pasta, begin mincing some garlic and slicing some shallots.
This recipe calls for a few cloves of garlic, which tastes incredible with the white wine, parmesan, and winter vegetables.
Holding the flat side of your knife against the garlic with one hand, make a fist with the other and smash down onto the knife and garlic, breaking the garlic skin apart.
Mince up the garlic.
Next, the shallots. Chop off the ends and peel off the skin. Then cut the shallots in half and lay the shallot flat-side-down on the cutting board for stability. Then cut across the shallot to create thin slices.
Next, chop up some carrots and butternut squash into bite-size pieces. Buying the pre-cut and peeled squash makes it easy.
Add everything to a large saute pan with some olive oil and let the vegetables cook and soften nicely. Add the thyme and season with salt and pepper.
If you haven't started experimenting with adding healthy kale to your recipes, this is the perfect dish to try it out!
Kale is pretty much the perfect food in my mind. It's one of those superfoods with an endless list of good-for-you vitamins and minerals: Kale has chemicals which have been shown to block the growth of cancer cells and boost DNA repair. It's also very high in vitamin C, beta carotene, lutein, vitamin K , and even calcium. It also tastes delicious – it's slightly sweet and tends to take on the flavor of the sauce it's cooked in without any really distinctive flavors.
Kale is also really easy to prepare. Simply chop off the stems.
Then roll up several leaves and chop up the kale into thin thin ribbons. It adds a satisfying crunch in this particular pasta recipe because it's added at the end before it wilts down too much and becomes soggy. Delicious. Kale is pretty much perfect.
Add the kale to the saute pan. Then add the white wine and allow that to simmer and reduce.
Grate some fresh Parmesan. Be sure to use the real Parmigiano-Reggiano – there are so few ingredients in this dish that this really makes all the difference.
Now add the cooked whole wheat pasta and most of the Parmesan to the saute pan along with a laddle of the water the pasta cooked in.
Stir everything together until well combined. Take a look at all the bright, beautiful colors in this pasta dish.
Heap onto plates, top with the remaining Parmesan, and serve. This is really good! At the end of a long day, all it takes is some fresh winter vegetables, white wine, pasta, and parmesan, and all is right with the world again.
Other Scrumptious Pumpkin dishes you may enjoy:
Winter Vegetable Shepherd's Pie with Potato, Cauliflower, Cheddar & Chive Crust
Sweet Potato Gnocchi with Cream Sauce, Arugula and Pine Nuts
Cinnamon Squash with Almond Butter
Here is the complete printable recipe:

Winter Vegetable Pasta with White Wine and Parmesan
Author:
The Scrumptious Pumpkin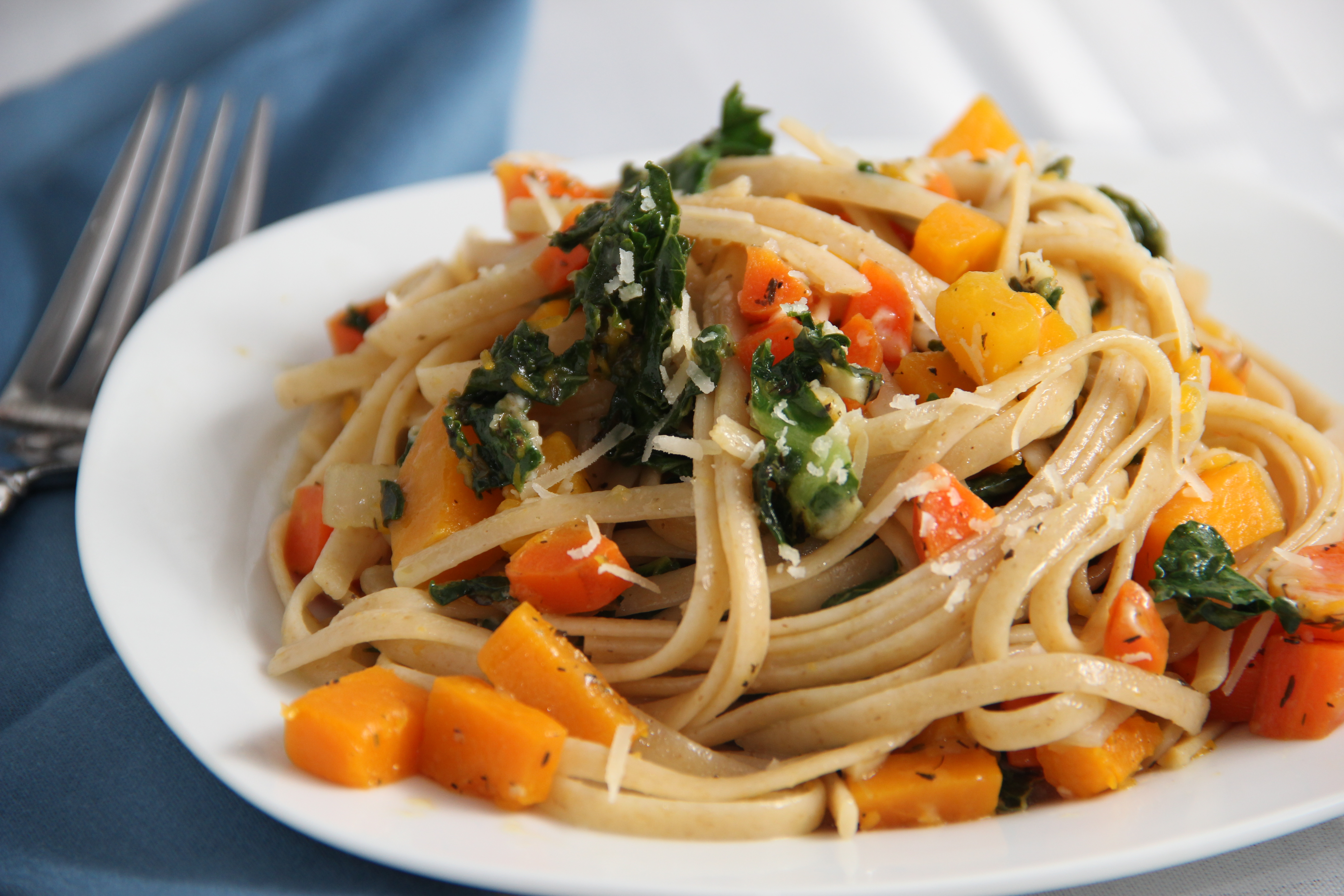 Total Time:  30 minutes
Prep: 15 minutes
Cook: 15 minutes
Yield: 6 servings
Ingredients
2 tablespoons olive oil
3 cloves garlic, chopped
3 shallots, sliced
2 large carrots, diced
1 7-ounce package pre-cut butternut squash, cut into ½-inch cubes
⅓ pound young kale, stems and leaves coarsely chopped
1 tablespoon dried thyme
1 cup white wine
8 ounces whole wheat linguine
1 cup freshly grated Parmesan
Salt and freshly ground black pepper
Instructions
Boil a large pot of water.  Salt the water and add the linguine.  Cook until al dente, about 10 minutes.
Meanwhile, heat the olive oil in a large saute pan over medium-high heat. Add shallot, garlic, squash, and carrots, and cook until vegetables soften, about 7 minutes.  Add the thyme and season with salt and pepper. Add the kale and cook until kale wilts down, about 2 minutes.
Add wine and cook for another 5 minutes, allowing it to reduce.
Season to taste with salt and pepper.
Add the cooked fettuccini, about ¼ cup of the water the pasta cooked in, and ⅔ cup of Parmesan. Stir to combine.
Transfer to serving plates, top with remaining Parmesan, and serve.