Check out our complete photo tour guide and review of Disney's Contemporary Resort. Here's why it's one of the most incredible resorts at Walt Disney World!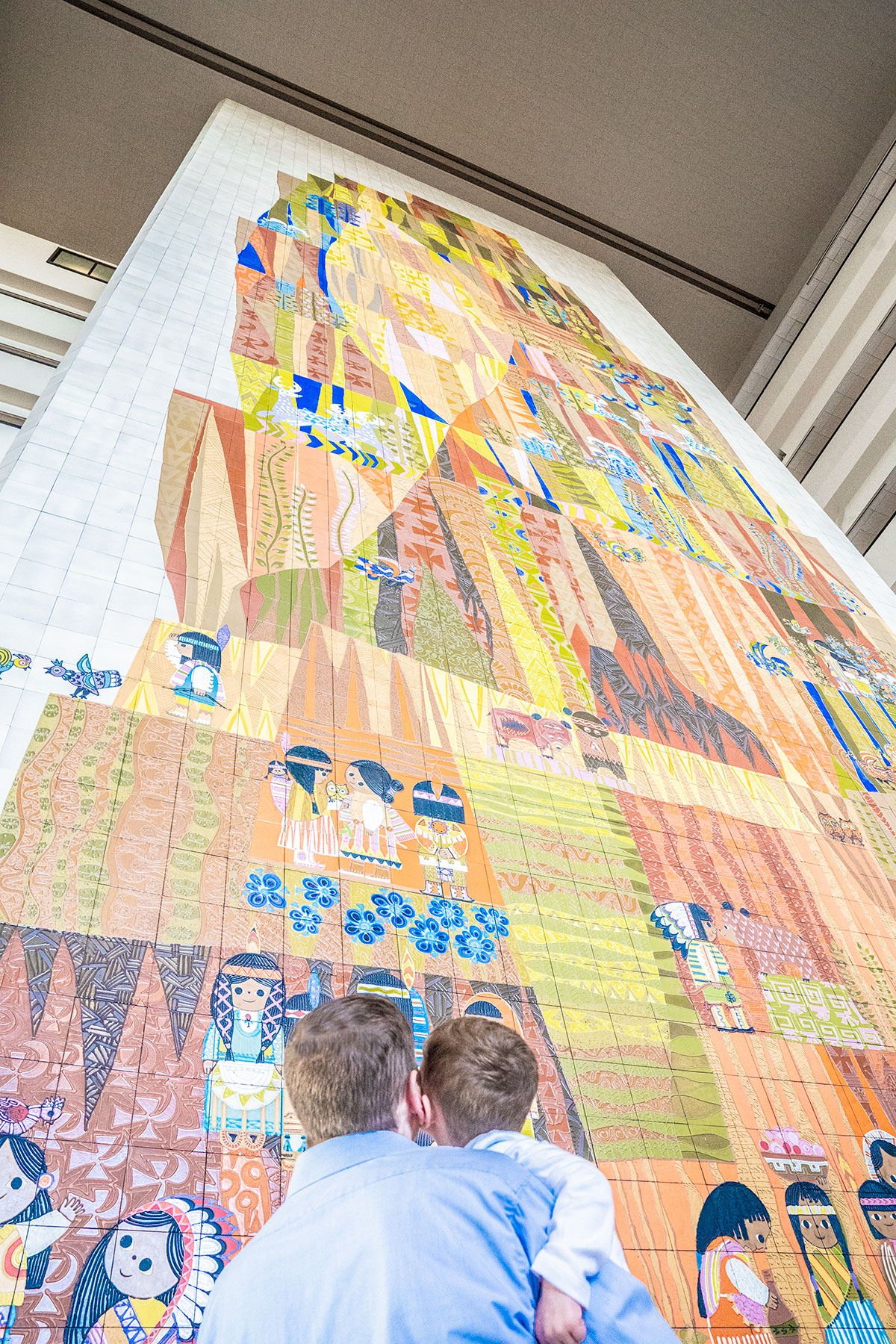 I guess I should begin this photo tour guide and review of the Contemporary Resort by explaining to you that my husband Chris has got to be among the world's greatest and most devoted fans of Disney.
As our years together have grown, so too has the tally of different Walt Disney World resorts we've stayed at.
We've checked into rooms everywhere from Disney's Pop Century Resort to Disney's Grand Floridian Resort & Spa.
On our latest trip to Disney World, we had the opportunity to stay at Disney's Contemporary Resort.
And it's become my new favorite resort on the Walt Disney World property.
The resort is huge and sprawling and there's so much to cover, so let's get started on our photo tour of Disney's Contemporary Resort!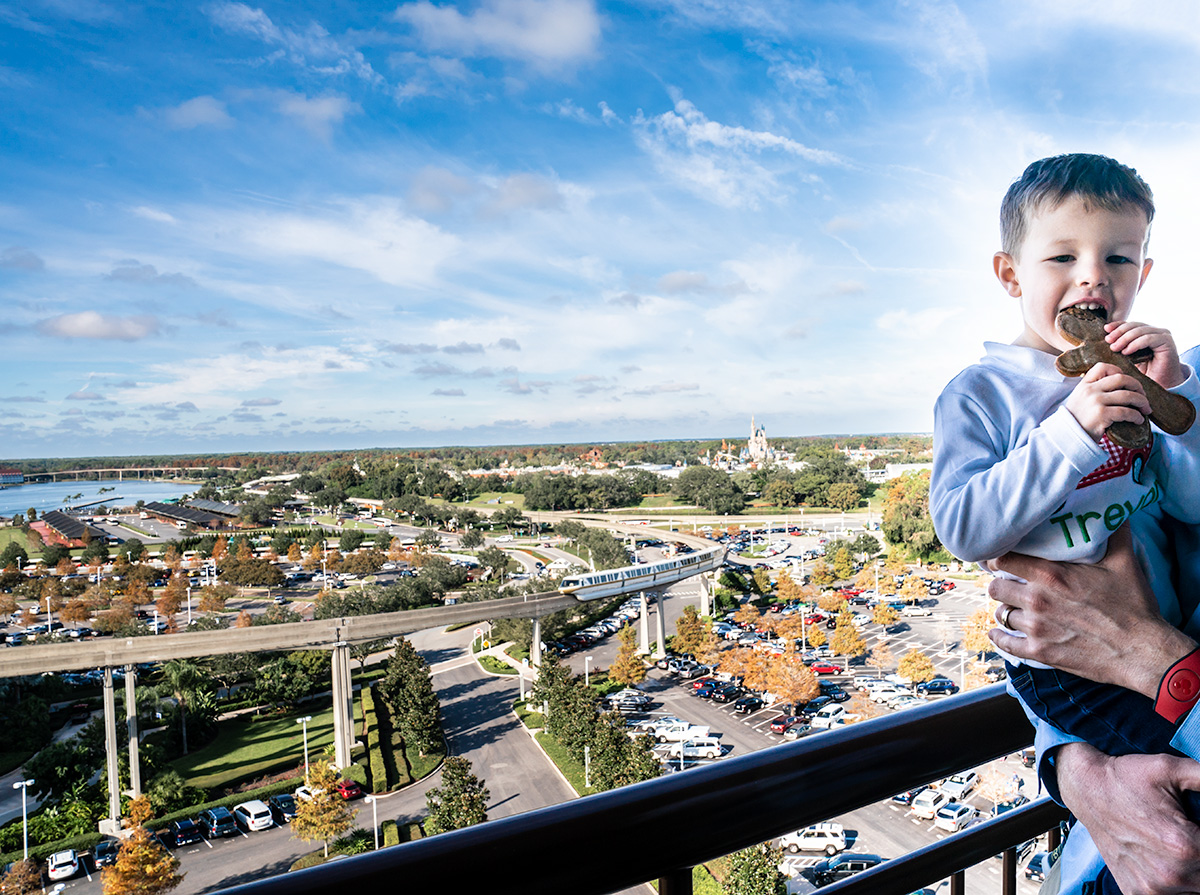 One Of Our Favorite Things About The Contemporary Was Our Room
I loved our room at The Contemporary because it just felt so open and spacious.
We're members of Disney Vacation Club and so we stayed in a one-bedroom suite at the Bay Lake Tower, located right next to the main Contemporary building.
The living room echoed the "contemporary" theme throughout the hotel.
There were sleek, clean lines, neutral colors, and pops of vivid teal and yellow included in the decor.
The living room had both a pull-out couch and a pull-out chair.
Plus a giant flat-screen TV and lots of seating and space for relaxing.
(Can you spot the image of the Contemporary Resort and the monorail in the abstract artwork above the couch?)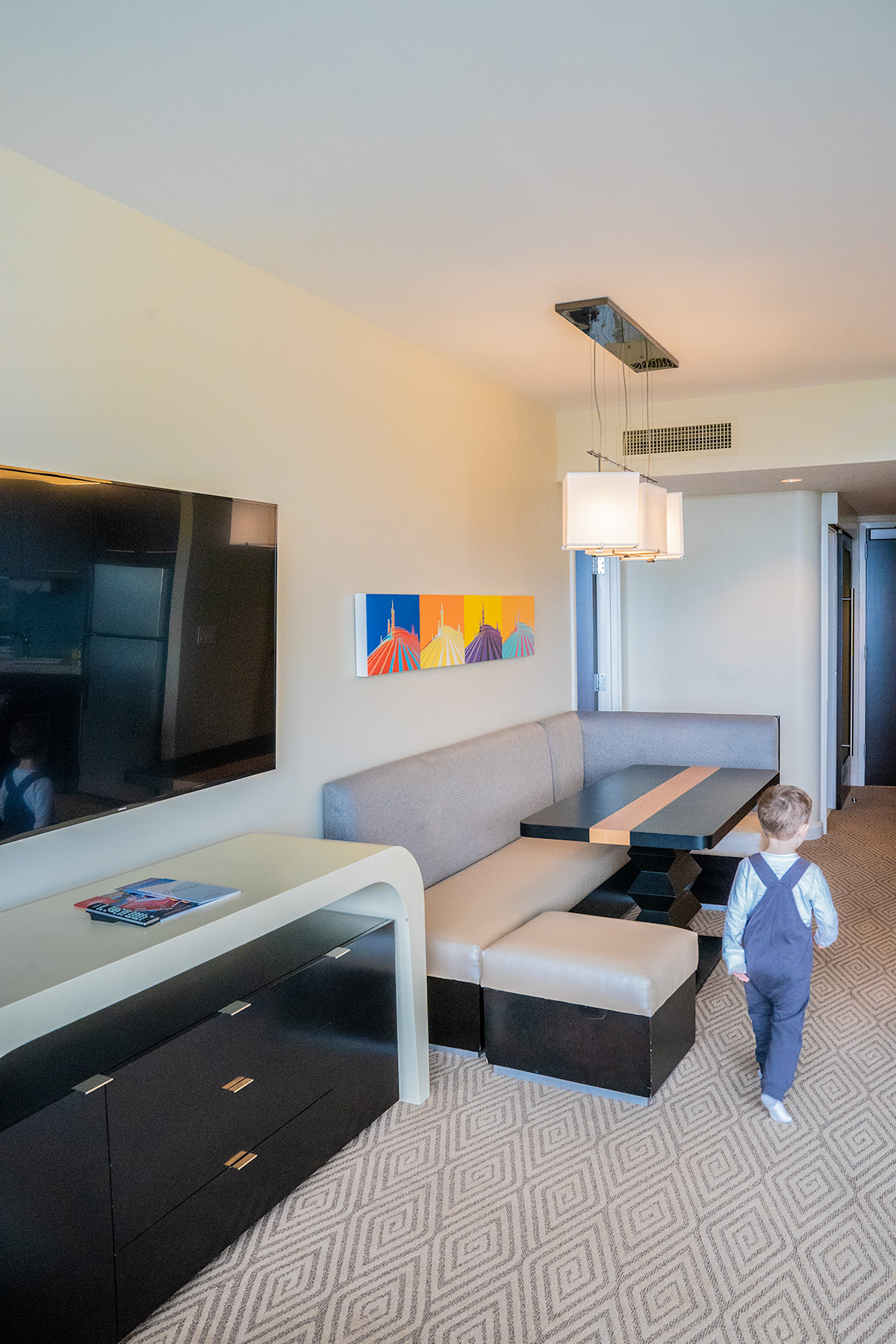 There was a large table with seating for four adult humans or several Trevor-sized humans.
Plus extra seating at the kitchen counter.
The kitchen had a sleek, modern design with granite countertops.
Plus a stainless steel oven range, microwave, and fridge.
It came fully stocked with paper towels, dish soap, sponges, dish towels, and plenty of plates, cups, bowls, and silverware.
The main living area also had a huge entryway with room for all of the sneakers a family could possibly pile up, plus a small washer and dryer.
There was even a small bathroom with just enough room for a sink and small shower.
The master bedroom was a separate room with a matching color scheme.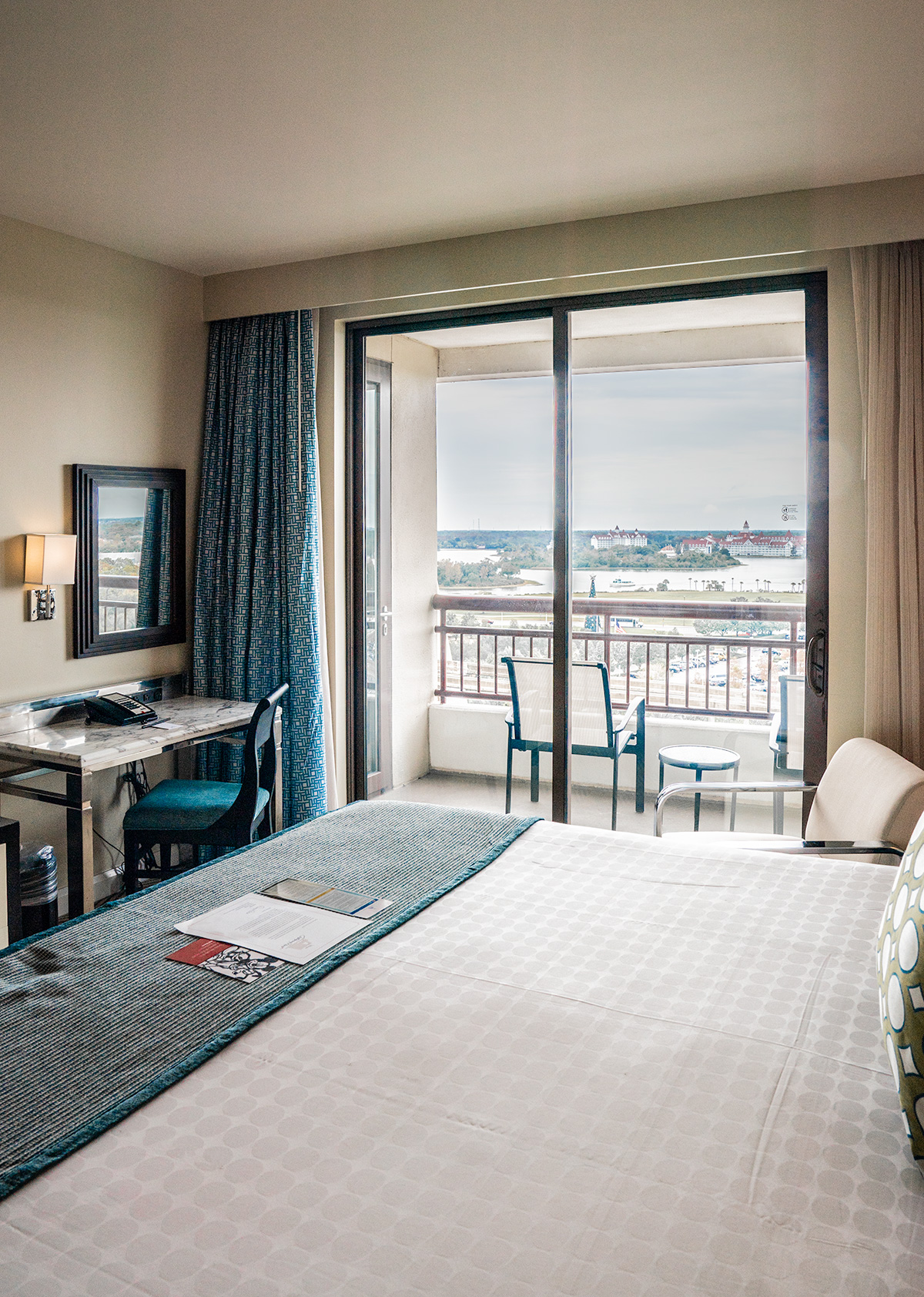 The bedroom included a king-sized bed, a large flat-screen TV, and a desk.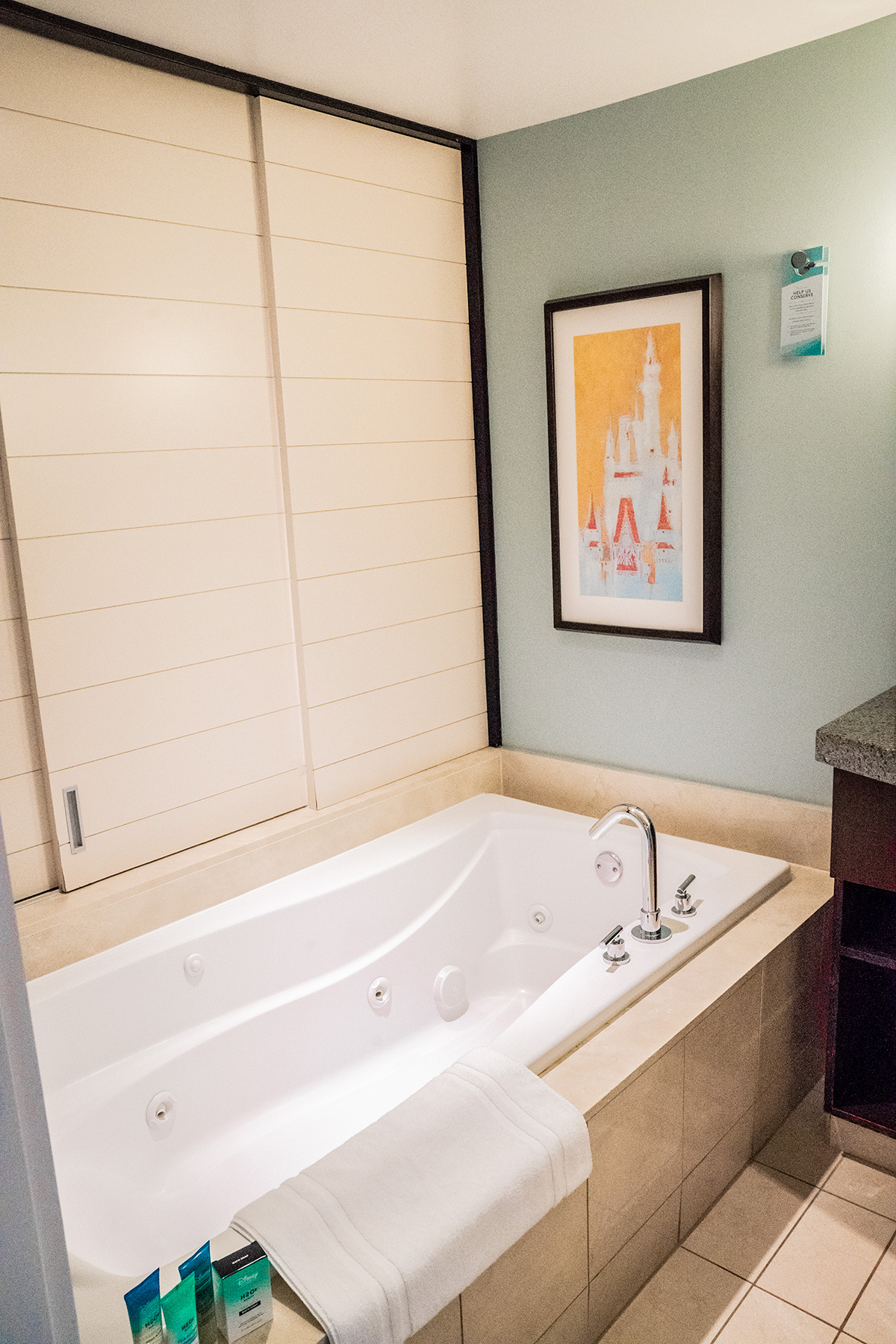 The master bathroom felt like a luxury hotel bathroom, with a jetted soaking tub.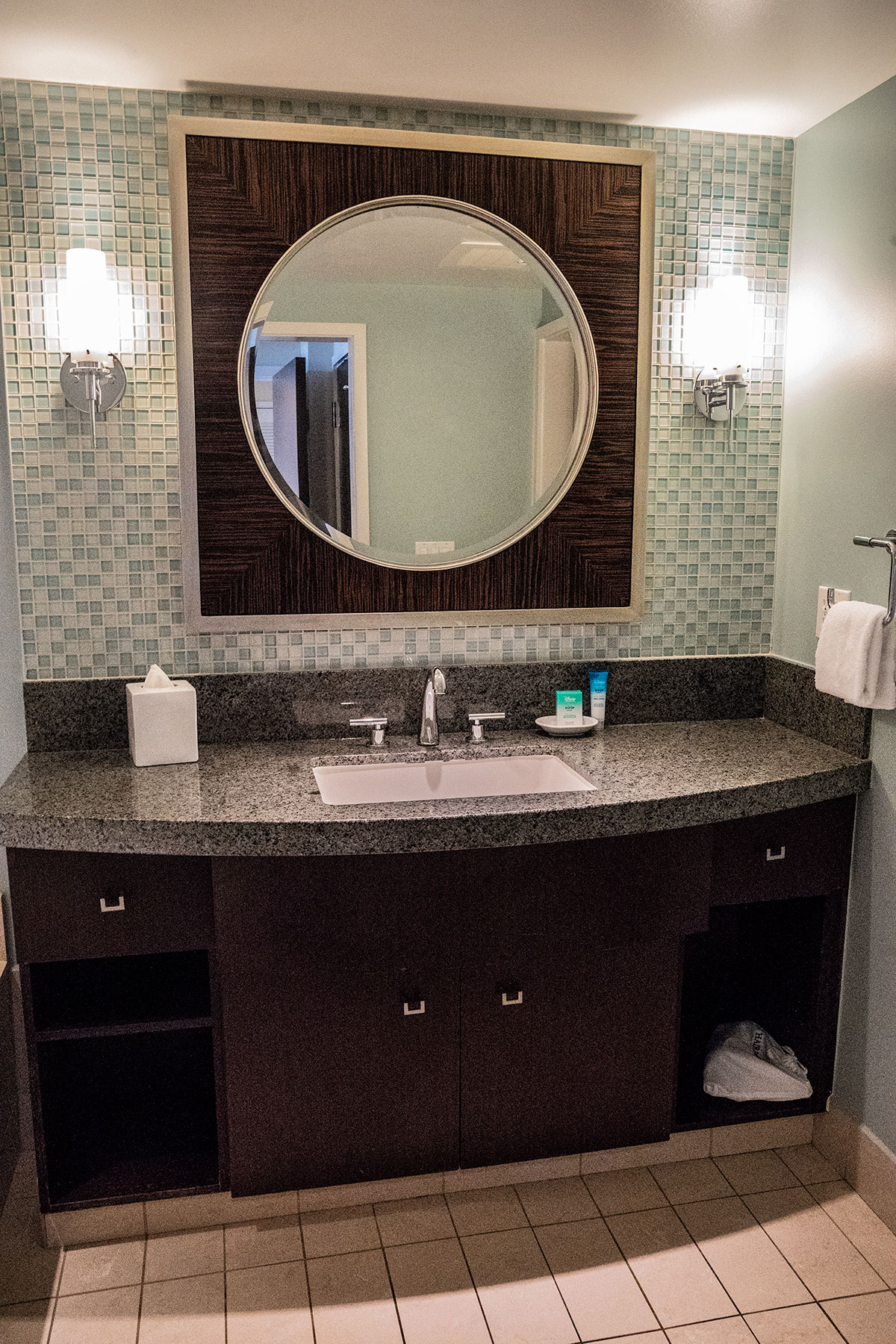 Plus a sink with a large granite vanity that had plenty of room for all of our family's toiletries.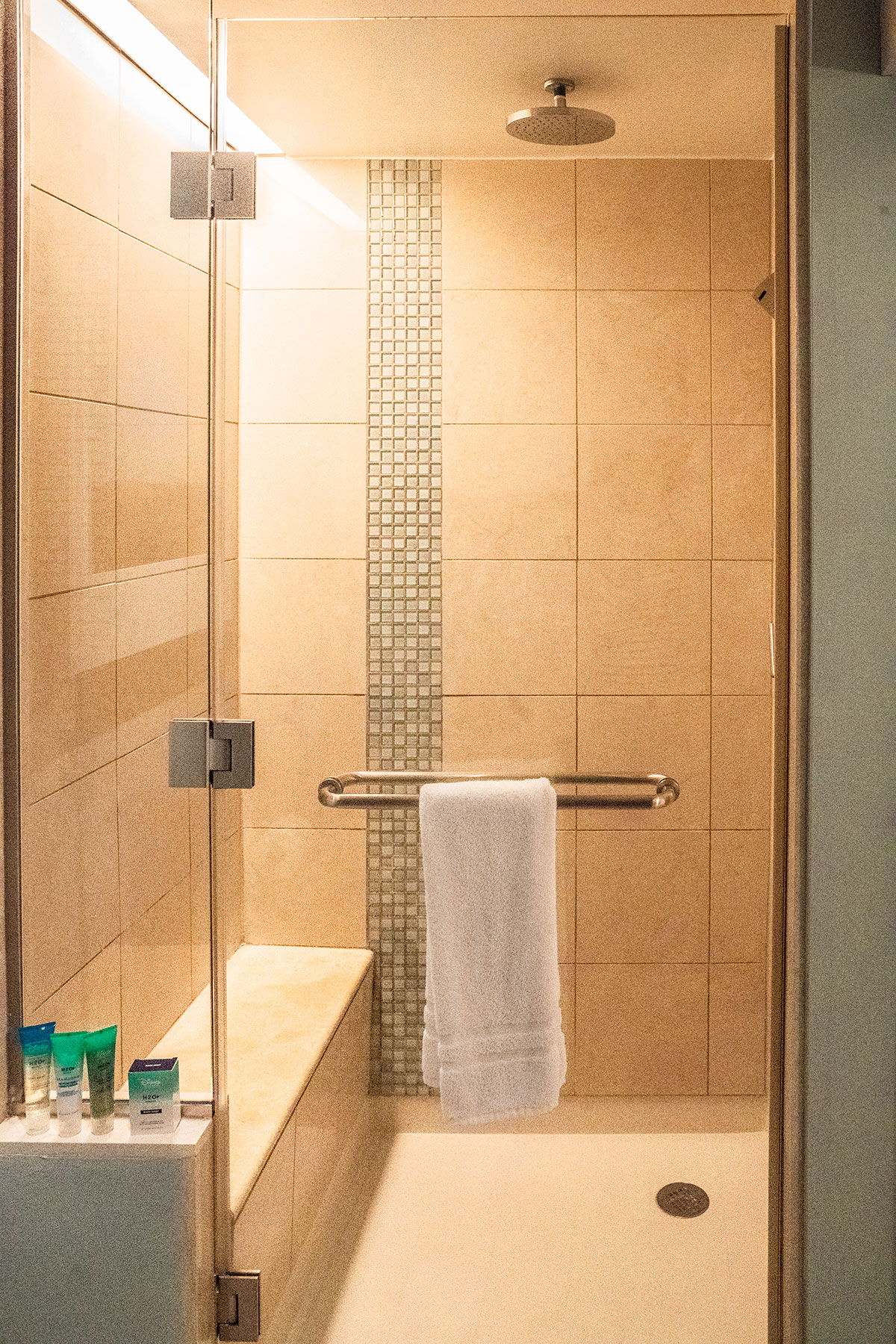 There was also a separate shower room that included a walk-in glass-door shower with handheld and rainfall showerheads.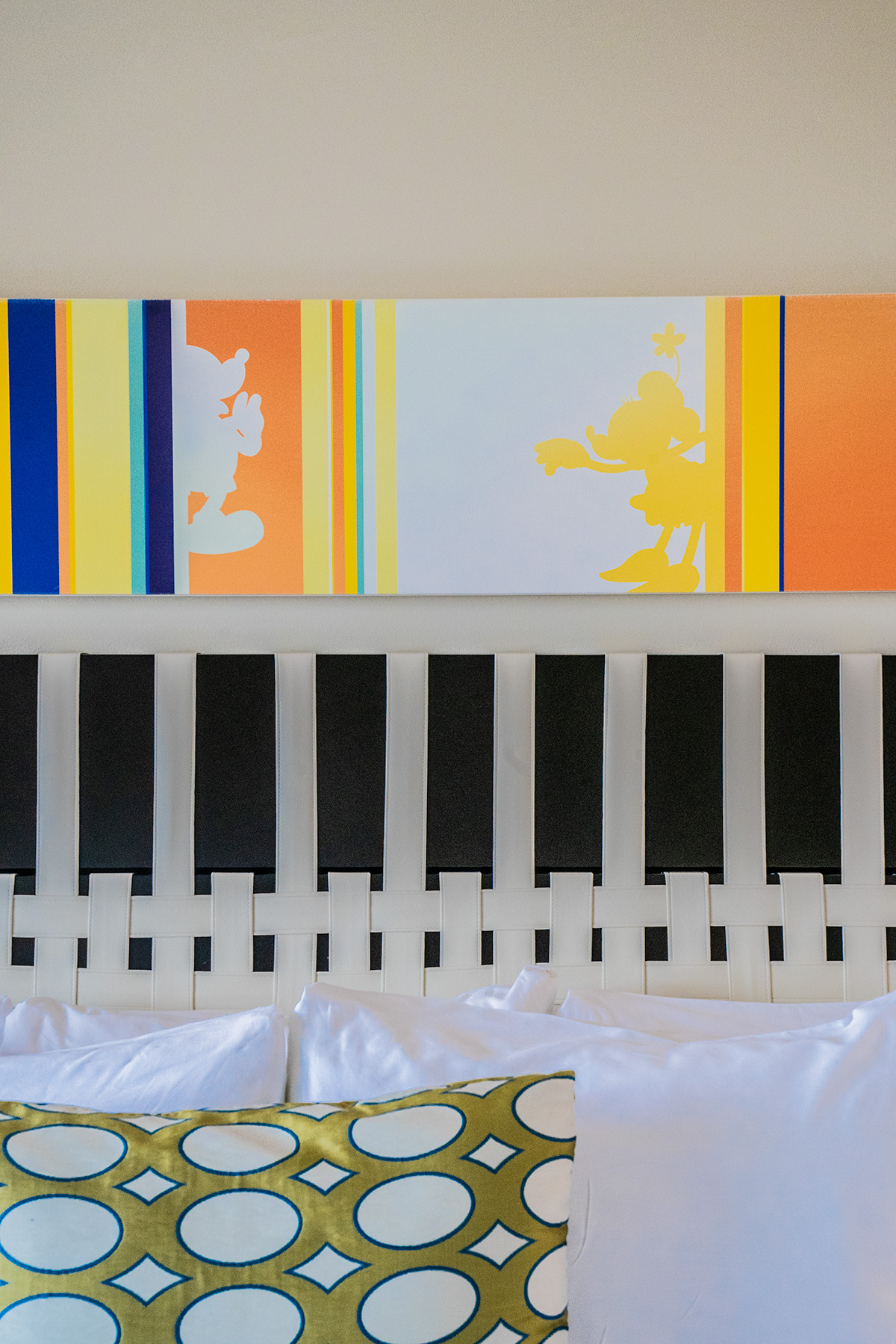 I loved all of the Disney flair throughout the room.
From the Mickey and Minnie silhouettes over the bed, to the artwork of Cinderella Castle over the bathtub, there were little hints of Disney magic everywhere!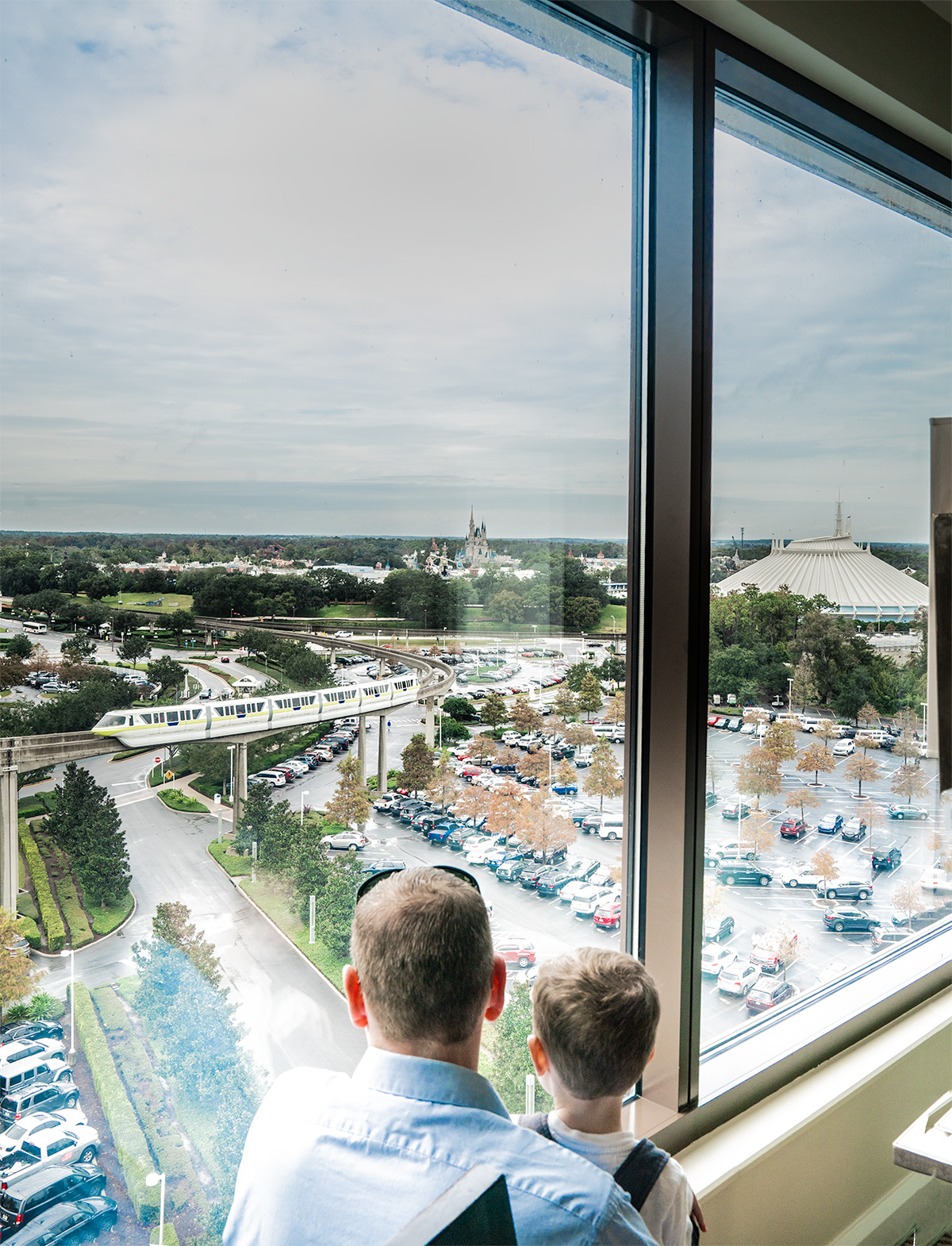 The Absolute Best Feature of The Room Was The Incredible View
Our hotel room included giant floor-to-ceiling windows in the living room and a balcony off of the master bedroom.
Trevor spent a lot of time at these windows, driving his toy cars along the window sills.
His face would light up with awe as he watched the enormous monorails zoom by.
The trains had colored stripes, and he loved calling out the color each time they passed by: "It's a red monorail train!" "It's a yellow monorail train!"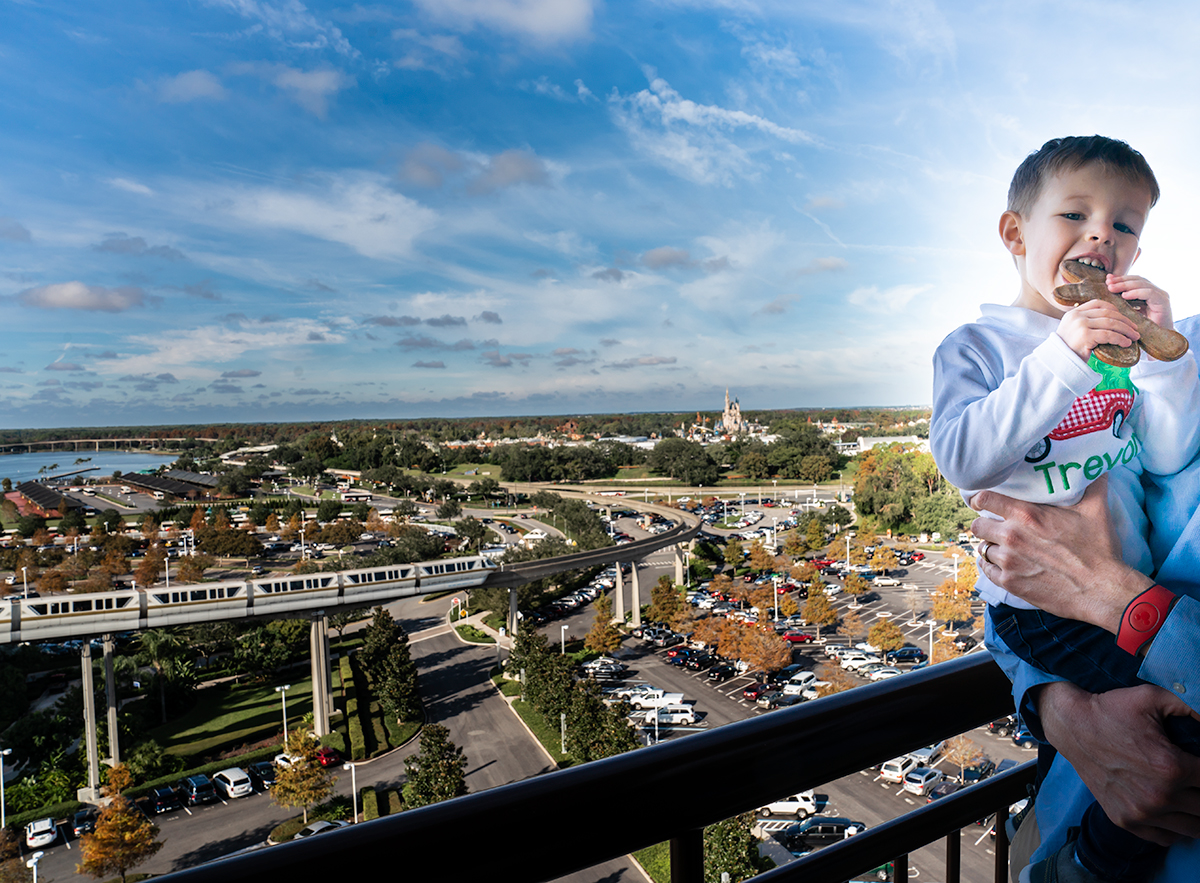 To our left and in front of our room, we could see the main Contemporary building, the Seven Seas Lagoon, and the Grand Floridian Resort.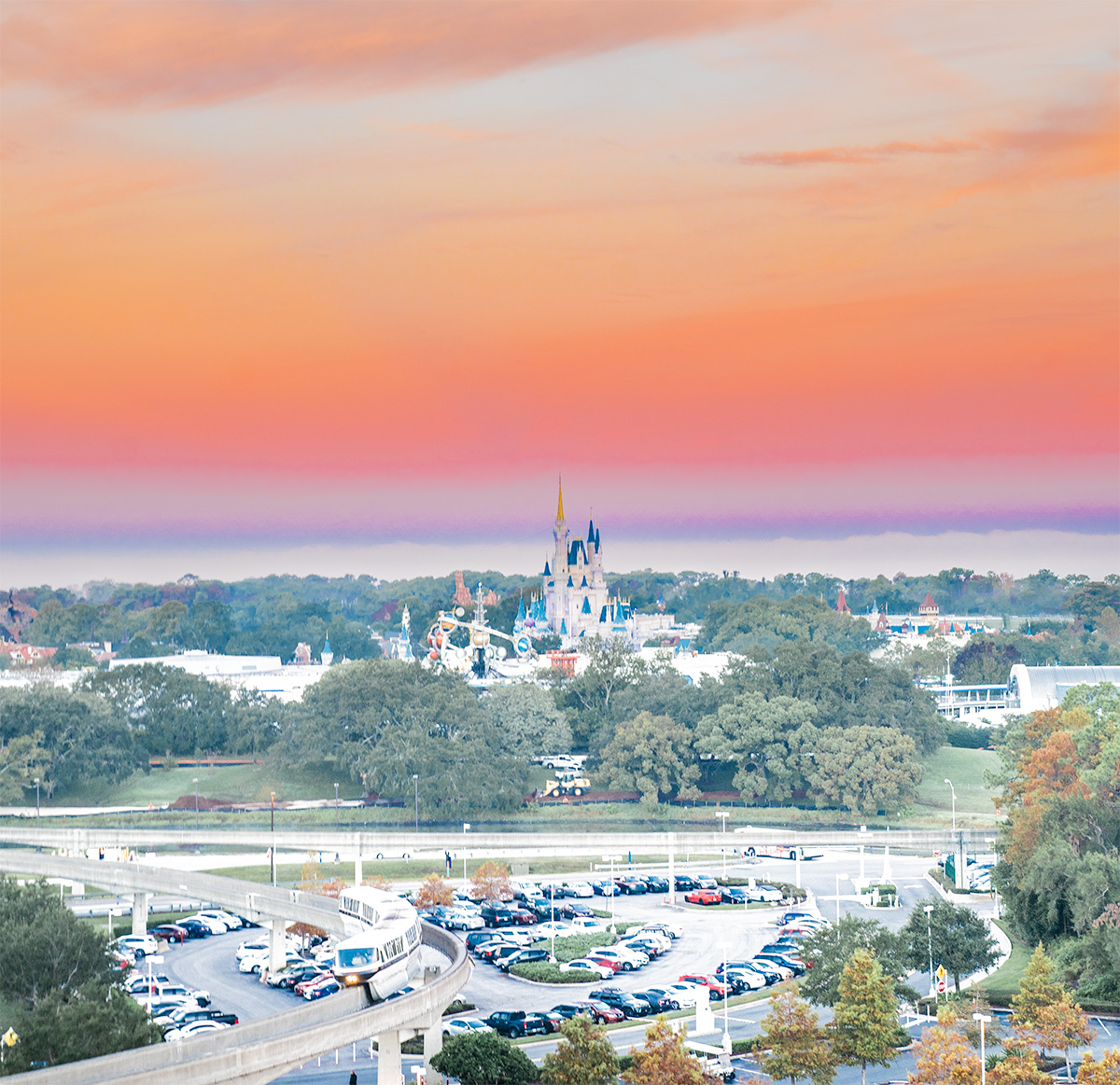 And to our right, we could see Cinderella Castle and the Magic Kingdom!
From our vantage point, the Walt Disney Resort area seemed to be very flat and even.
So staying in a tower several floors up, it was as though we could see for miles in every direction.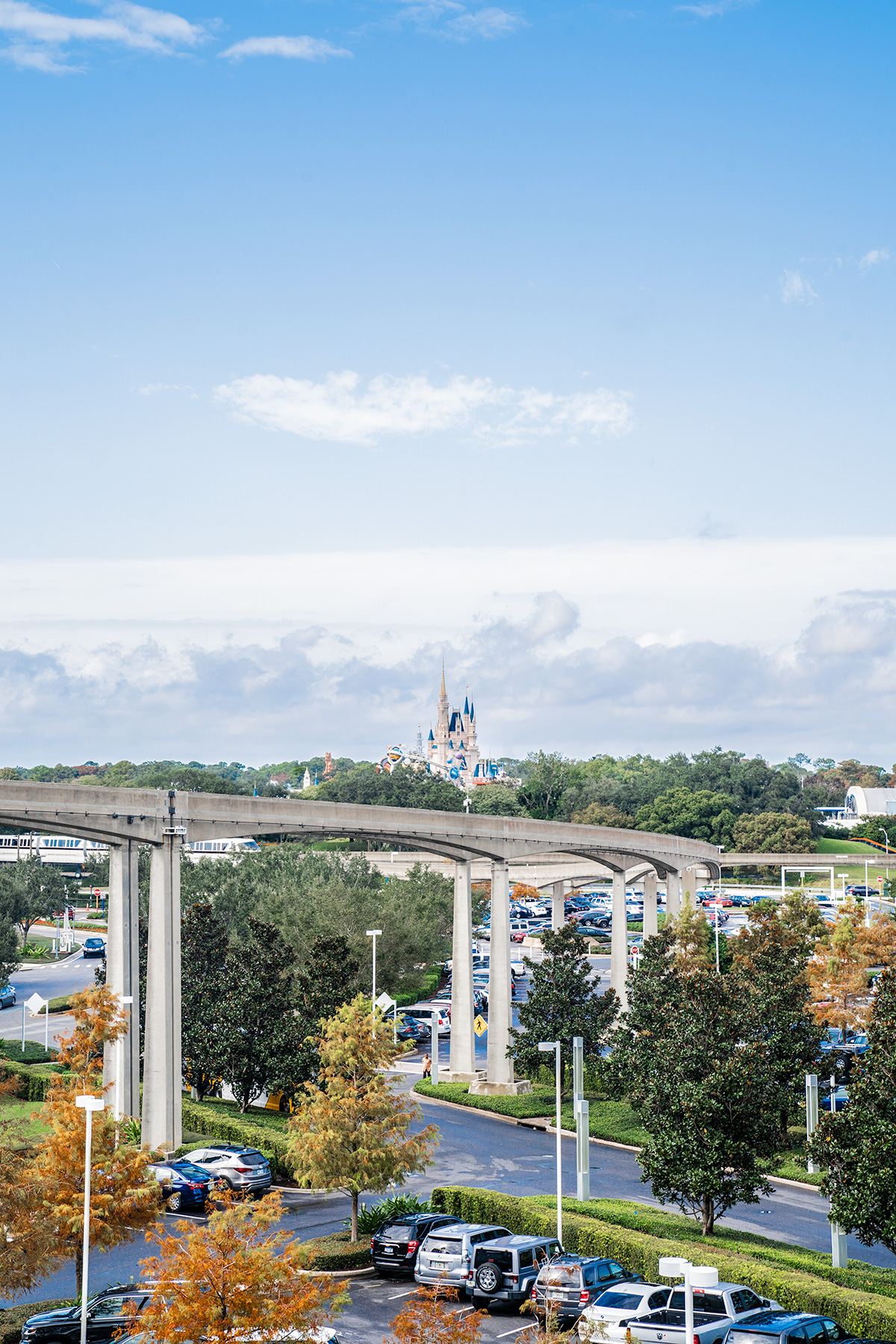 One of my favorite memories from our time at Disney's Contemporary happened here.
I loved getting into warm sweatshirts at night (with Tru in his pajamas) to watch the Magic Kingdom fireworks show light up the sky, from our balcony.
We were so close to the castle, it was nearly the same as actually being at the park.
Or maybe it was even better, since we could sit comfortably in our balcony chairs and we didn't have to strain to see over the crowds!
It was a really special experience to take in such a spectacular show, all while still enjoying the serenity of being on our own private balcony.
And it was also so convenient for getting Tru quickly and easily into bed afterwards!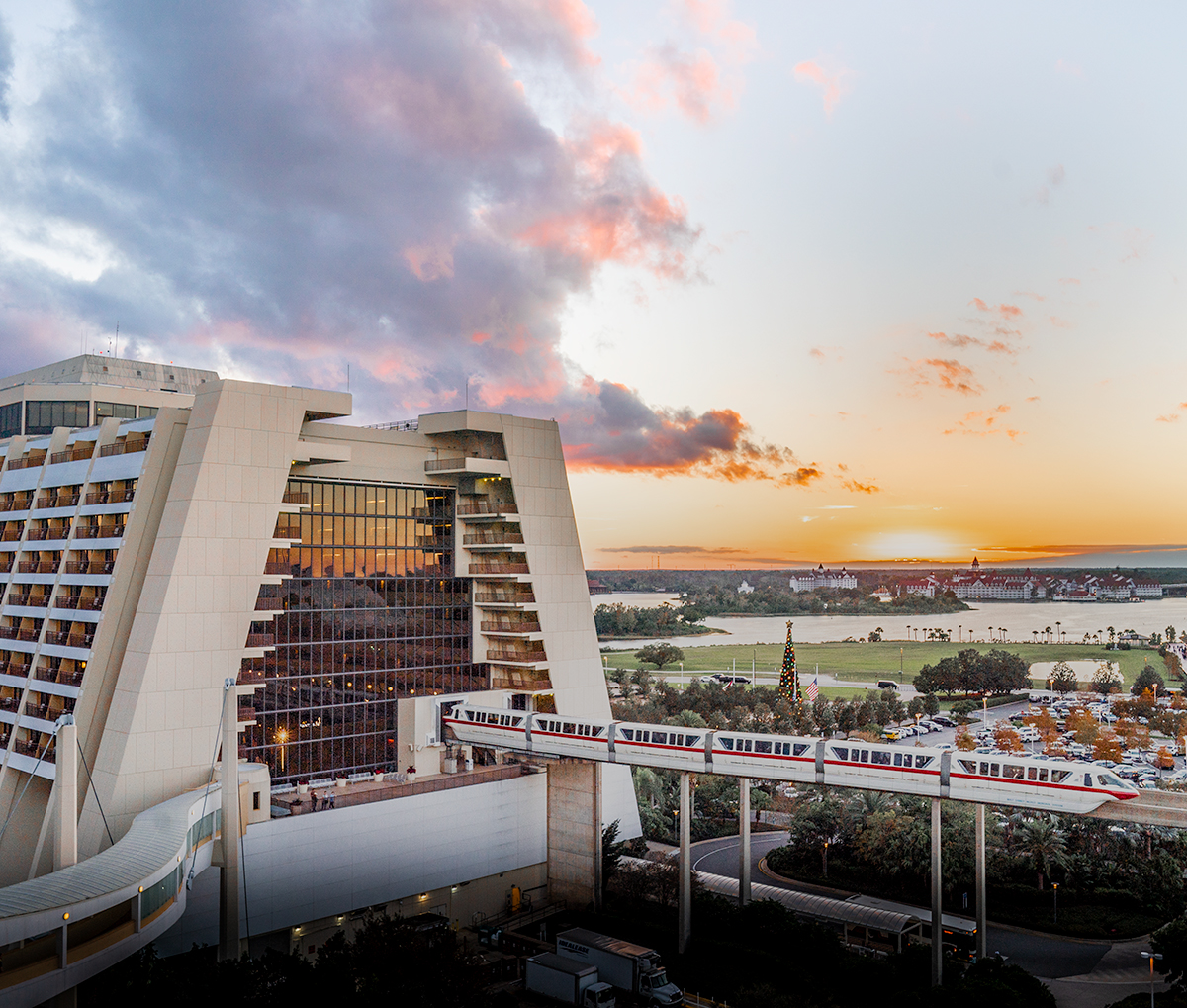 There Are So Many Benefits to Staying at Disney's Contemporary Resort, But Let's Begin With Transportation!
If you've ever visited the Walt Disney World property, you know that transportation to and from each of the parks can equal major headaches (and lots of time wasted!)
From getting jammed into an overcrowded bus to standing under the unforgiving sun while waiting for a parking lot tram, Chris and I have been through it all.
In addition to bus transportation throughout the Walt Disney World property, the Contemporary has a few easier and more enjoyable options!
First, there's the fact that the monorail stops right in the main hall of the hotel, the Grand Canyon Concourse.
So that's one quick and simple option for Contemporary guests to get to both the Magic Kingdom as well as Epcot.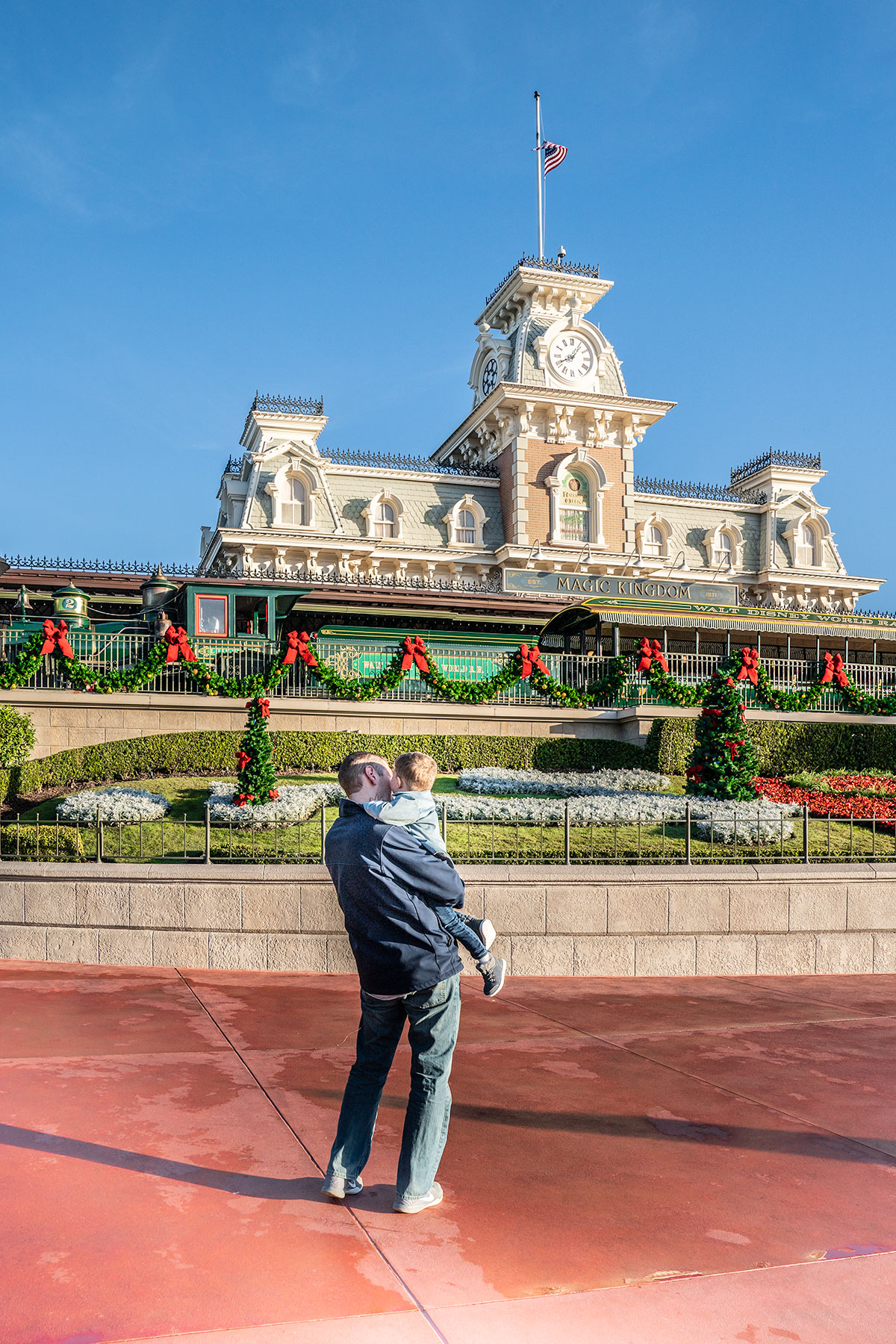 But Here's the Greatest Transportation Advantage of All
There's an easy walkway to the Magic Kingdom from the Contemporary Resort.
It took us no more than 10 minutes to walk from our room to the Magic Kingdom using this pathway, and it was hands-down the easiest method we've ever used to get into any of the Disney parks!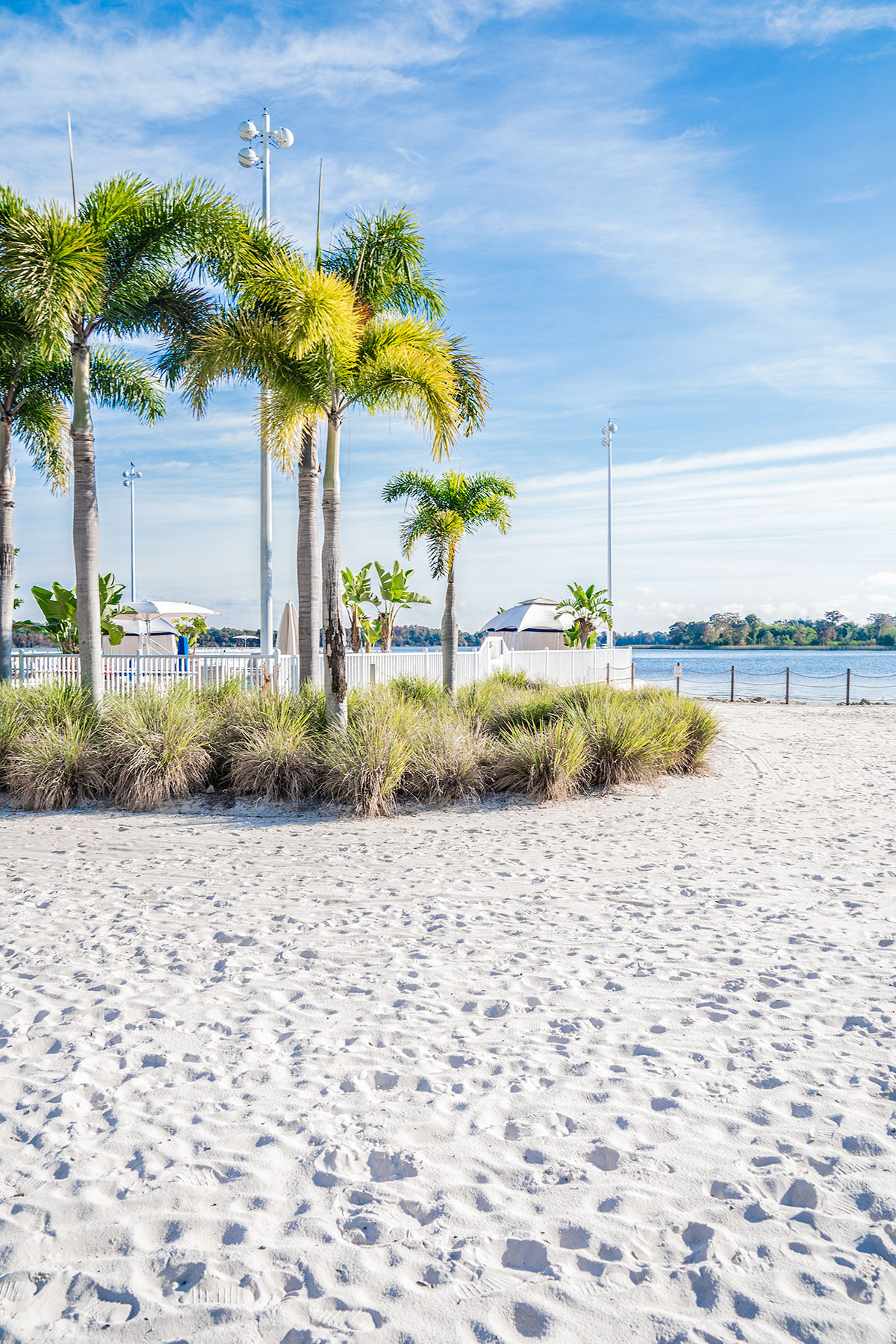 Let's Move Along to the Beautiful Beaches at the Contemporary Resort
Another great advantage of the Contemporary: the gorgeous white sand beaches that are located on Bay Lake.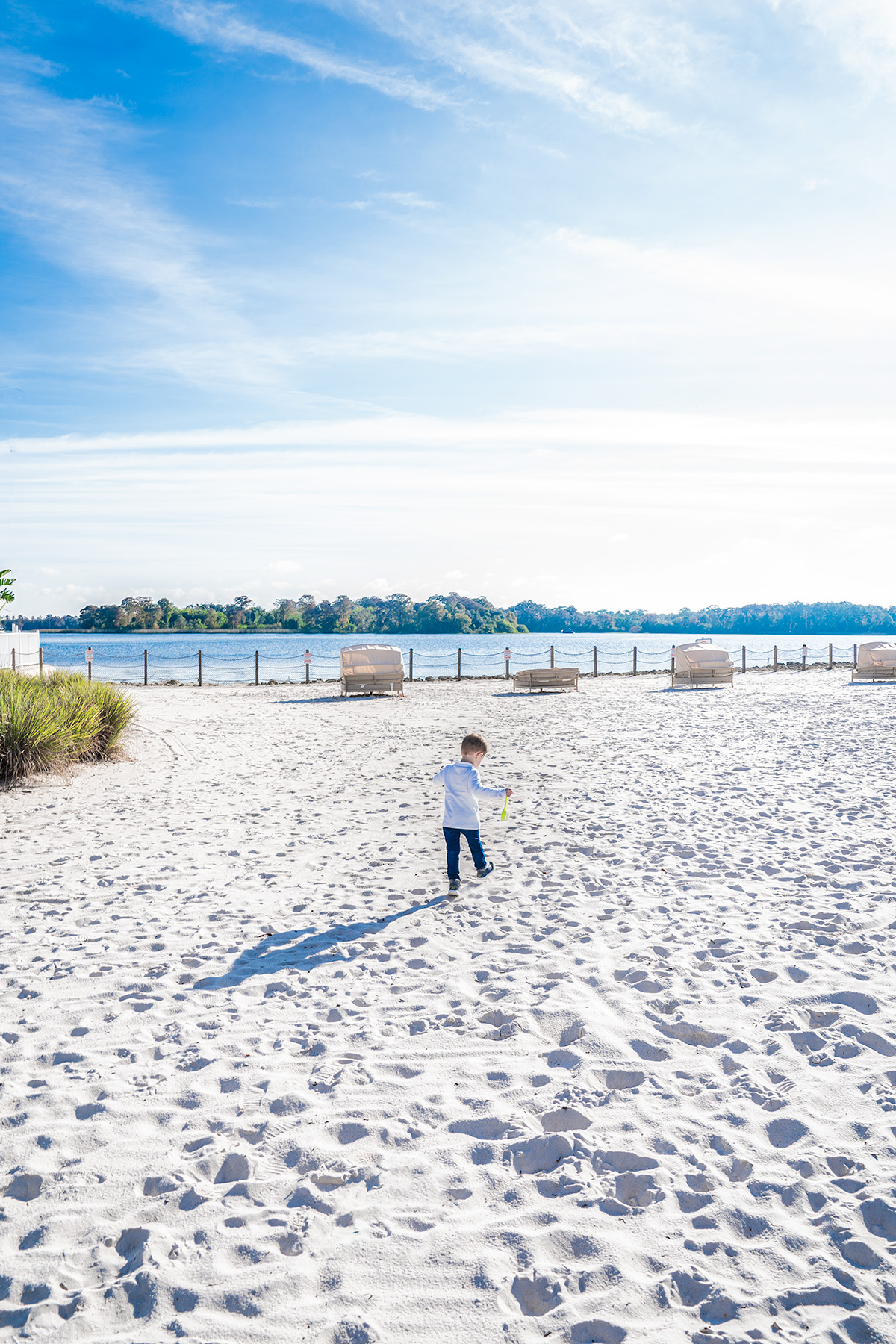 Trevor loved running through the sand at the larger beach outside the main Contemporary building.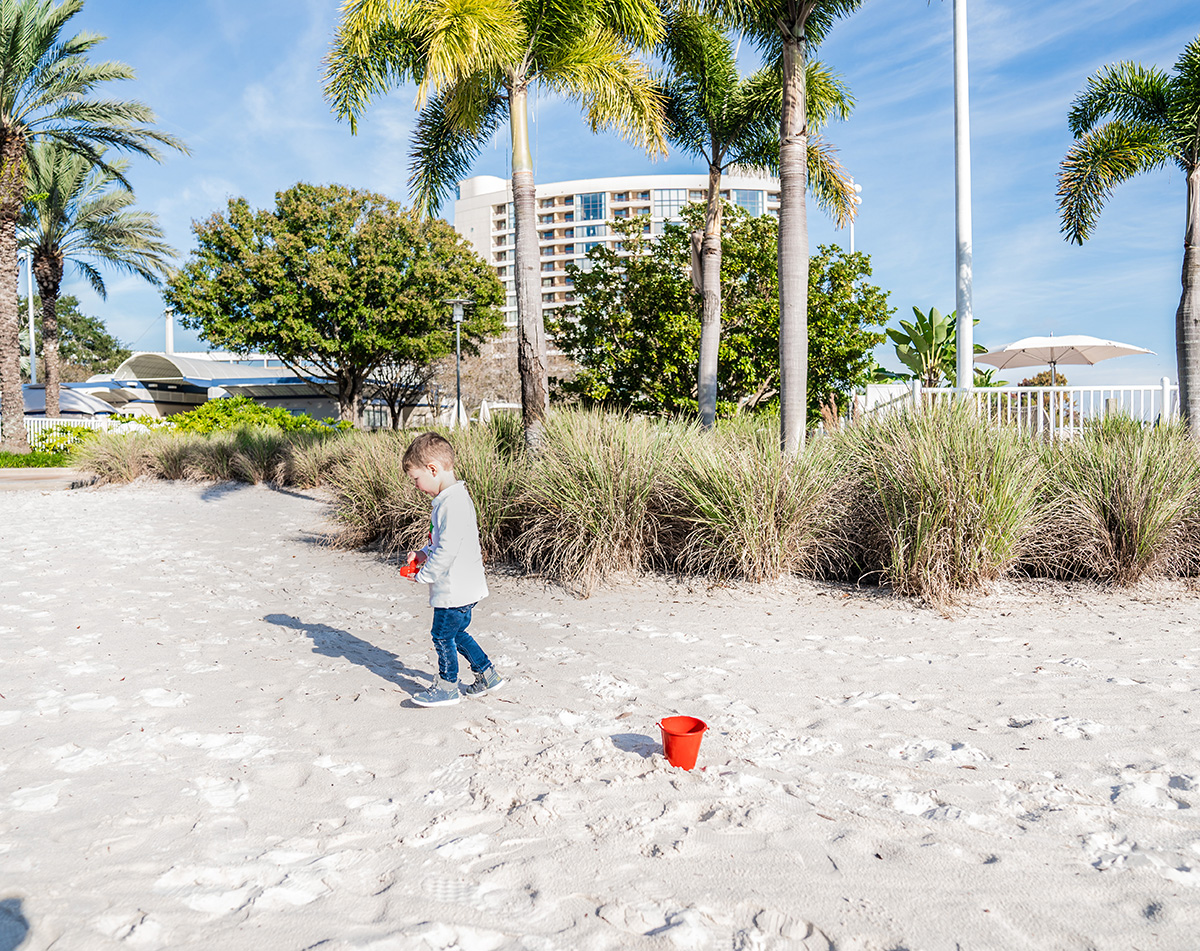 There were tons of shaded lounge chairs set up, plus a big supply of pails and shovels for kids to build sand castles.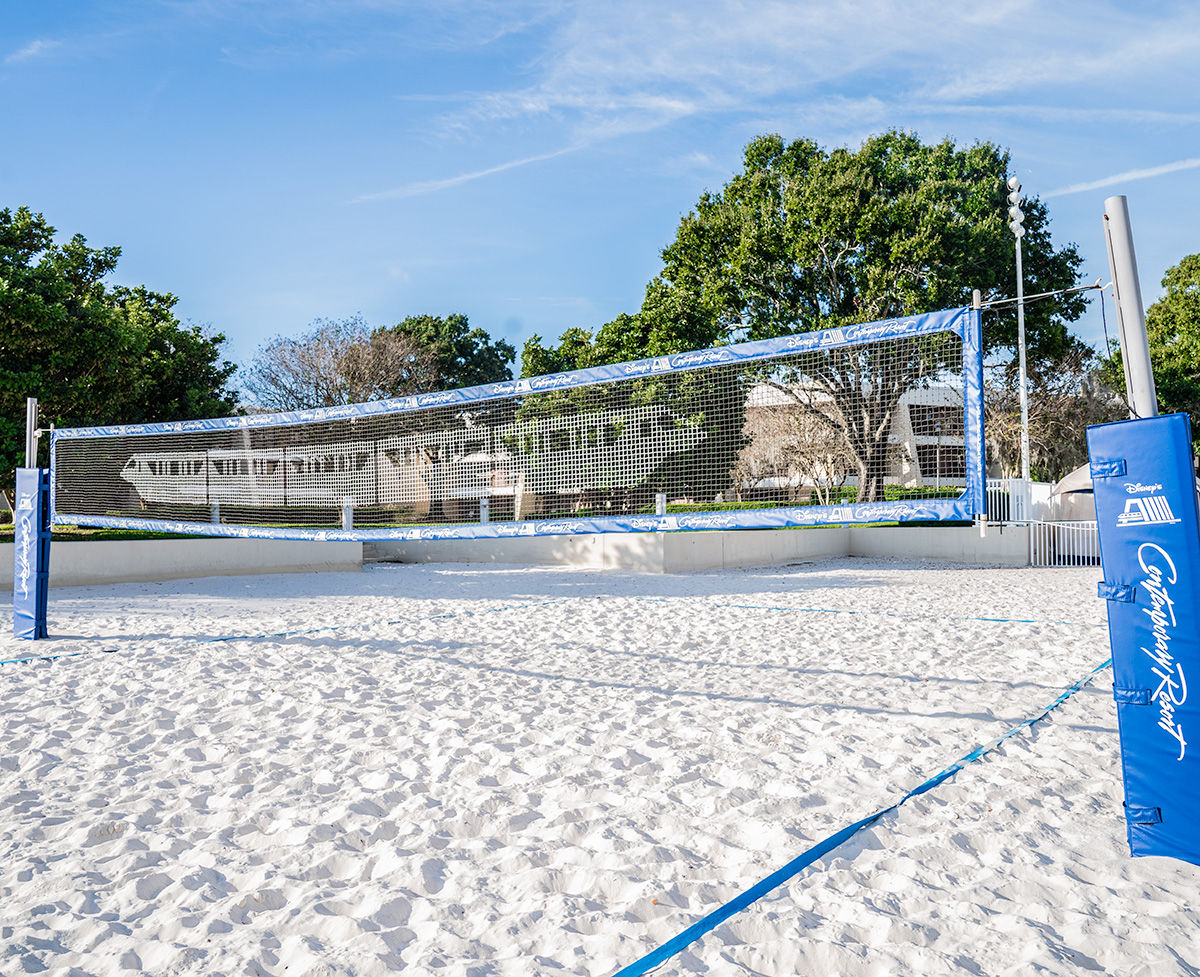 There was even a beach volleyball court, complete with a monorail design on the net!
We also spent a lot of time at the small beach near our room at the Bay Lake Tower.
Since it was December and quite chilly, we were often the only family on the beach.
I'll always remember sitting down with Trevor to build castles in the sand here.
Those were nice, peaceful moments amidst our busy days at Disney World.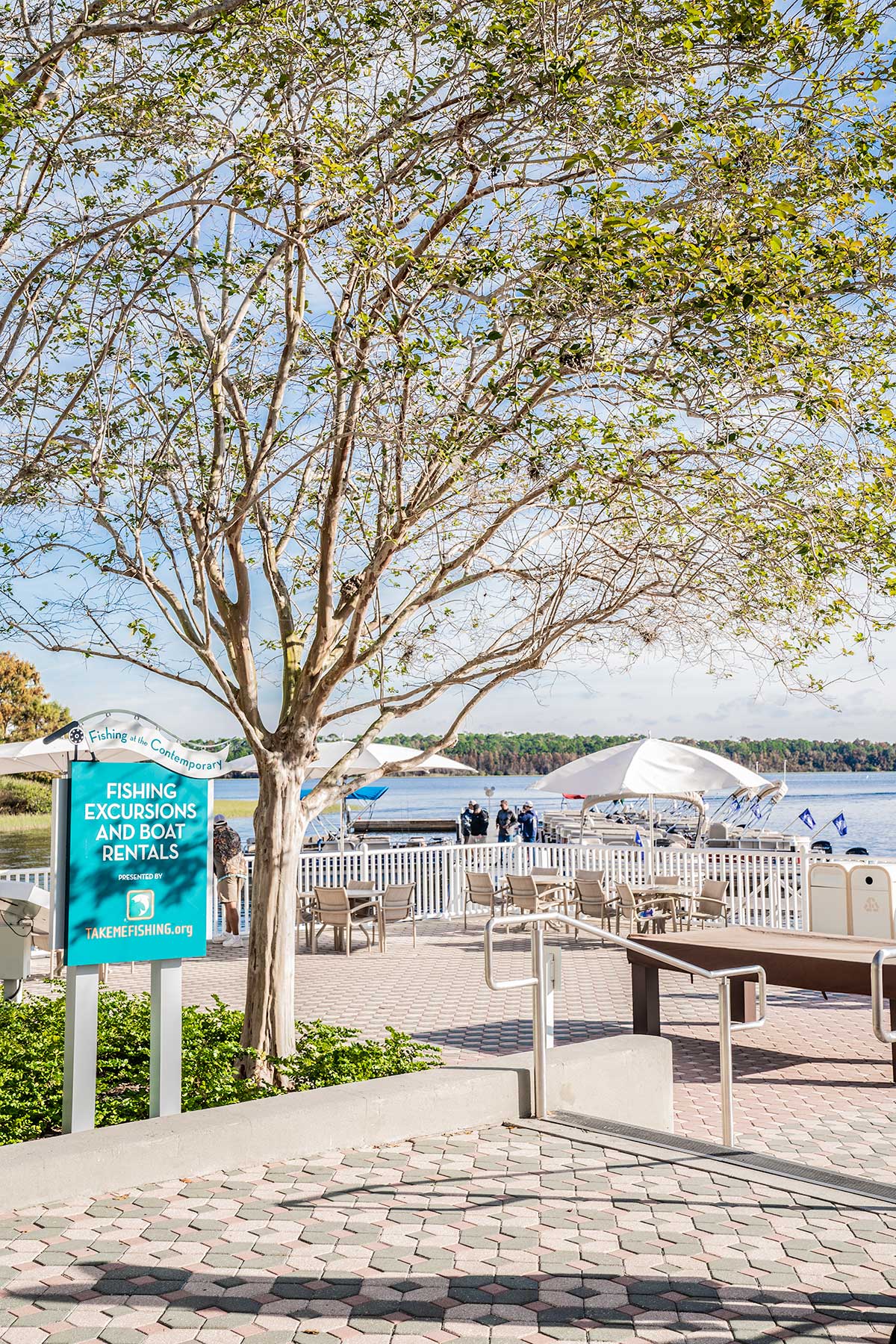 Being Located On Bay Lake, The Contemporary Resort Also Offers Boat Rentals
The Contemporary has a huge dock and a large fleet of boats available for rent.
This is where you can catch a ferryboat for transportation to other Disney resorts.
Disney's Fort Wilderness Resort & Campground and Disney's Wilderness Lodge are accessible by ferryboat.
But you can also sign up for fishing excursions, rent speed boats and pontoons, and even enjoy the Pirates & Pals Fireworks Dessert Voyage cruise (since Bay Lake offers Magic Kingdom and Cinderella Castle fireworks views, after all)!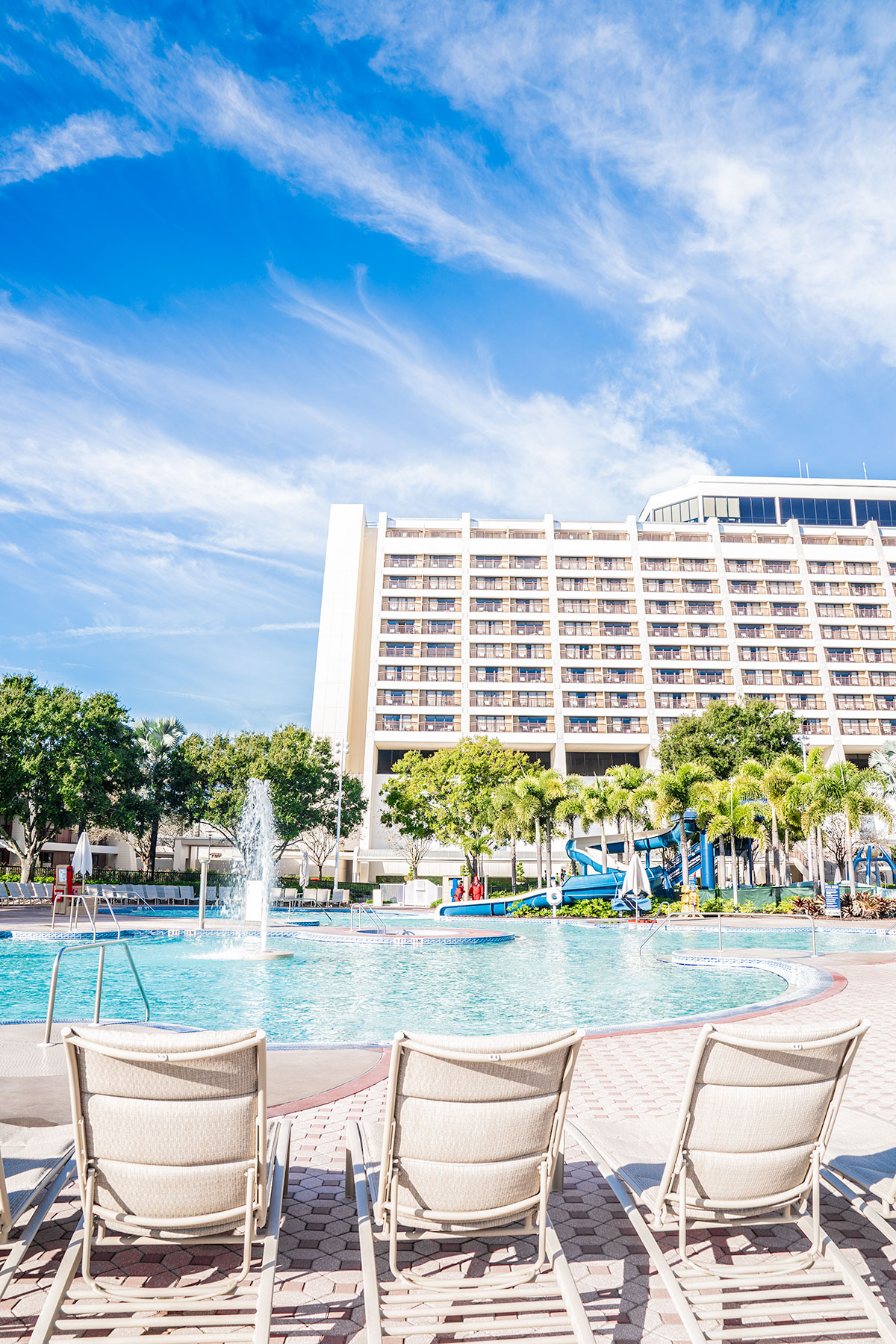 Next, Let's Move Along to the Incredible Contemporary Resort Pools
The main pool area, located just outside of the main building and in front of the beach, was enormous!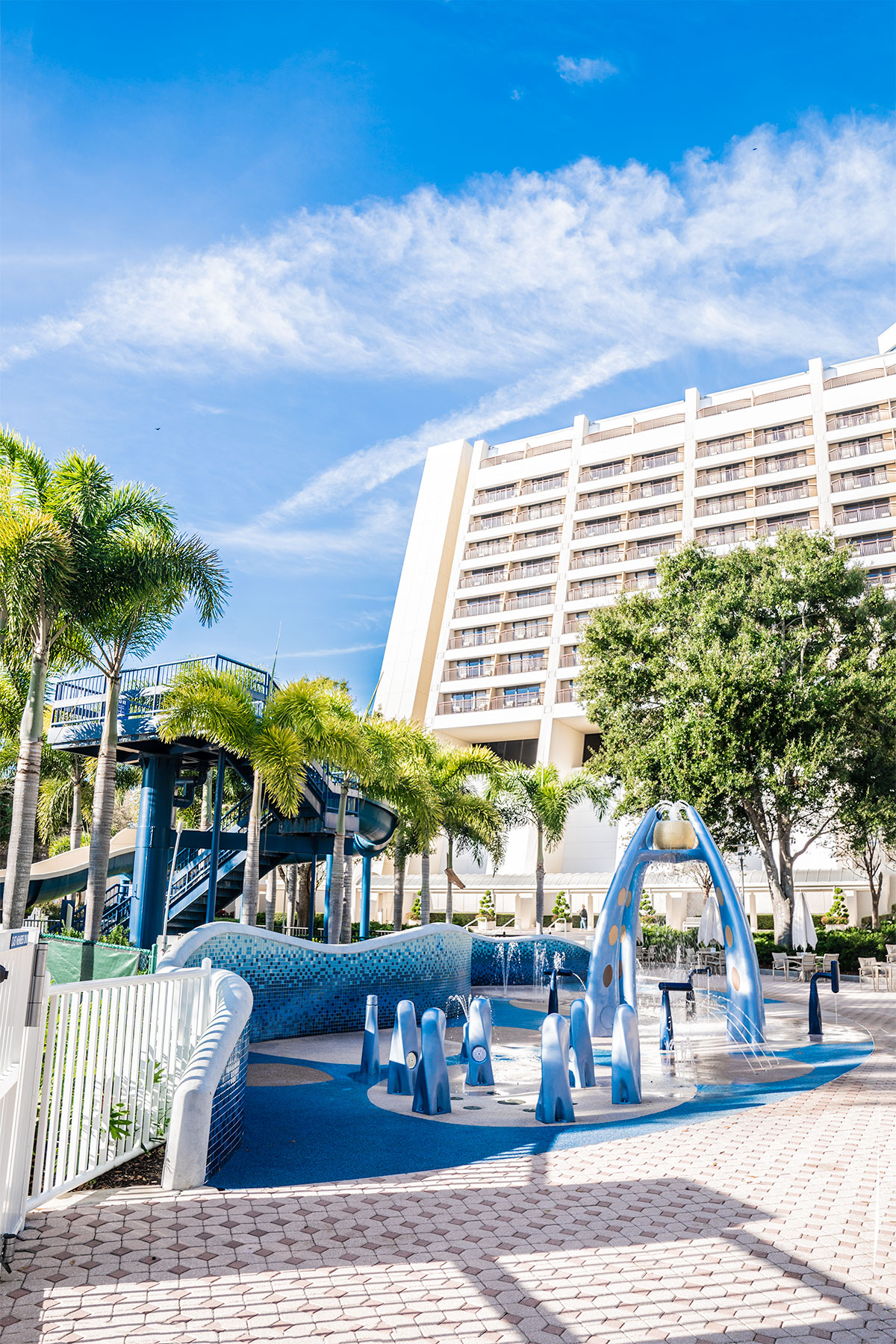 There were fountains and water slides, and even a splash park for kids.
In addition, there were luxury private cabanas available for rent.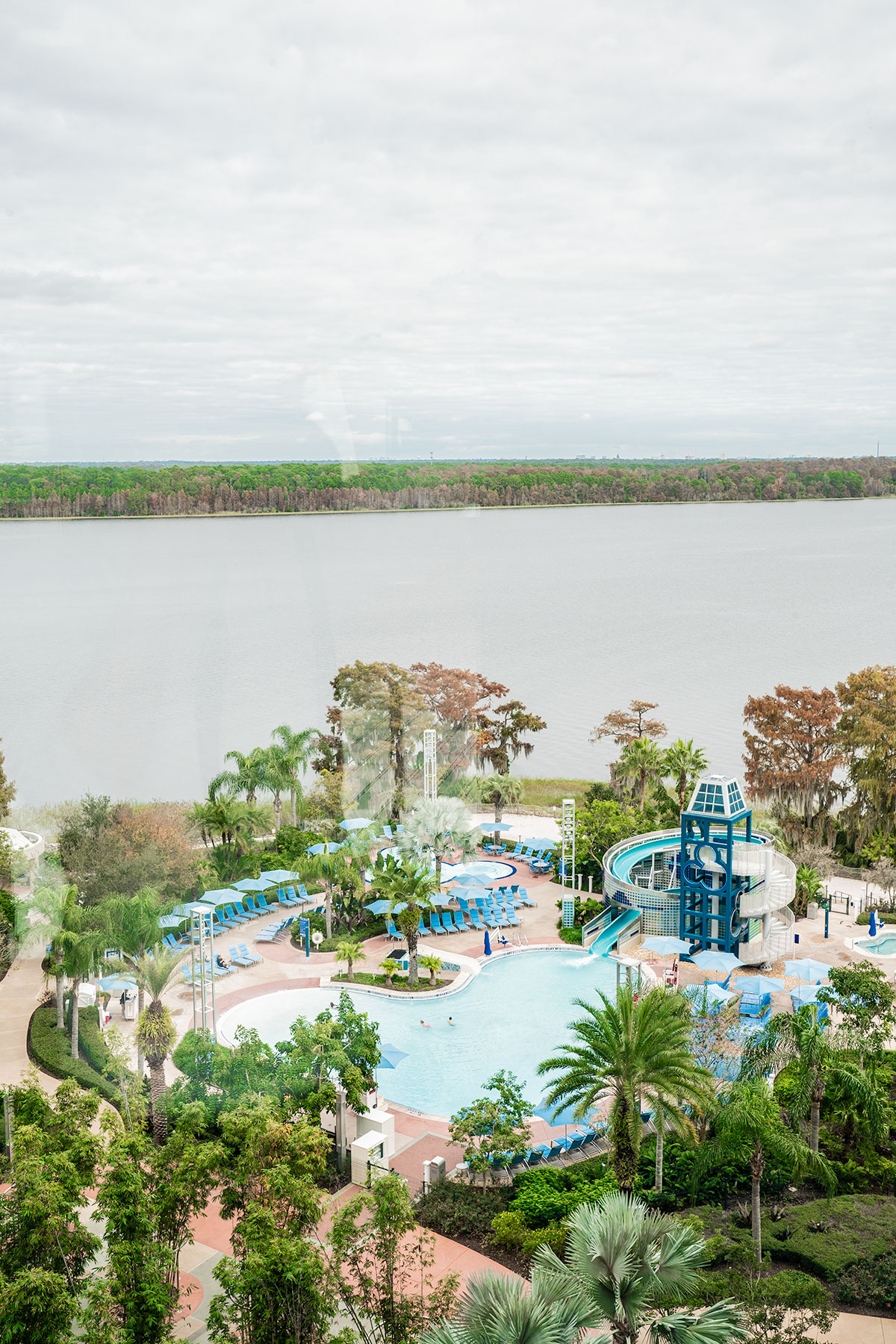 We spent a lot of time each afternoon at the gorgeous pool located outside of Bay Lake Tower.
I shot the photo above from a hallway window outside our room.
From this vantage point, you can see that the pool is shaped like Mickey.
I thought that was a really cute touch.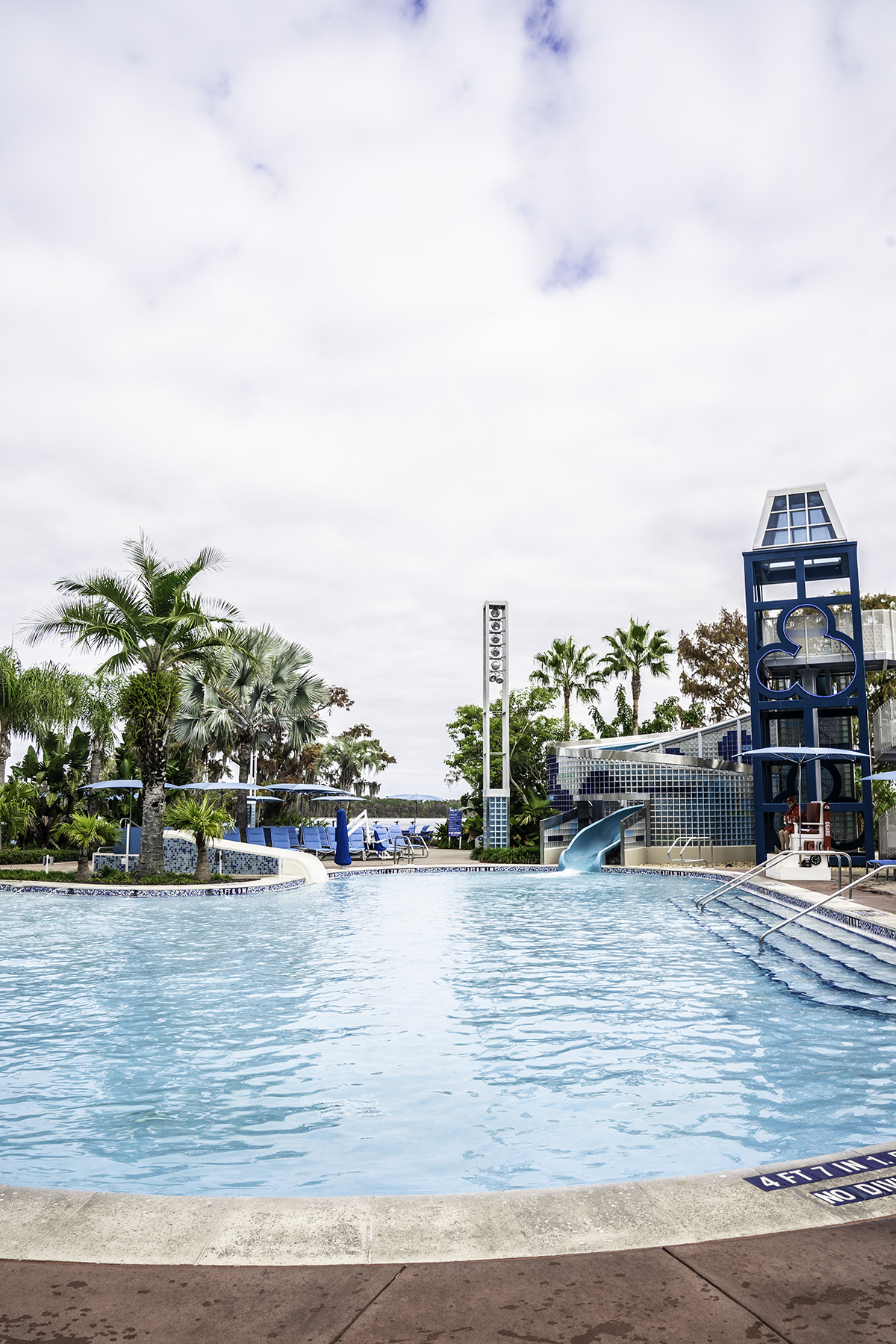 There were plenty of lounge chairs and umbrellas, plus lots of picnic tables, all around the pool area.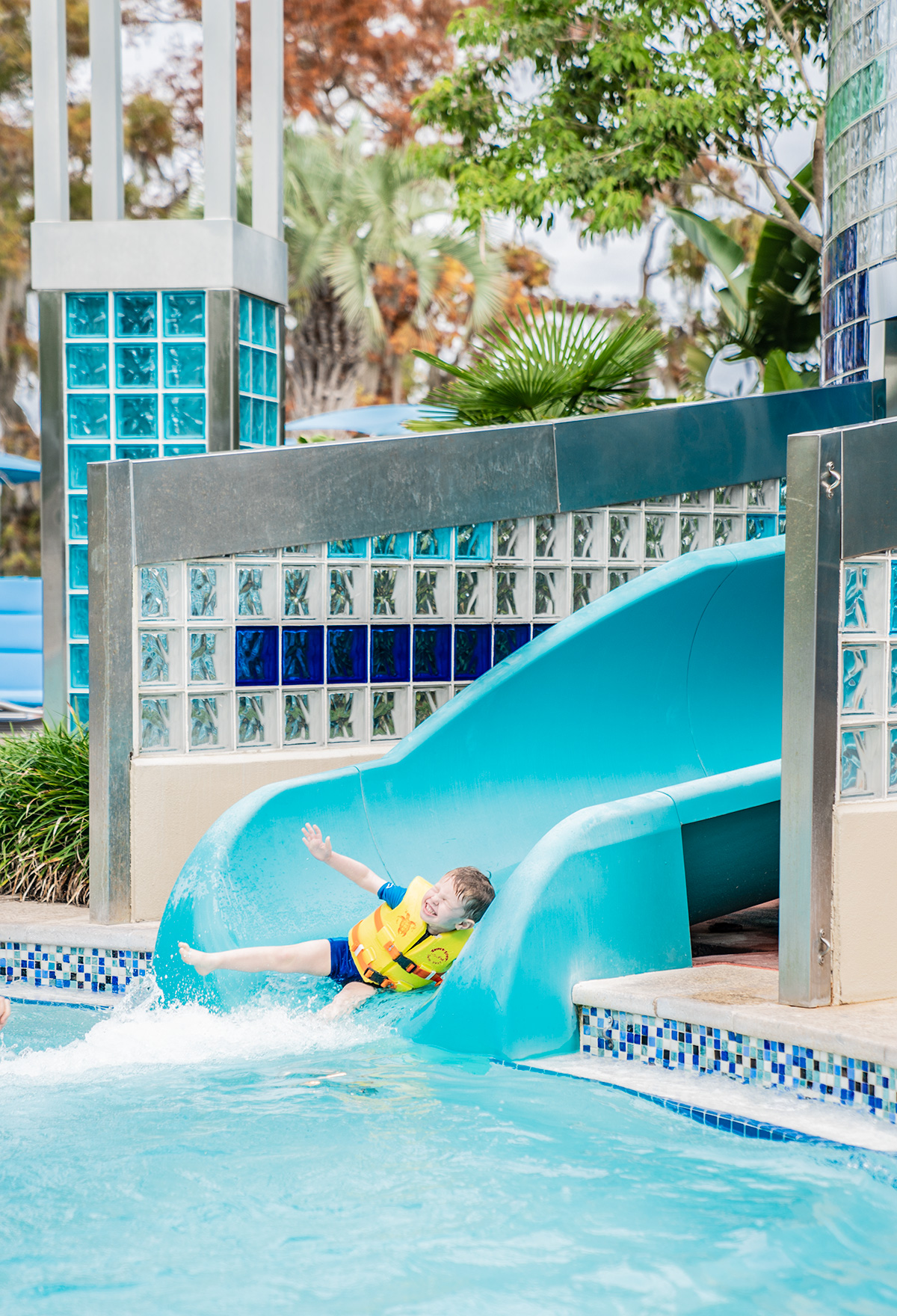 And Tru was absolutely in love with the two-story spiral water slide.
He rode down this slide at least 30 times each day that we stayed at the hotel.
And he kept his eyes squeezed shut for each and every ride down too!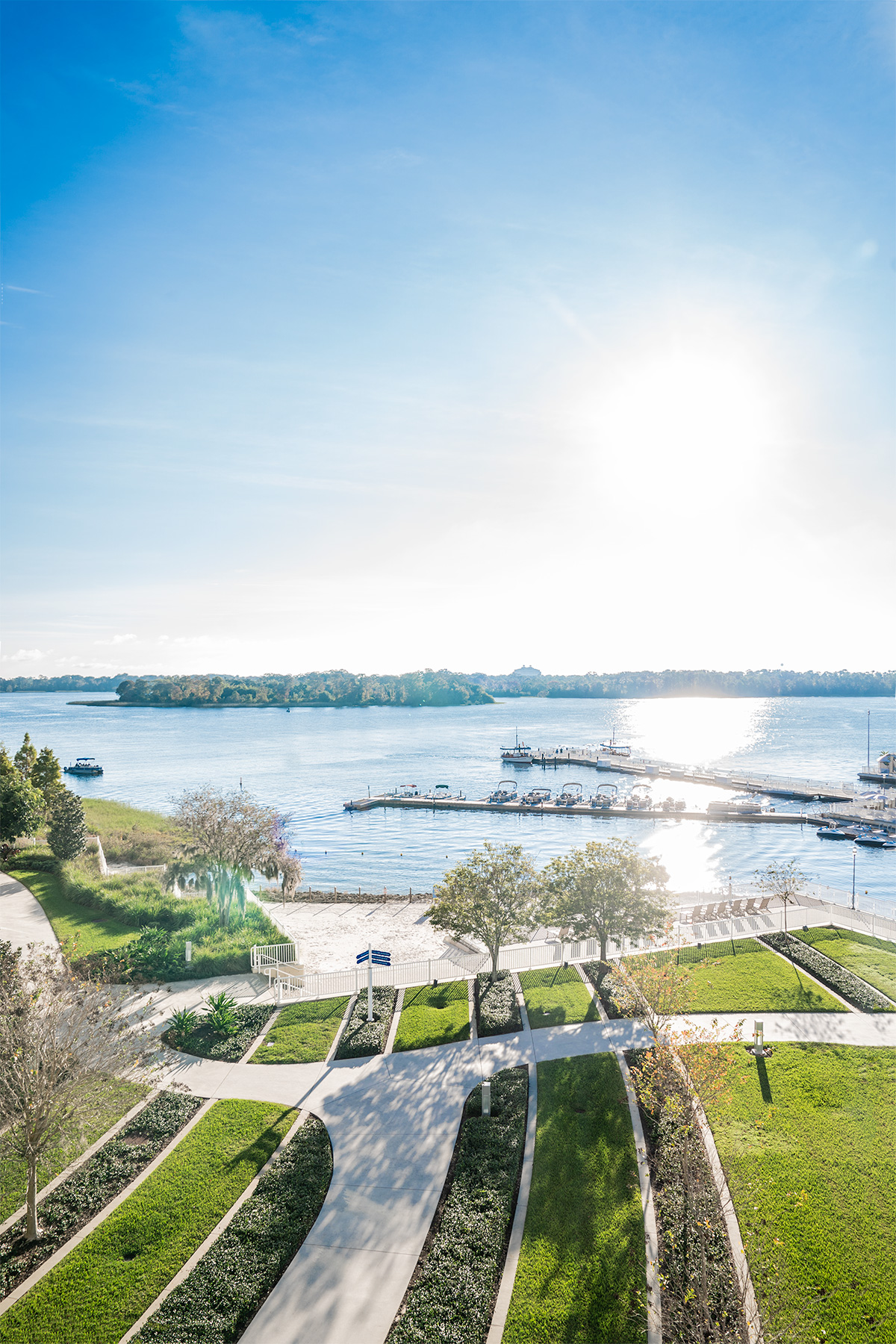 The Grounds at Disney's Contemporary are Beautiful and Meticulously Kept
Even in December, the property felt like a paradise.
Envision calm blue lake waters, swaying palm trees, and flower beds without a weed in sight.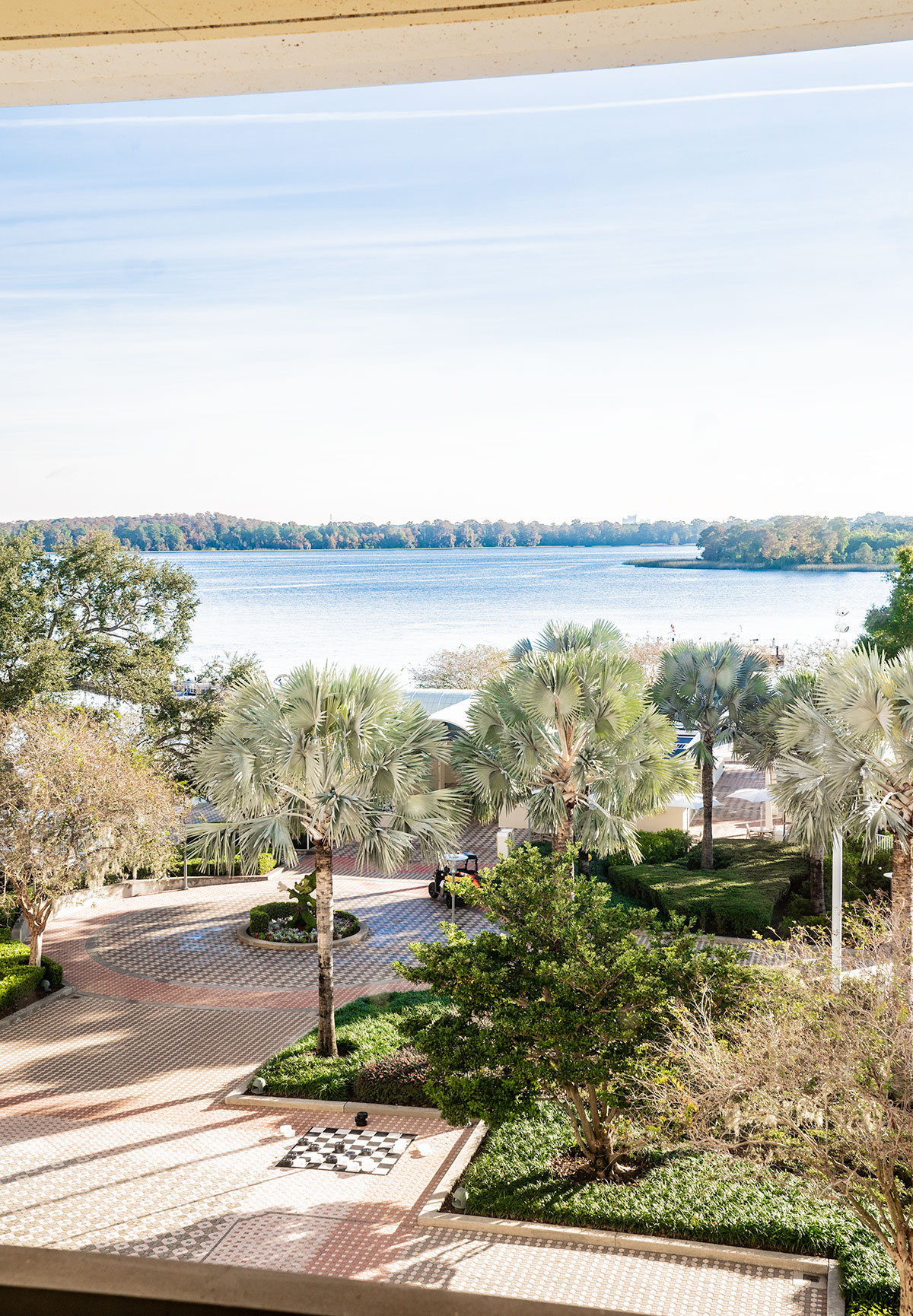 Those special Disney touches that add so much magic? They were everywhere throughout the Contemporary Resort.
For example, can you spot the playful giant checkers board and the Mickey topiary in the photo above?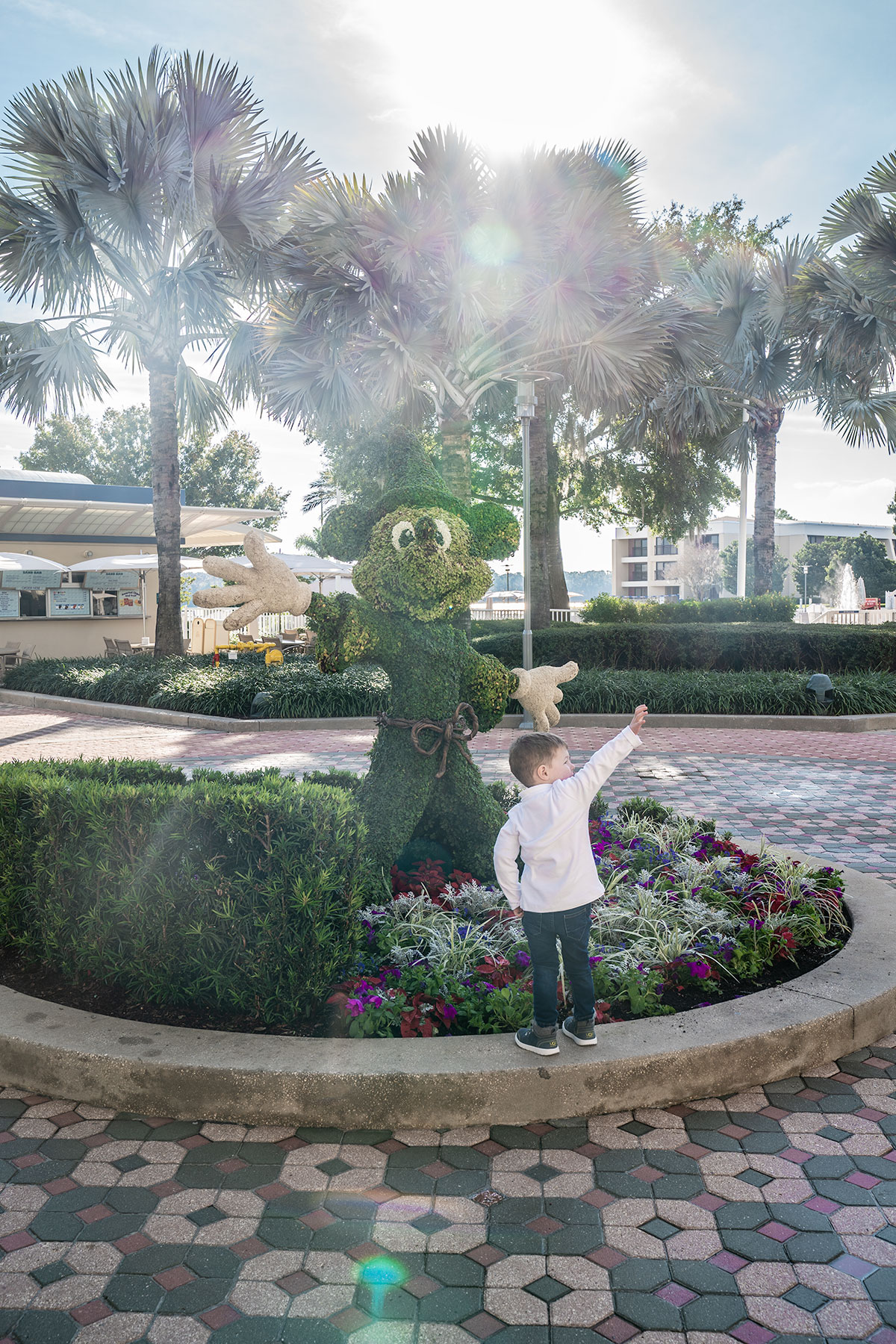 Here's that same Mickey topiary up close, and Tru learning how to be just like Sorcerer Mickey!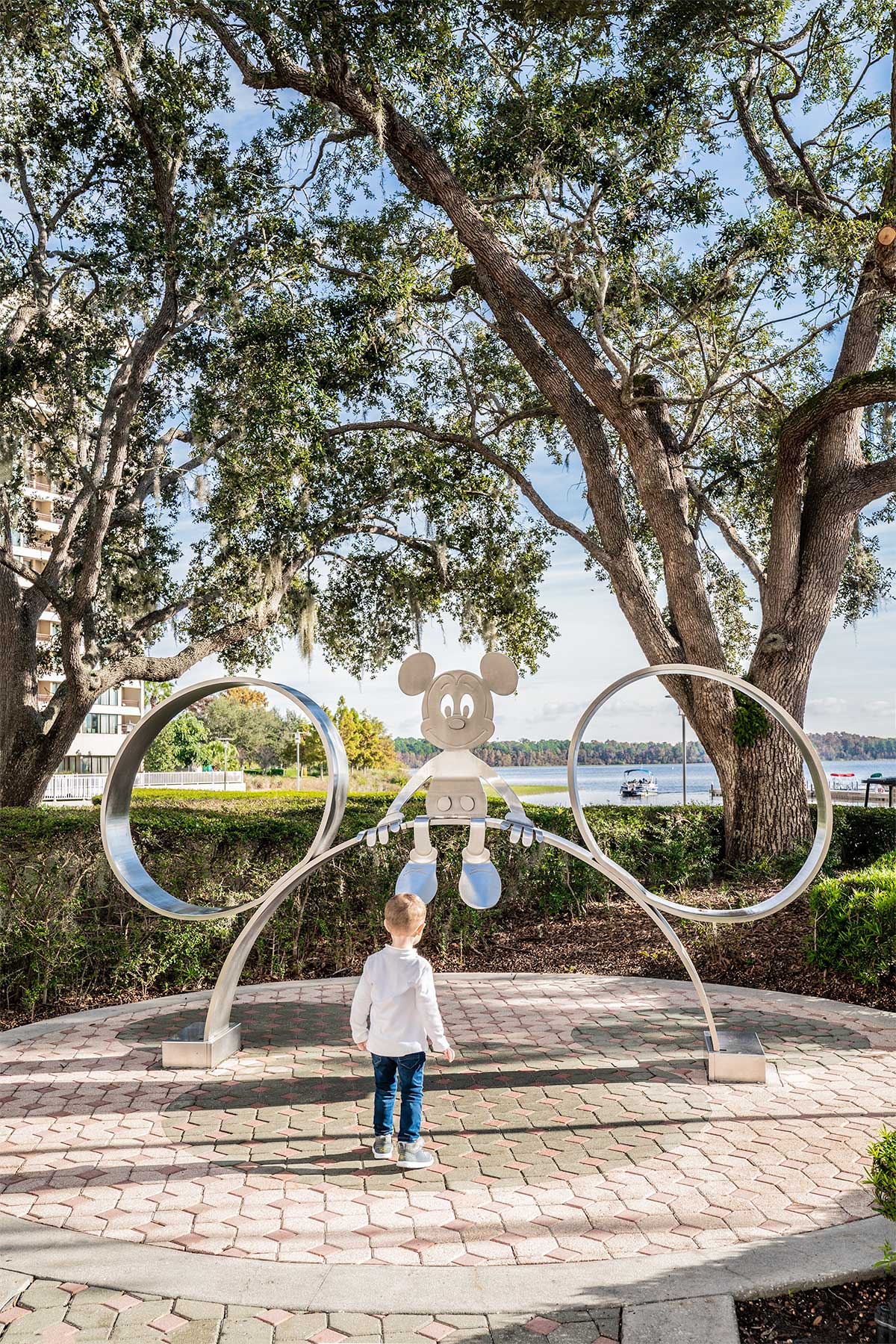 We loved these giant Mouse Ears that were big enough for kids to climb inside.
I'm kicking myself now for not thinking to get a family photo here!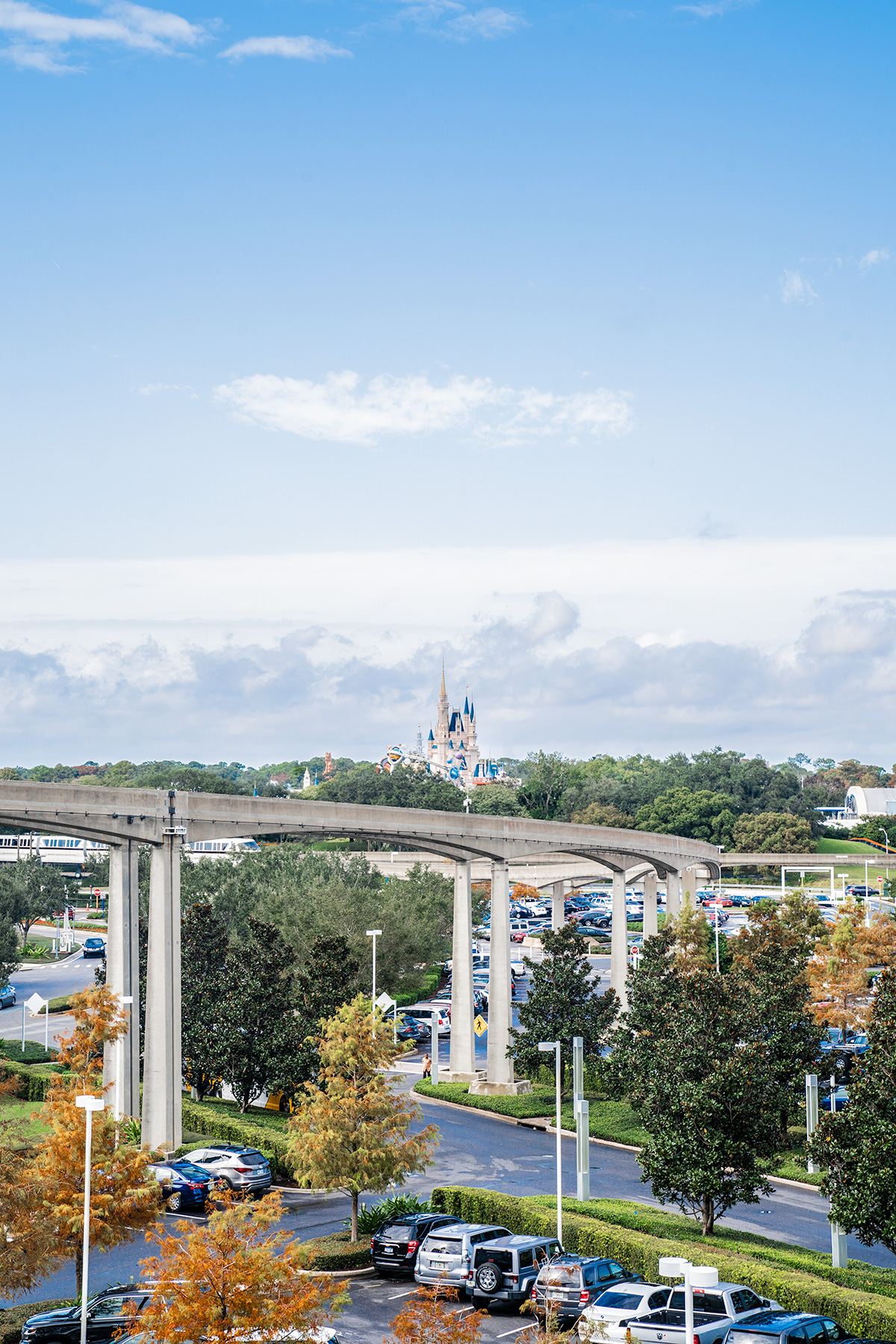 I think the Contemporary Resort may just offer the best views on Walt Disney World property.
It's all peaceful, sweeping views of Bay Lake on one side and whimsical views of the Magic Kingdom on the other.
It's unfortunate that the Contemporary parking lot is right in front of the Magic Kingdom view.
But I guess Mr. W. Disney couldn't think of everything…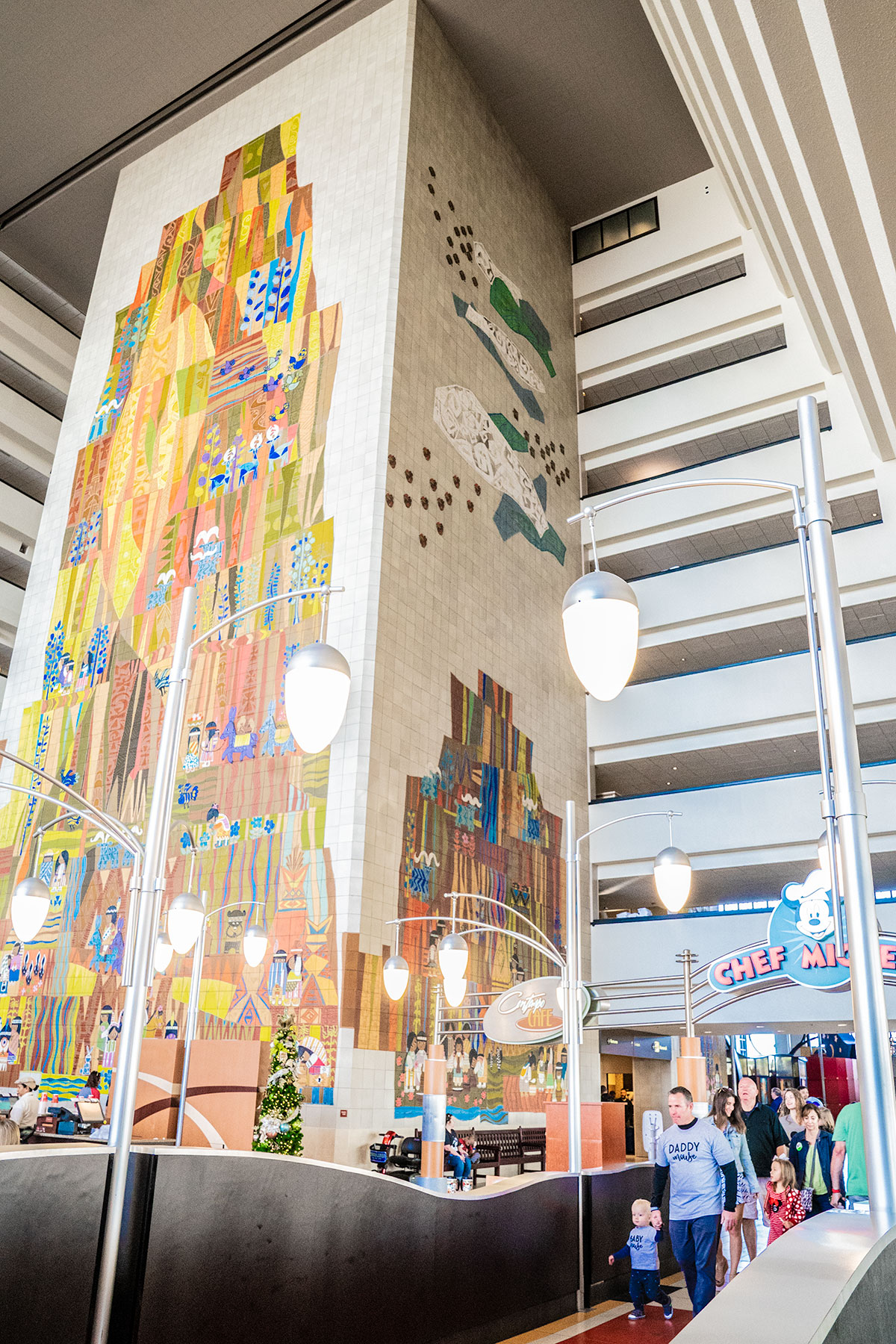 Let's Next Explore the Dining Options Available at Disney's Contemporary Resort
Most options for food are located in the main hall, the Grand Canyon Concourse.
This is where you'll find the monorail station to catch rides to the Magic Kingdom and Epcot.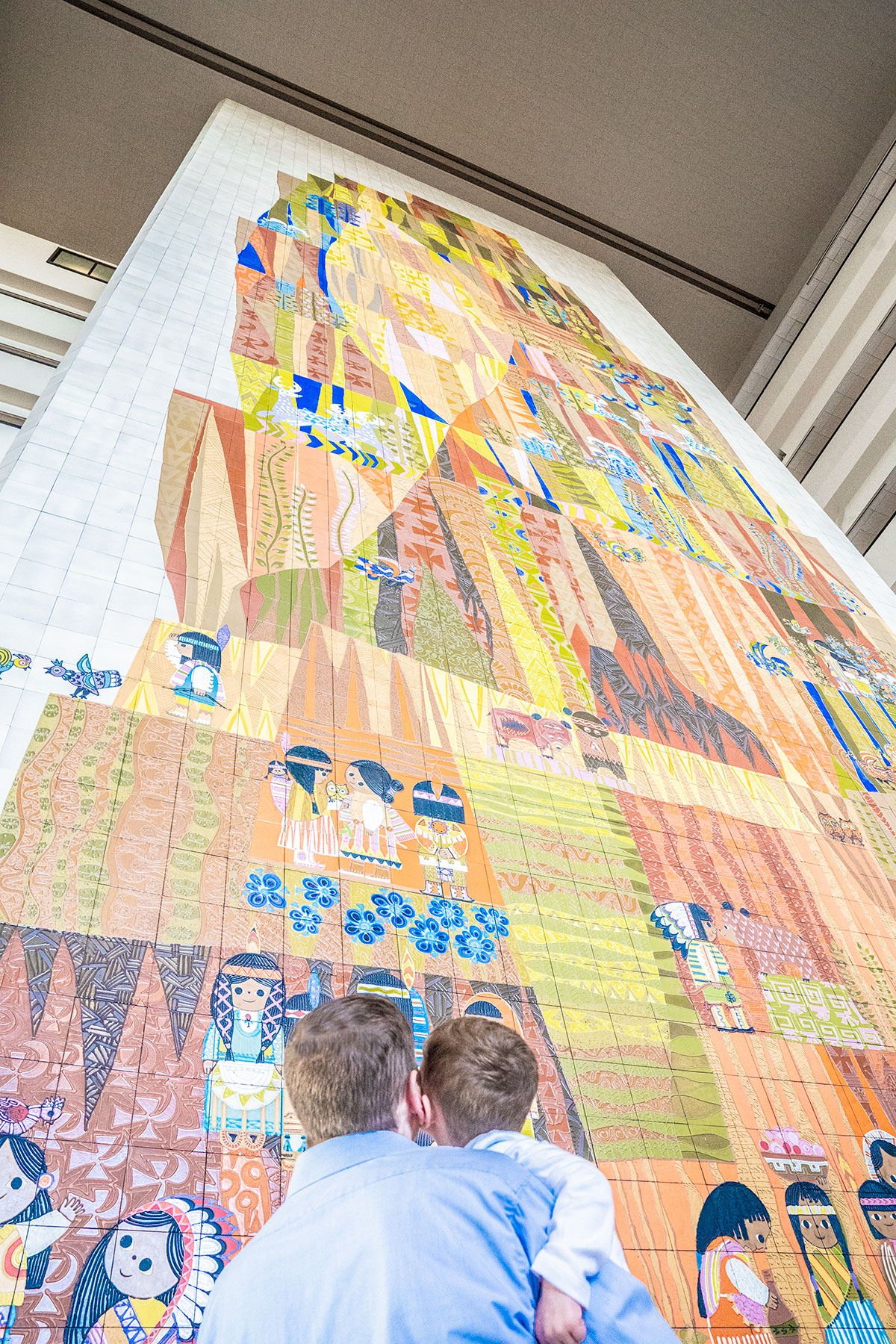 And also where you'll find the jaw-dropping, 90-foot-tall, Mary Blair mural that towers all the way up to the ceiling of the building.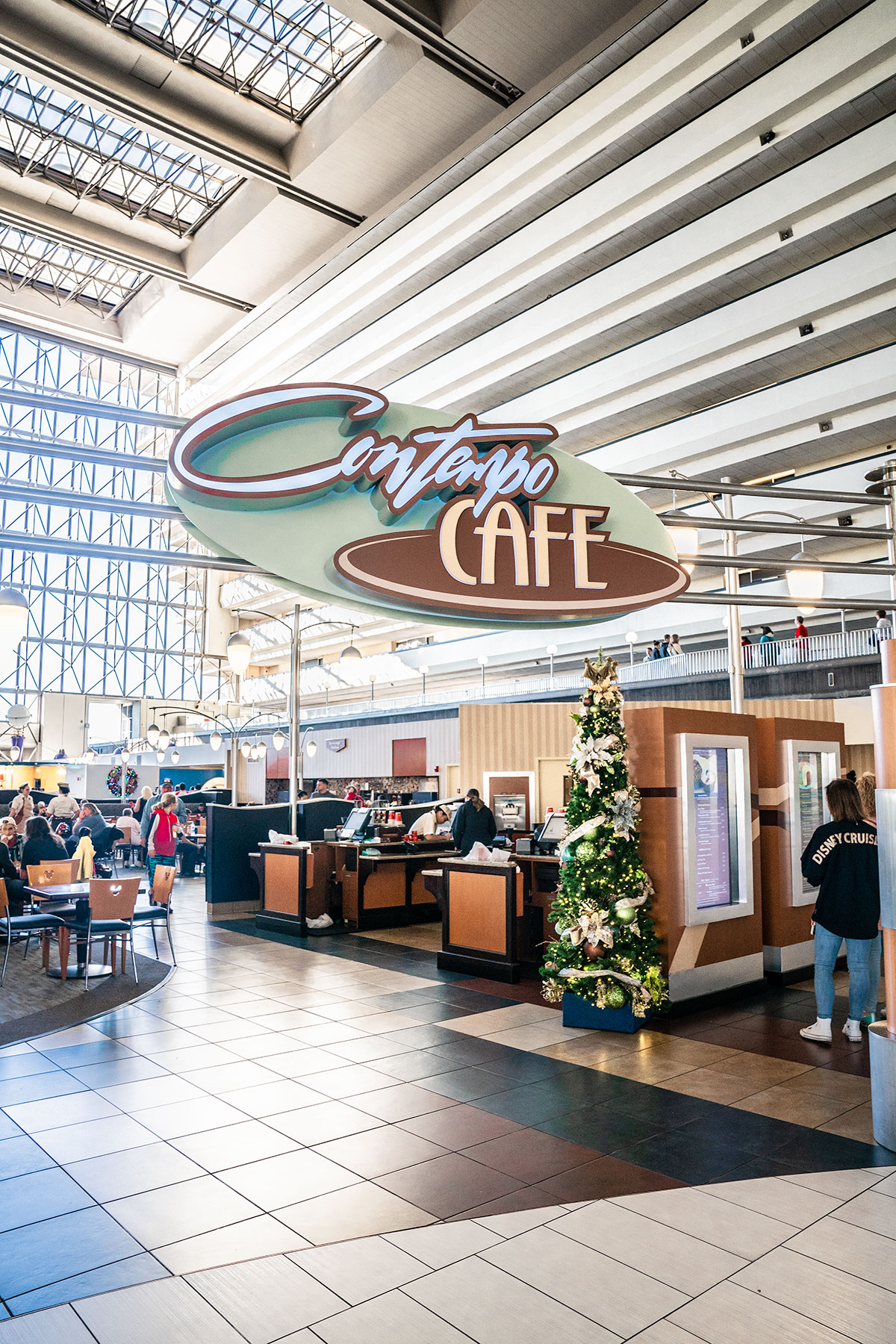 We ate many of our meals at the quick service dining option, The Contempo Cafe.
How it worked: we placed our order at the cash register and paid, then waited for our ticket number to be called to pick up hot food items we'd ordered.
We thought Contempo Cafe was super easy and convenient for families with young kids.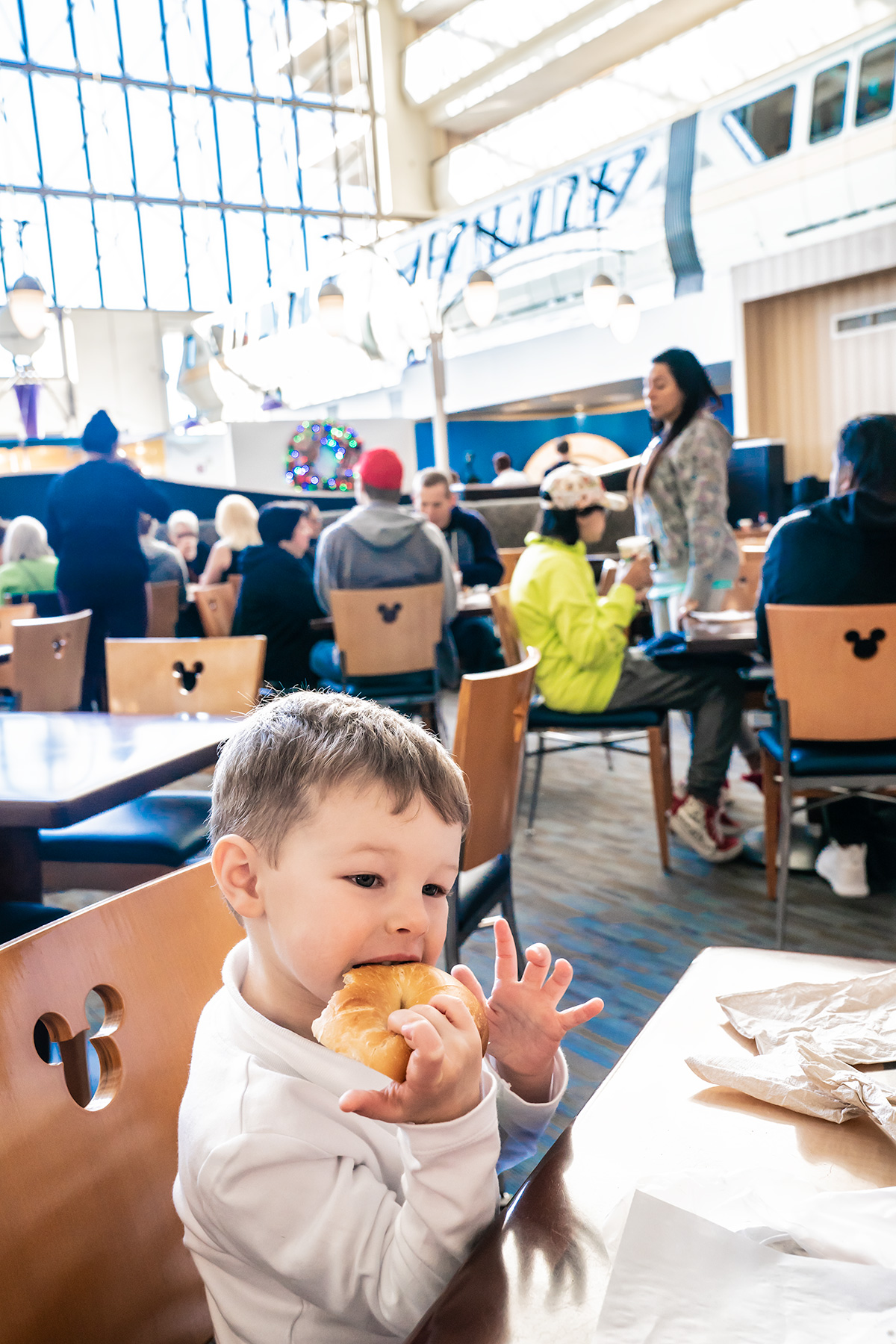 I thought there was an excellent selection of options too, something to please every member of the family!
There were snack foods like pretzels, crackers, and chips.
Plus healthy items like yogurt, hummus, fresh fruit, and veggie sticks.
There was a big bakery section with a wide variety of cookies, cupcakes, and other treats.
And the hot food menu included flatbread pizzas, salads, burgers, and kid's menu items like chicken fingers and grilled cheese sandwiches.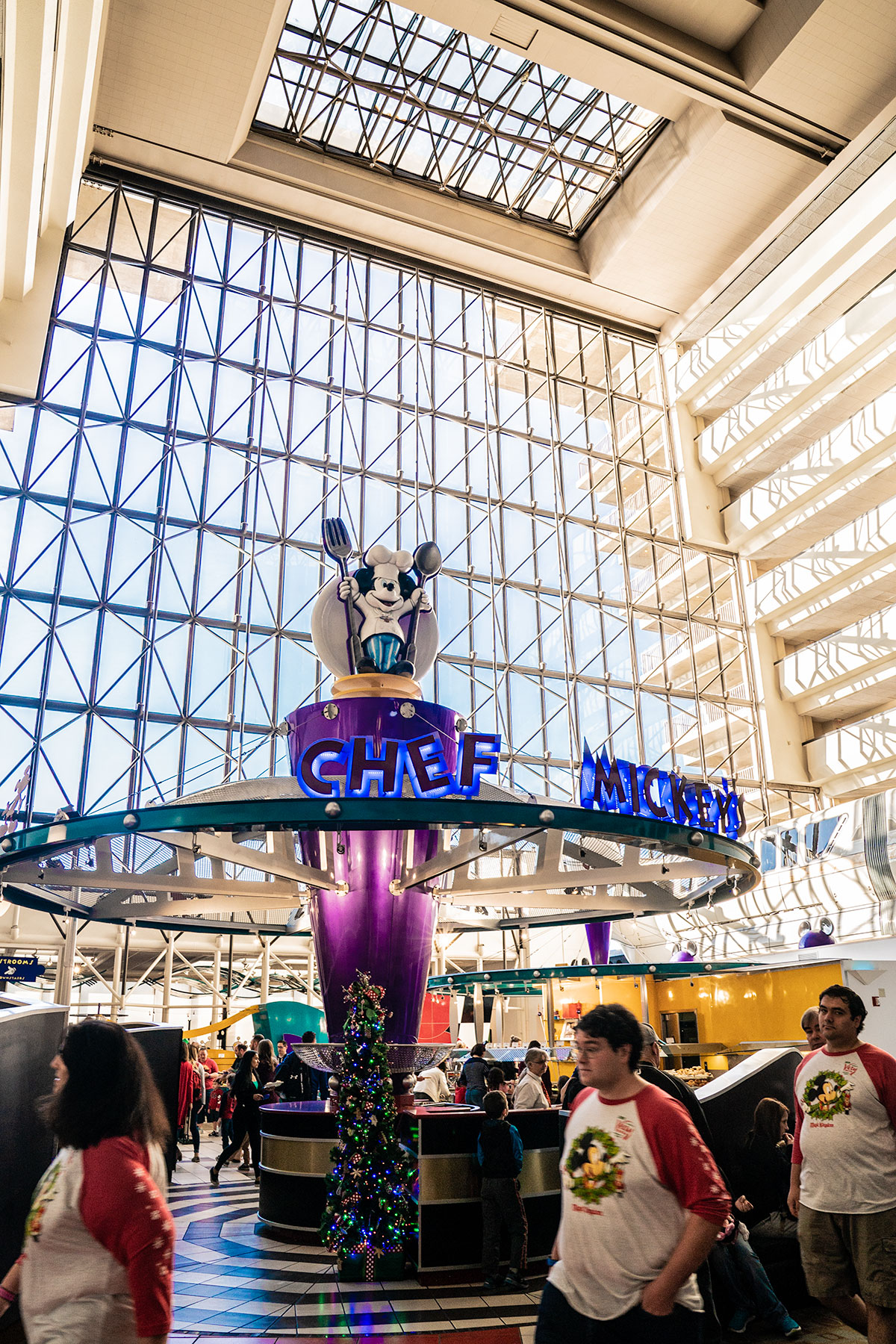 Chef Mickey's was located next door.
Although we didn't eat at Chef Mickey's, we saw that is was a very popular spot for dining with Mickey and the other well-known Disney characters.
This restaurant offered a buffet for breakfast, brunch, and dinner each day.
On the first floor lobby, there was a casual family dining option called The Wave.
This restaurant focused on "American cuisine" and had a really varied menu including fish, noodle bowls, pasta, and burgers.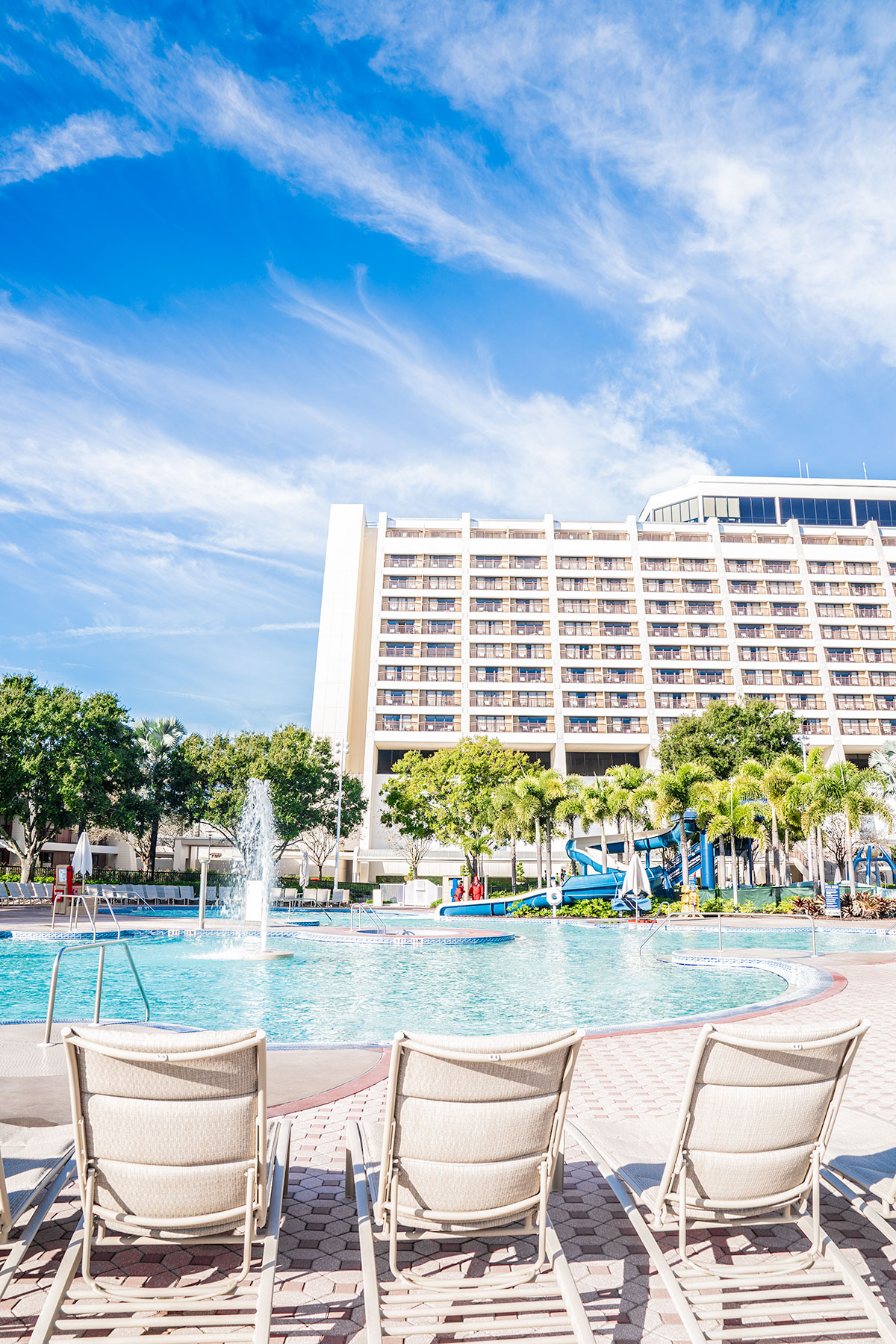 One Contemporary restaurant that I didn't photograph, but should mention, is the California Grill.
Chris and I loved the California Grill, located on the top floor of the Contemporary Resort (the 15th floor).
If you check out the photo above, you can see that the restaurant has giant wall-to-wall, floor-to-ceiling windows.
So it's incredible to take in the sweeping views of the Seven Seas Lagoon, Bay Lake, and Cinderella Castle and the Magic Kingdom.
Chris and I loved the delicious fine dining menu here, which included sushi, seafood, and steak.
It was elegant and refined and delicious (one of our favorite meals from Disney World), but not at all stuffy or formal.
As we looked around, kids were seated at many of the tables.
The greatest benefit: book a table near the Magic Kingdom-facing windows during the nightly Magic Kingdom fireworks, and you can watch the show from your table!
The restaurant even pipes in the same musical soundtrack that plays at the Magic Kingdom!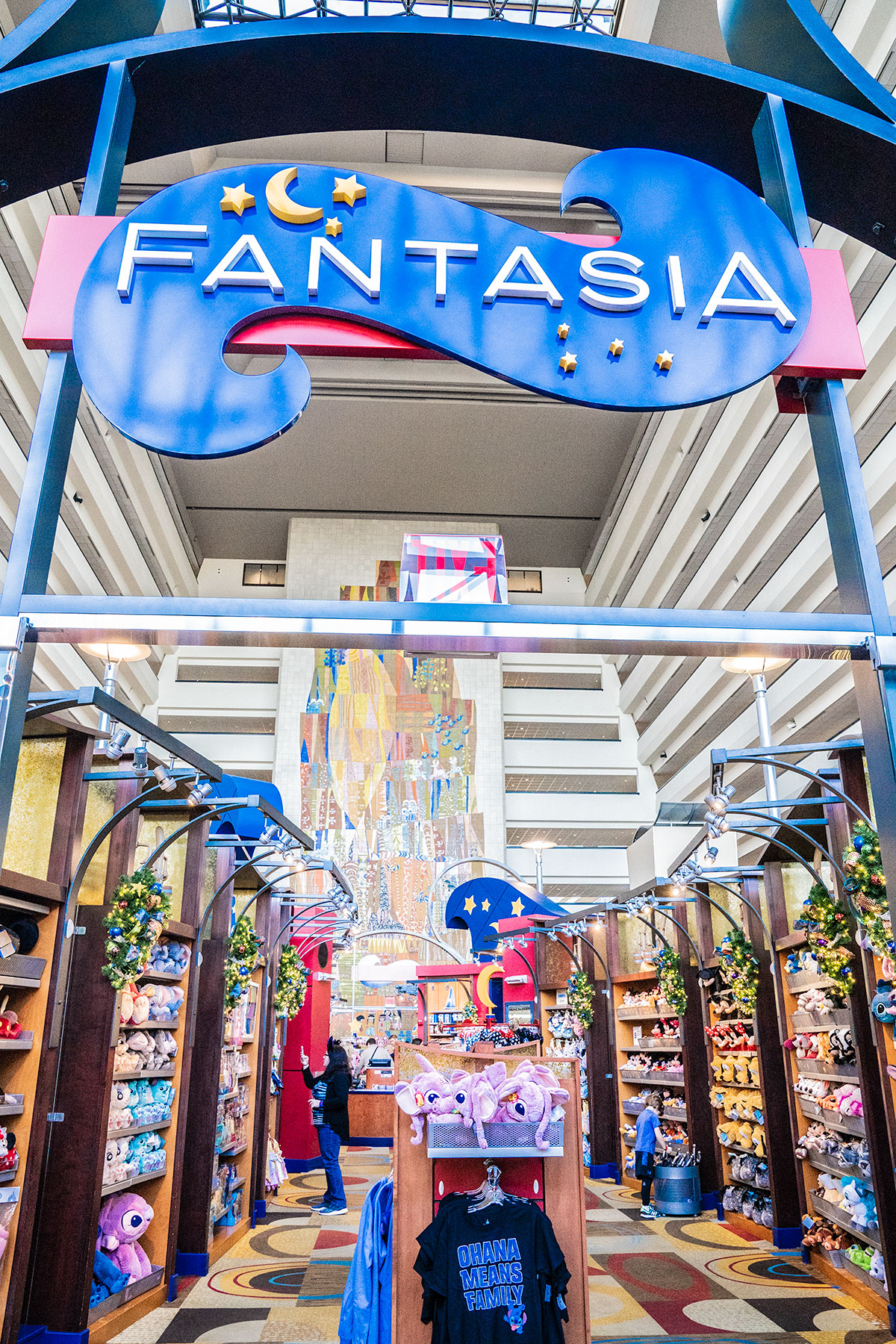 Last But Certainly Not Least, Let's Discuss the Shopping Options at The Contemporary Resort
The Contemporary shops are all also located in the main Grand Canyon Concourse.
There was Tru's favorite, Fantasia, which was filled with stuffed animals, toys, and games.
(He's always on the lookout for a good toy store!)
Next door was Fantasia Market, which was a mini food market with snacks and staples to stock the kitchen.
We were grateful for this sundries store when we ran out of swim diapers and needed to buy a new supply!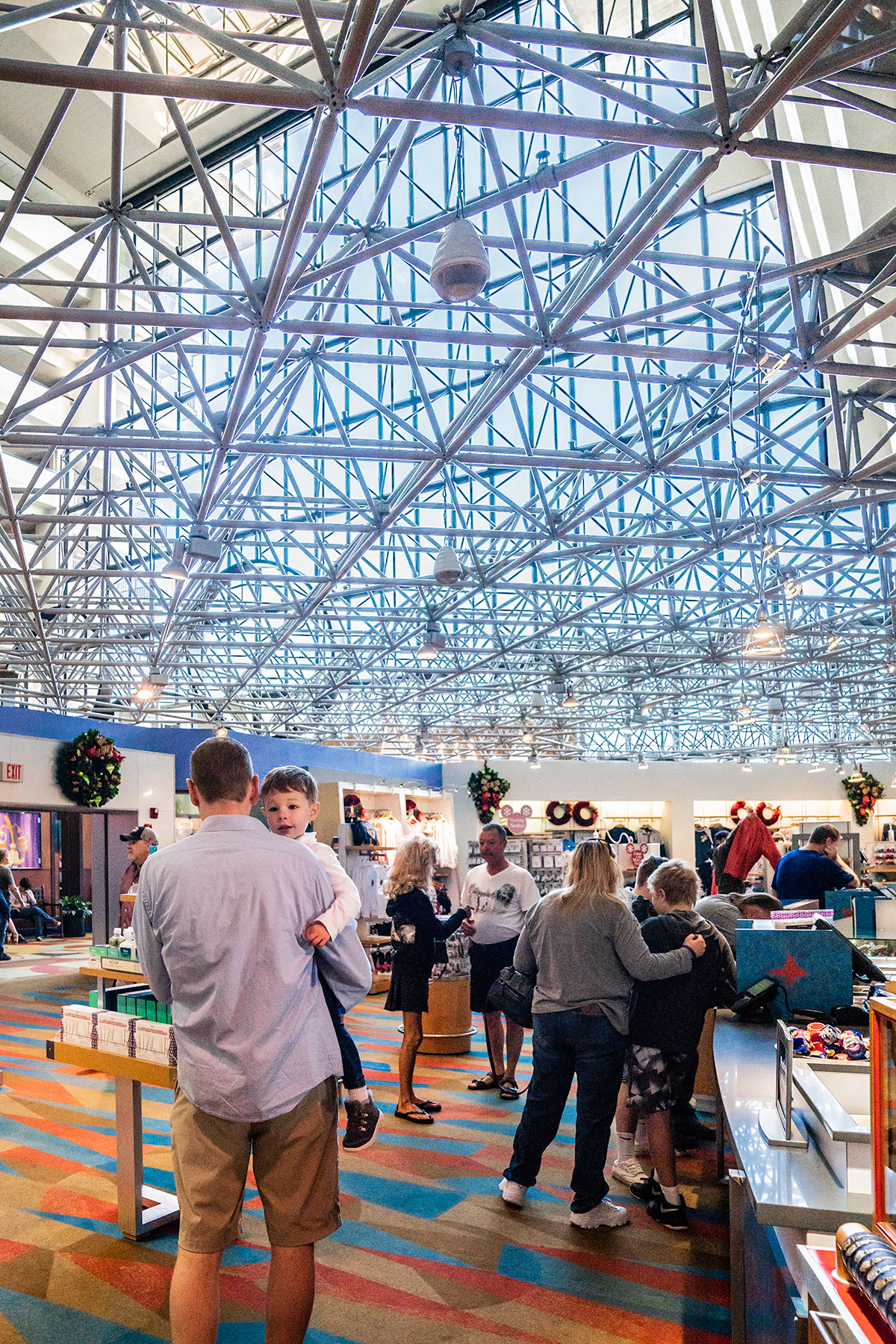 There was also Bayview Gifts, which offered a full array of Disney merchandise, from T-shirts to Mickey Ears to jewelry to soaps to housewares.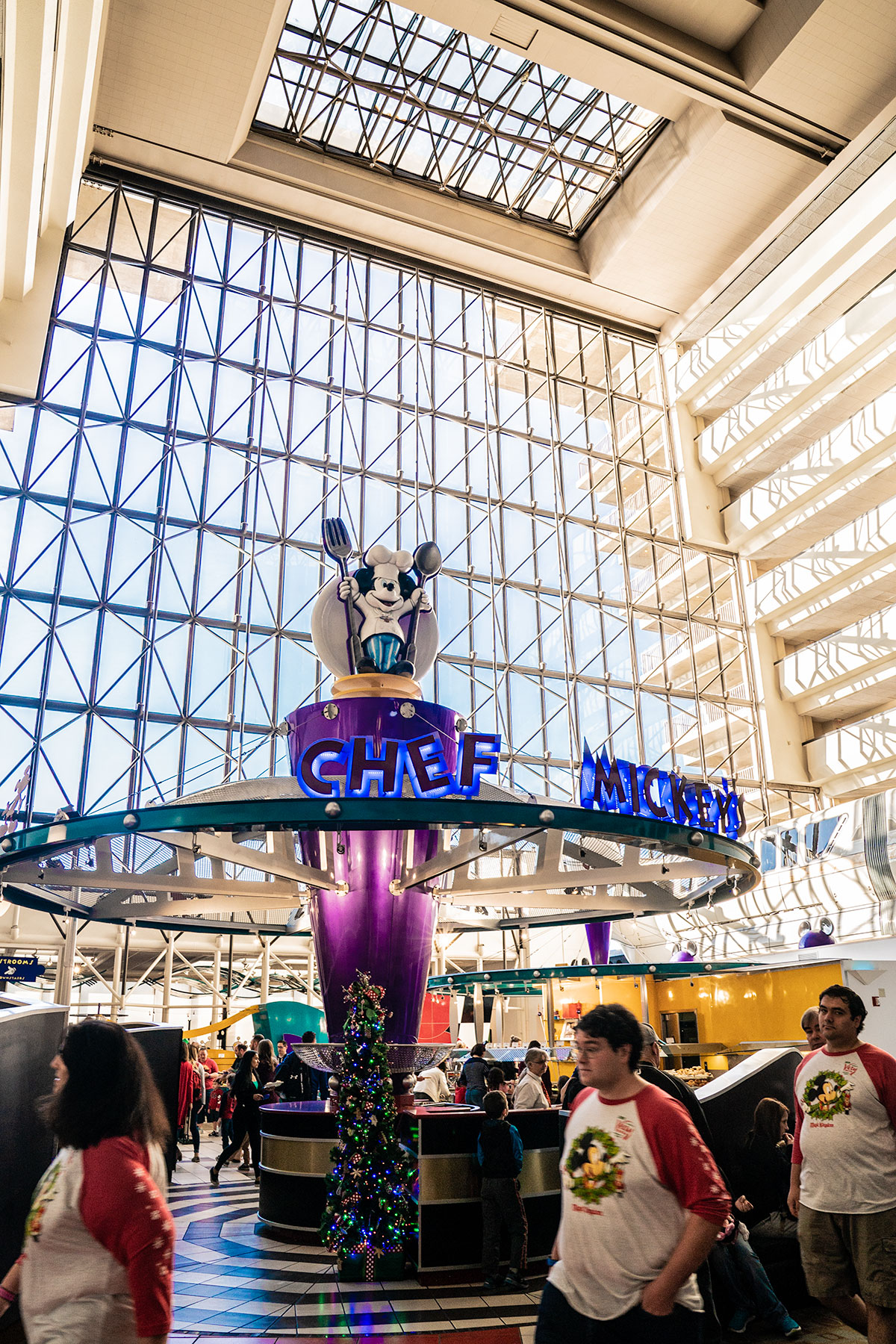 There Are Challenges to Staying at Disney's Contemporary Resort, Of Course
Of course, there are always positives and negatives to any and every hotel or resort.
The main challenge with Disney's Contemporary: its unbelievable popularity.
Chris, who knows every possible secret to booking fast passes and reservations at Disney, had trouble getting us a room at this hotel.
Even months in advance.
In the end, he was able to book us a room for the second half of our weeklong trip to Walt Disney World.
(We stayed at Disney's Wilderness Lodge for the first half, which was also an incredible resort!)
If you're able to nail down a reservation to this popular hotel (congrats!), the next challenge is, of course, dealing with the crowds at this hotel.
Disney's Contemporary Resort is so incredibly beloved by so many, the main public areas are almost always filled to the brim with crowds.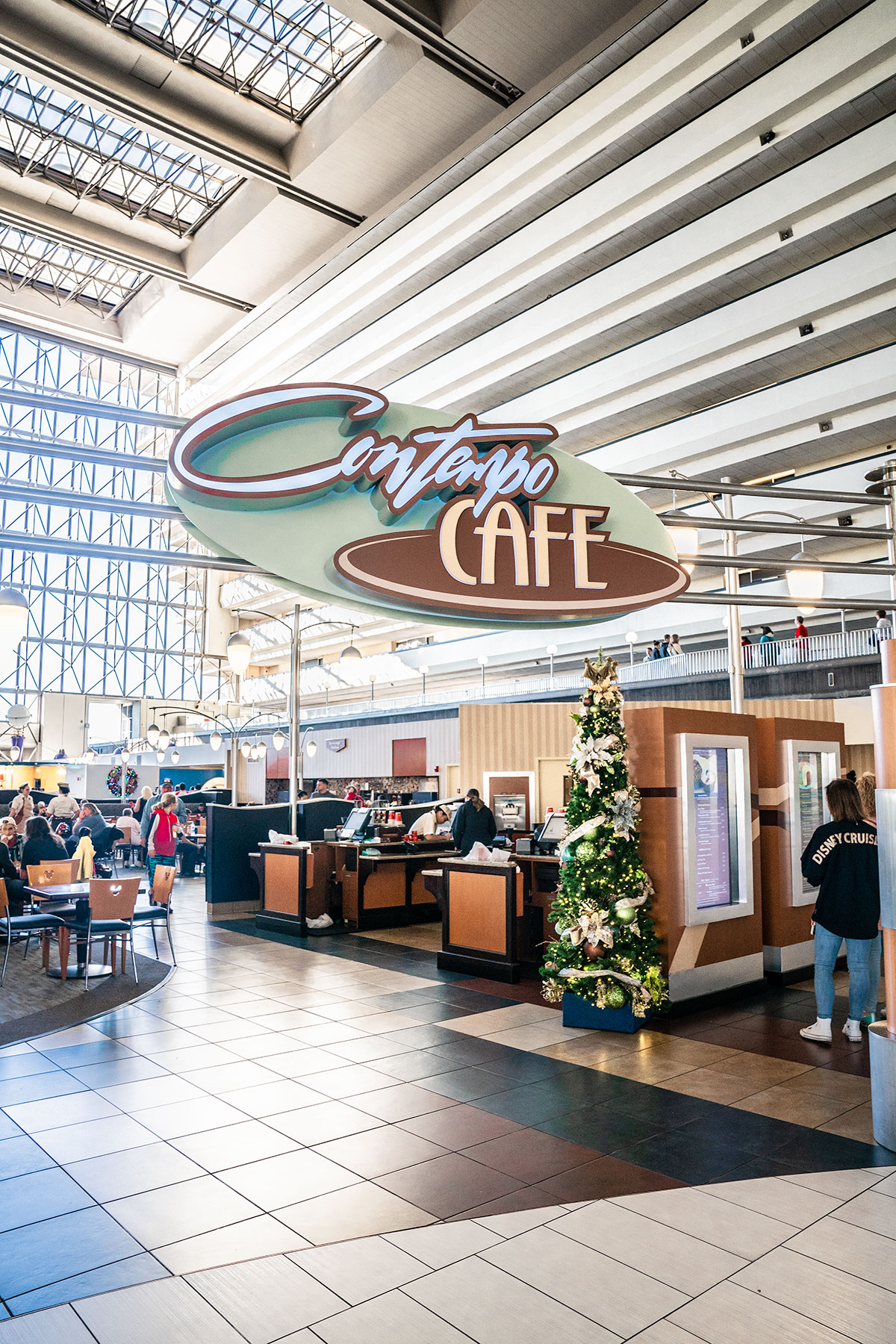 I tried to head out early one morning to get some photos of the main concourse area, and it was already congested.
We once ordered a quick service lunch from Contempo Casual during a peak time (about noon), and waited about 20 minutes for our food.
I sometimes had trouble sleeping because I'd hear noise from surrounding rooms.
And I often heard lively conversations (and once, smelled cigarette smoke) while sitting on the balcony.
The Contemporary Resort is just a very crowded and high energy place.
So if you love a social, lively atmosphere, Disney's Contemporary is definitely the resort for you.
But if you're looking for a peaceful or tranquil retreat, I'd definitely recommend you look elsewhere! (The Wilderness Lodge definitely had a more calm and quiet vibe.)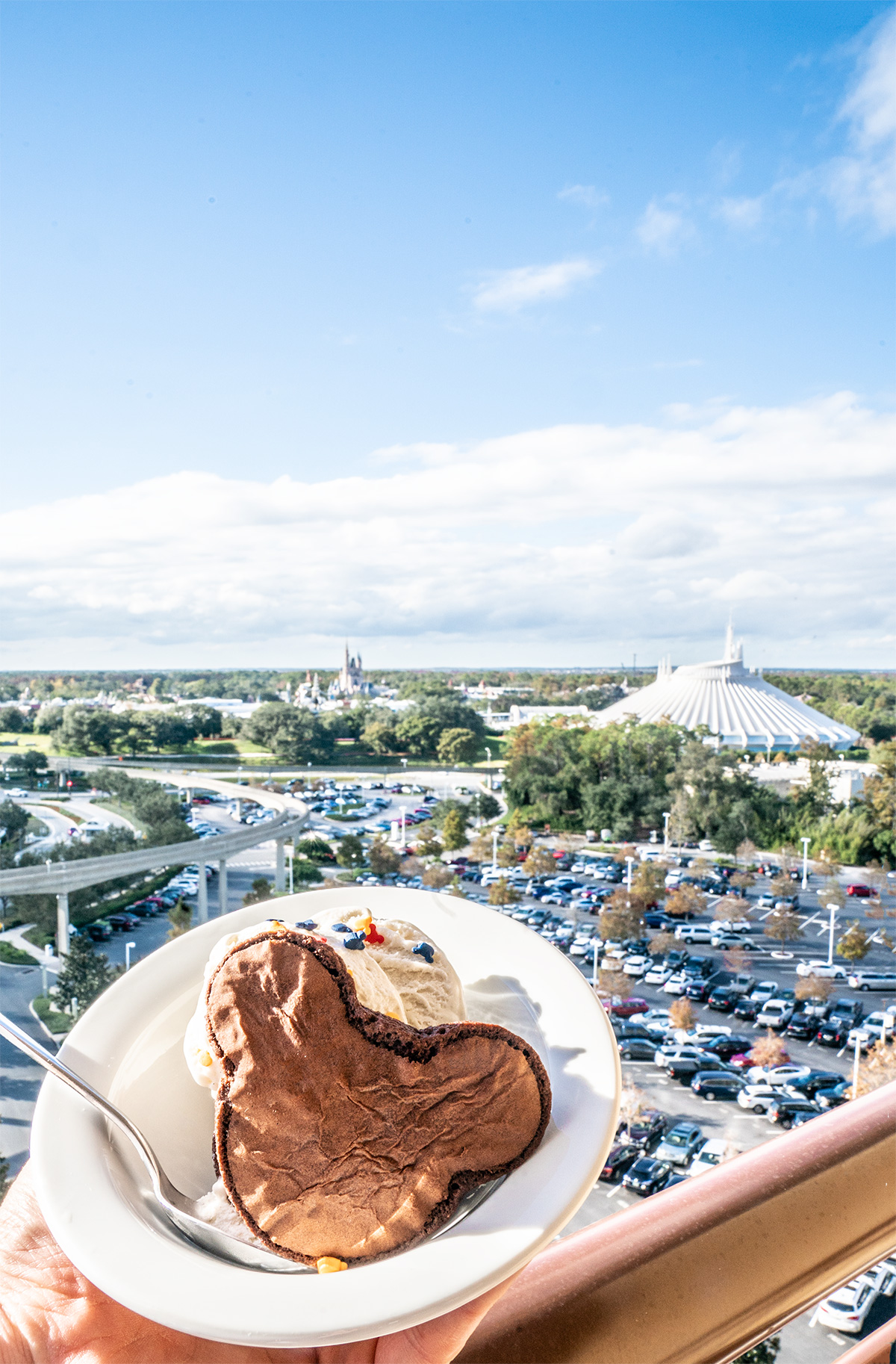 Disney's Contemporary Resort Is A Place For Making Lifelong Memories!
I've now written well over 2,000 words on Disney's Contemporary Resort (!), and I feel like I've only scratched the surface.
Some of the other recreation offerings that I didn't have the chance to photograph include:
Basketball Court
Tennis Courts
Jogging Trail
Yoga on the Lawn
Pixar Play Zone (a kids club for children ages 4-12 that allows parents to enjoy a kid-free date night!)
Resort Campfires (with marshmallow roasting)
Movies Under the Stars (screenings of classic Disney films on the resort lawns)
Electrical Water Pageant (a nighttime show on the lake with music and floats that light up)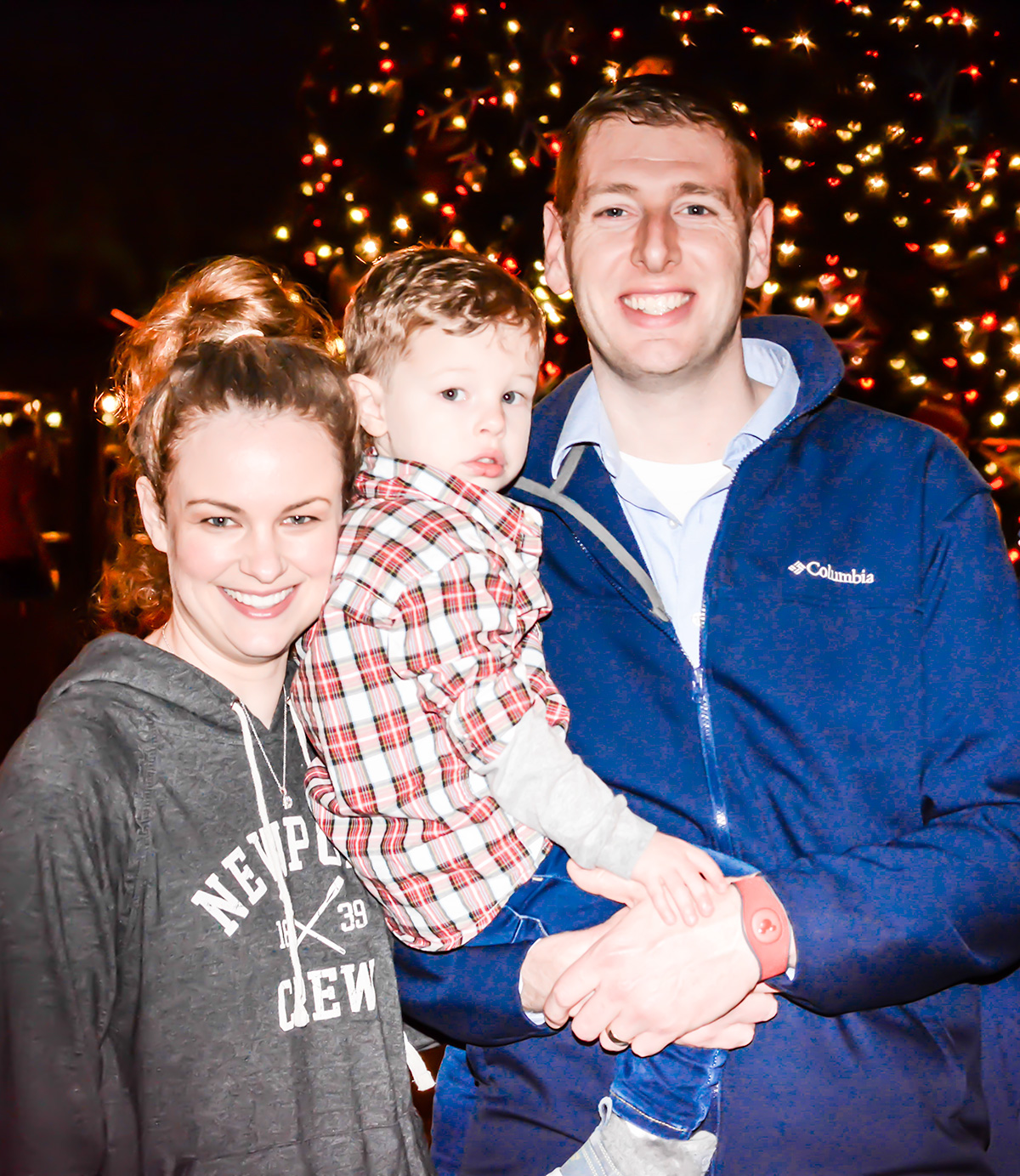 Chris and I had so many incredible experiences at this resort that will stay with us for our lifetimes.
We're so grateful we had the opportunity to stay at Disney's Contemporary, and that we had the chance to share the magic with Trevor!
Read Next:
The One Guide You Need to Avoid the Disney World Crowds
What It's Like to Stay at Disney's Wilderness Lodge at Christmas
Where To Find The Ultimate Disney World Character Breakfast
Our Experience: Baby's First Haircut at Harmony Barber Shop | Magic Kingdom
This Is Why You Must Do Toy Story Land Early Morning Magic
Pin on Pinterest: