In November of 2019, Chris had to travel to Bermuda for work.
Bermuda is just a two-hour flight from Boston, so we decided to turn it into a quick family getaway.
Since our trip was so short – and since I've already posted a lot about Bermuda – this will be a quick summary post.
It's funny. We were so carefree at the time. Our thinking back then was, "hmmm maybe we can turn a business trip into a quick getaway, that might be fun."
And now, a short trip to Bermuda – in our current quarantine world – would seem like the most lavish, extraordinary gift. We haven't traveled in half a year, so I had a nice escape from reality just going through the photos. I've never taken any of our travel for granted but – standing in our quarantine world and looking back in time – I have a deeper level of appreciation now.
So here are the photos and memories from our 2019 trip to Bermuda:
Two Key Things We've Discovered About Bermuda
1.) If you live on the East coast of North America, Bermuda is one of the most convenient tropical paradise escapes. As I mentioned, it's the easiest-ever flight out of Boston. And when you land, you truly land (a world away) in paradise. Bermuda is surrounded with crystal clear turquoise waters, soft white sand beaches, swaying palm trees, and tropical flowers blooming. And the weather is typically warm and tropical too (although it can get humid in summer and chilly in the middle of winter).
2) Bermuda is safe, small, friendly, and pristine. Aside from the gorgeous beaches, Bermuda is also dotted with clean, beautiful towns filled with buildings in a candy-colored rainbow of hues. The people are extremely friendly, and there are gardens and stunning photo ops everywhere.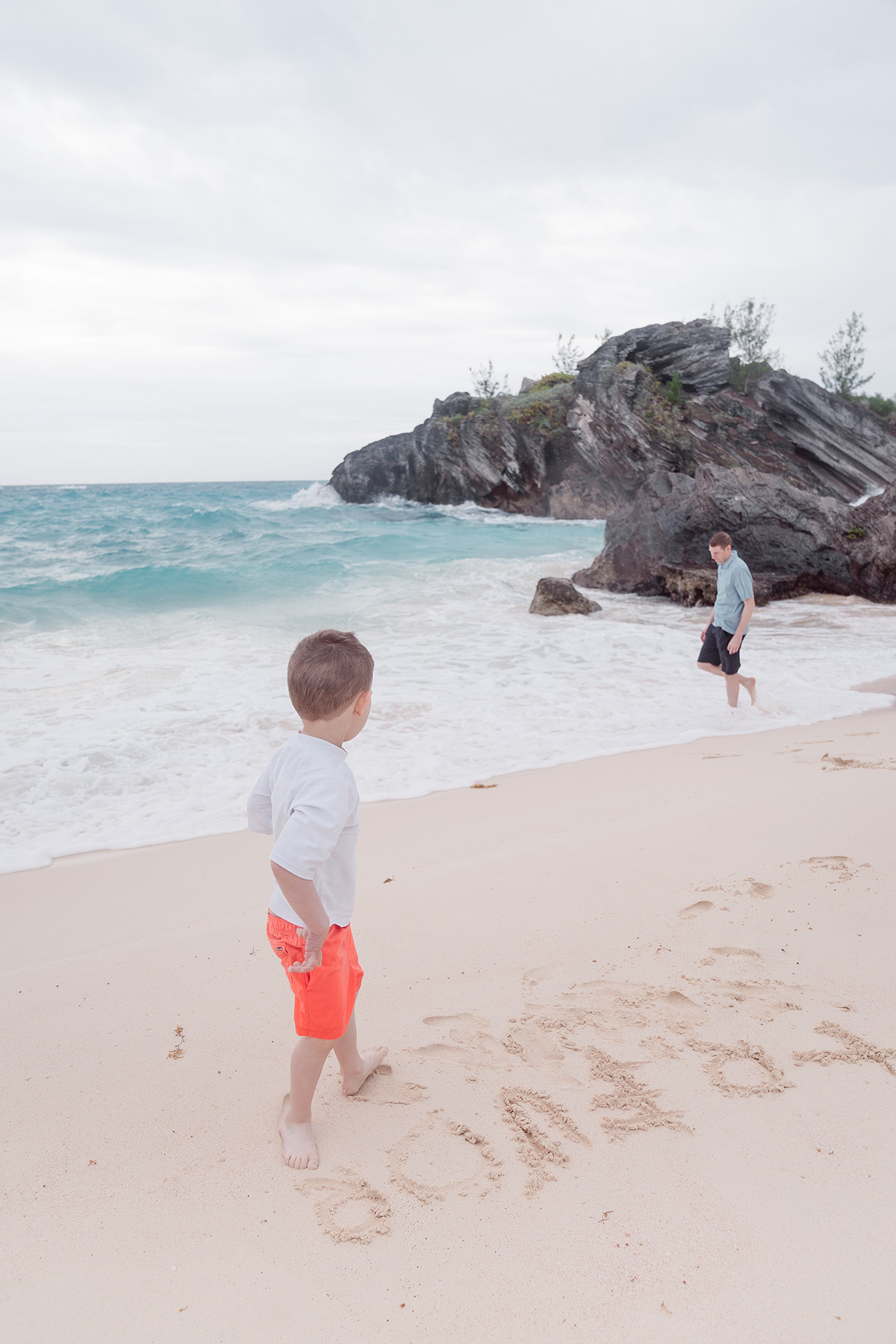 Where We Found Ultimate Relaxation In Bermuda
Yes, the island's small, but there's (surprisingly!) a lot to do in Bermuda. There are lots of options for boating and underwater exploration, historical landmarks, shopping and restaurants, and museums and parks.
We've spent time in the past exploring the island. So we decided this trip would be about relaxing on the beaches.
We knew where to go too because we'd found the dreamiest beaches during our last trip to Bermuda. So we knew we had to return.
Unfortunately, we had fog and rain showers for our beach trips. It's crazy how different the scenery looks when a little rain rolls in. The ocean loses its dazzling, crystalline color.
But it was still warm enough for us to play in the sand and splash in the water. And that's all that mattered to Trevor. Tru was my teacher (as he often is), reminding me to just have fun and embrace whatever the weather threw our way.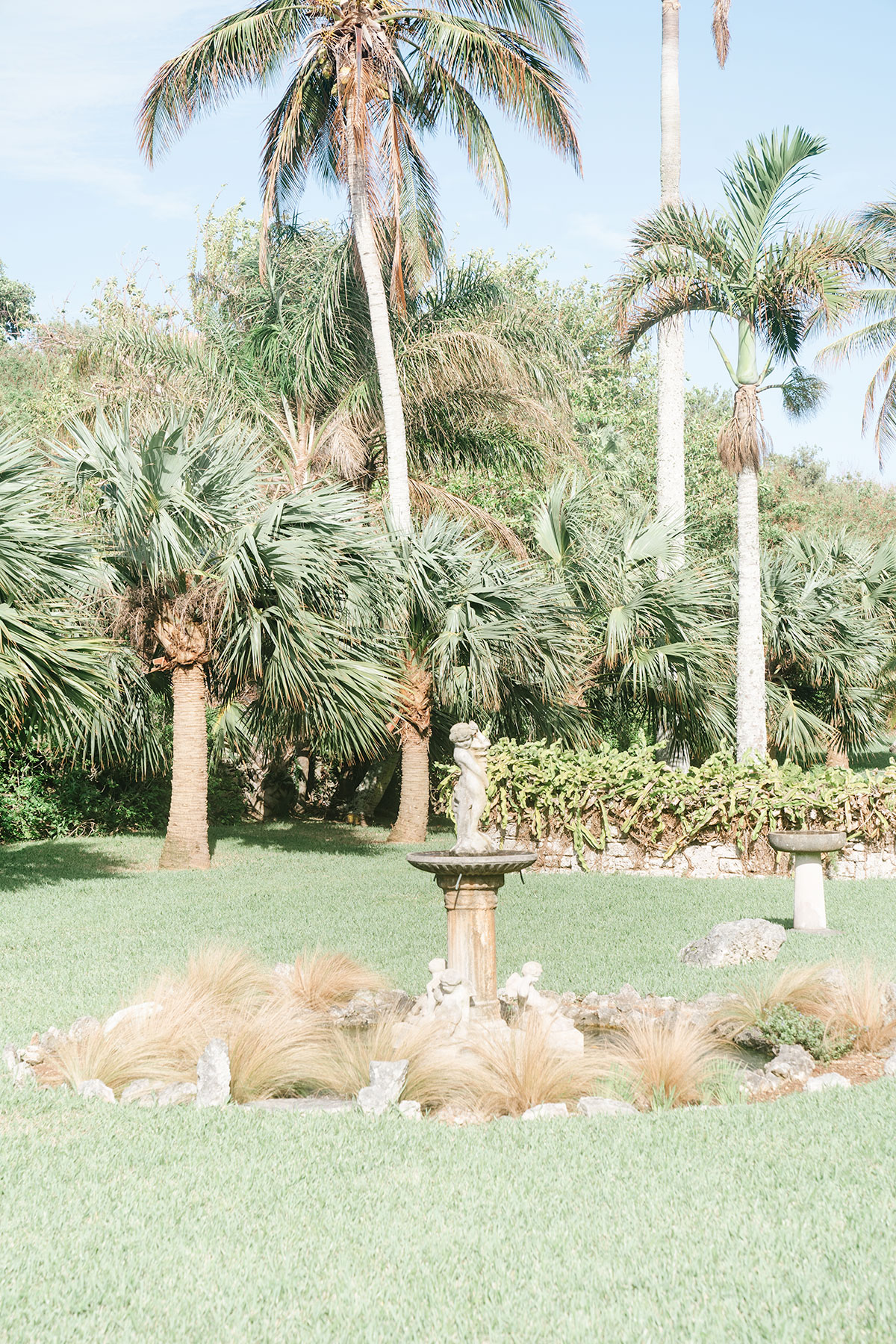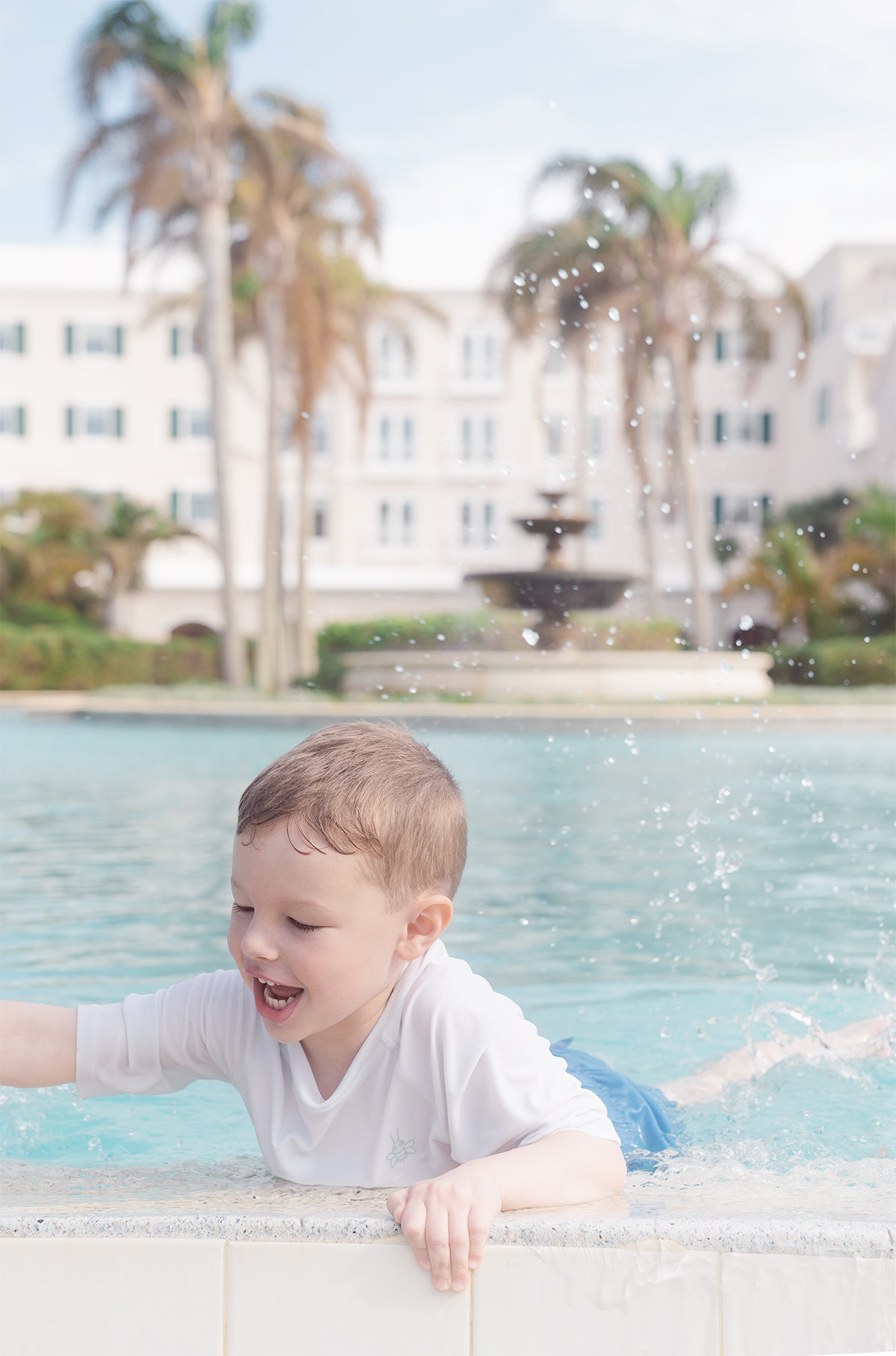 We Loved The Beauty Of The Rosewood Bermuda
We stayed at the same hotel as our last trip, Rosewood Bermuda Resort.
This hotel is stunning, luxurious, and a dream to photograph. I loved it so much, I posted a complete photo tour of the Rosewood after our last trip.
For this trip, we had a fun surprise: we got the same room as our last stay.
I loved being back in the place where we'd made so many family memories during our last trip.
Last time, baby Trevor slept in a crib under the window next to the entryway. This time, preschooler Tru slept in a rollaway bed under the window next to the entryway. Other than that, everything felt just the same.
My favorite part of the room was the huge, covered, corner balcony. For both trips, we spent a lot of time sitting on the balcony, gazing over the turquoise ocean while eating or just lounging.
I also loved the bathroom. It had a big window with sweeping views of the ocean and a big soaking tub beneath it.
And Trevor's favorite part of the Rosewood?
Getting out to the family pool every afternoon before his nap to splash around!
We Had Plenty Of Mama-Son Time
Since this was a working trip for Chris, Trevor and I got to enjoy lots of mama-and-son time. One evening while Chris was out, we went out onto the resort lawn and played croquet. Then we found some giant chess boards. Tru had fun building towers that were taller than he was, then knocking them down.
Another morning, we went to the Bermuda Aquarium, Museum & Zoo.
Tru is such a social little guy! He chatted with the gift shop owner for a while. Then he approached a girl a bit younger than him. She couldn't talk yet, so he ended up chatting with her mom.
The tropical surroundings and views of the water are incredible at the aquarium, so I loved strolling around with Tru. We even got a surprise return trip to the aquarium when Tru realized, about two minutes into our taxi drive back to the hotel, "I have to go potty." Preschoolers will keep you perpetually on your toes!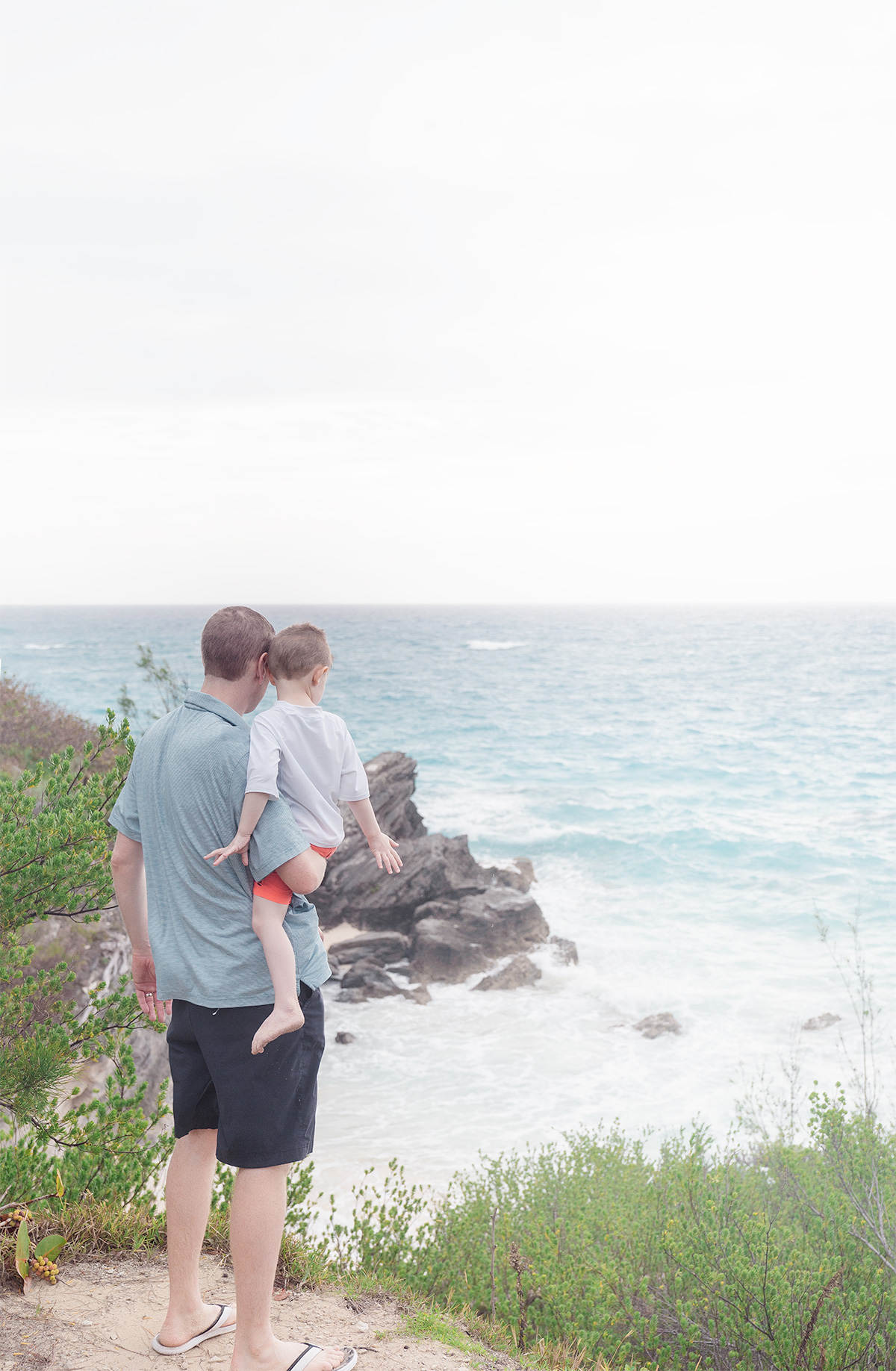 We Hope To Return Again
Since visiting Bermuda, Tru has frequently said, "I'm from Bermuda." I don't know how he came up with that, but I do know what he means. The island is so heavenly, you want to call it home.
We definitely hope to return again soon and make some new discoveries.
To Learn More About Bermuda Travel, Check Out:
5 Incredible Things About Bermuda That Will Make You Reach For Your Suitcase
The One Beach You Can't Miss On Your Trip to Bermuda (Hint: It May Be Your Own Private Paradise)
Take A Photo Tour of the Rosewood Bermuda Luxury Resort
Bermuda for Kids: 5 Incredible Sites Families Will Love